10 Things to Put on Your Final Walkthrough Checklist
Posted by Ashford Realty Group on Wednesday, January 5, 2022 at 10:39 AM
By Ashford Realty Group / January 5, 2022
Comment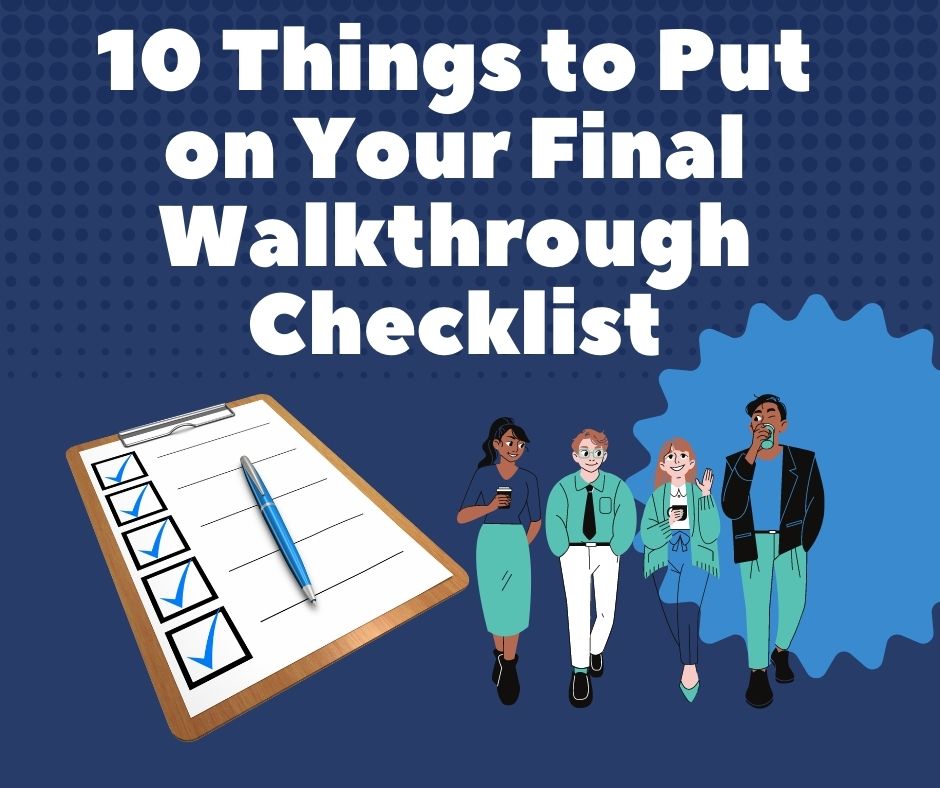 Shortly before closing on a property, you and your real estate agent will do a final walkthrough to check for new damage, look over the condition of the appliances, and make sure everything looks the way it should.
Do you know what to put on your final walkthrough checklist? Check out these 10 things we think you should make sure to look over.
1. Repairs or Updates the Seller Agreed to Complete
If you noticed anything that needed repair during your initial walkthrough, or anything was discovered by the home inspector and the sellers agreed to repair or update it, check on those items.
Make sure any repairs or updates the seller agreed to complete are listed on your walkthrough checklist so you don't forget to review them. If you have any concerns about the way the work was done, now is the time to mention is.
Sellers are responsible to complete whatever they agreed to under contract, but after closing those issues will become your responsibility.
2. Appliances
Your sale agreement should show which appliances are being left in the home. During your walkthrough, check on the cleanliness and condition of the appliances:
Open the refrigerator and freezer to make sure they are turned on and cold
Run the microwave
Turn on the oven and range to confirm that everything is working as it should
Run a full dishwasher cycle.
Pay special attention to the dishwasher and areas around it, looking for signs of new leaks or possible mold.
3. Locks on Windows and Doors
Make sure all windows and doors have properly functioning locks and no new damage. Check to see that all windows have screens and no windows are sticking or difficult to open.
4. Cleanliness
Unless otherwise agreed, the home should be cleaned before the final walkthrough. Depending on the age and condition of the home, there may be stains or signs of wear and tear that are to be expected, but an overall cleanliness should be apparent at the final walkthrough.
The seller should not be leaving behind any garbage or hazardous waste. If you see debris or trash on the property, speak up now so that it does not become your responsibility to dispose of.
Mold can pop up in a matter of days, so even if there was no mold present at the initial walkthrough or inspection, it is worth your time to look for any signs of mold or standing water.
5. Heating and Air
Even if it's a cold winter day, check to make sure the air conditioning is working. Then, turn on the heat and make sure it's functioning properly.
This will likely take some time, so stop by the thermostat toward the beginning of your walkthrough. Remind yourself by placing this item at the top of your walkthrough checklist.
6. Faucets
Test all faucets in the house. Make sure there is no new leaking or damage and that they all have hot water.
7. Items Included in the Sale
If you and the seller agreed to include any items in the sale of the home, check to see that they are present and in the expected condition.
Items that were supposed to be left may include:
Window treatments
Furniture
Rugs
Patio furniture
Garden boxes
Garage storage
Appliances
8. Gutters
Gutters should be clean and not showing any new damage. Check for cracks, clogs, and signs of new damage.
9. Signs of Pests
Between the time the inspection took place and your final walkthrough, it is possible for pests to move into the property. Check for signs of termites, rodents, or other pests. Warnings signs might include:
Decayed wood
Rodent droppings
Spongy subfloor
10. Things to Bring With You
One of the items on your walkthrough checklist should be a packing list of sorts. Make sure to bring these items to your final walkthrough:
A copy of your final offer, showing what both parties agreed to
A notebook and pen
The home inspection report
Phone charger or nightlight to test electrical outlets
Camera or phone with a camera to document anything you notice
Overall, remember to take your time and be prepared with a final walkthrough checklist. Don't rush or worry about inconveniencing anyone by moving slowly and deliberately through your checklist.
For more questions about finding the right home or help beginning the search, contact us today!