4 Ways Homeowners are Saving Money in 2022
Posted by Ashford Realty Group on Monday, January 17, 2022 at 3:32 PM
By Ashford Realty Group / January 17, 2022
Comment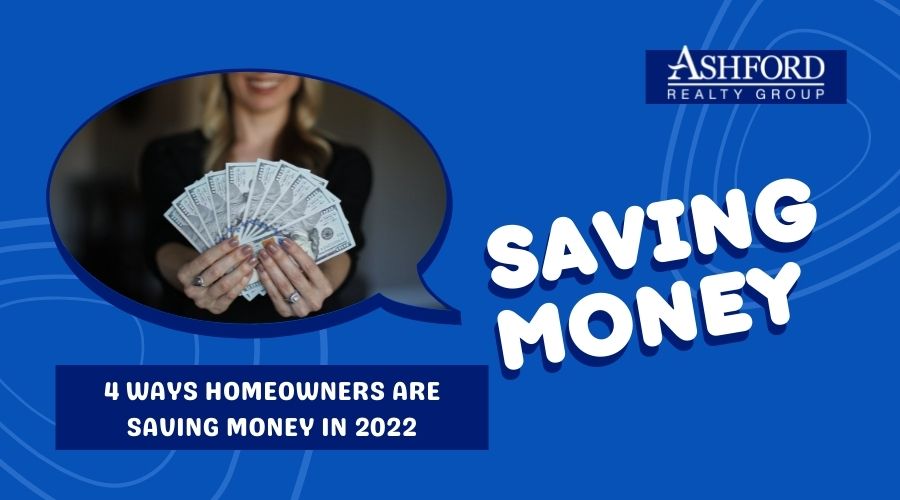 The cost of everyday living items has increased greatly over the last year, so homeowners are taking these steps to save money in 2022.
1. Refinancing
Interest rates have been at an all-time low, take advantage of refinancing to lower your interest rate and mortgage payment. Taking advantage of lower interest rates will not last much longer as current political and economic factors change. Even though rates are expected to increase, the rates are still expected to remain relatively low.
If you are considering refinancing, you don't have to stick with your current mortgage company, shop around to find the best option for you. Refinancing your loan could rid your loan of the PMI (Private Mortgage Insurance) reducing your mortgage payment. Homeowners are also using the equity in their homes to finance a big purchase or complete a remodel project.
Some homeowners may qualify for the Mortgage Relief Stimulus. Congress enacted mortgage relief programs to help those homeowners affected by job loss or illness during the COVID pandemic. The programs are designed to help homeowners, even if they wouldn't normally qualify, to refinance their homes at a much lower interest rate. It is well worth checking into, even if you don't think you would qualify, you may be pleasantly surprised. These programs are coming to a close, so you need to act quickly.
2. Examine Your Insurance
Take the time to examine your insurance policy and shop around for other options. Some insurance companies offer discounts if you bundle your homeowners and car insurance together. Most insurance companies offer other discounts as well, check to see which ones you qualify for and make sure they are applied.
There are other ways you can reduce your insurance premium to consider as well. Are you financially able to increase your deductible? Increasing your deductible can significantly reduce your monthly premium, but you need to make sure that you can pay the higher deductible should you need to file a claim. Consider paying your premiums annually vs. quarterly, some insurance companies will offer discounts for paying upfront for the year.
Consider a few upgrades that could cost you upfront but, will save you money in the long run. Insurance companies tend to apply discounts for upgrades such as energy-efficient appliances, updating your windows and insulation, adding a security system, fire distinguisher, smoke detectors, etc.
3. Make Energy-Efficient Upgrades
Making upgrades to your home will cost you upfront but, will save you money for years to come. Whether you can afford to make large upgrades or small upgrades, there are plenty of opportunities for any budget to save money.
Consider your windows and doors, these are not cheap upgrades but, are extremely important to saving money. Are your windows or doors drafty? Consider replacing your windows or doors completely, several companies will allow payment options to limit the upfront cost. If a full replacement isn't an option, consider updates that will reduce the draft, replace weatherstripping, apply caulk, add window treatments, apply draft stoppers, etc.
Replace current faucets and/or toilets with low-flow ones, you likely won't notice a pressure difference but, you will notice a difference in your water bill.
A programmable thermostat will allow you to customize your heating and cooling settings so it's not running when you're not home or as much when you're sleeping. Some programmable thermostats will even allow you to adjust your settings remotely keeping your home comfortable for when you arrive home while reducing energy when you're not.
Simply changing your light bulbs to LED bulbs can not only save on your electric bill but, could reduce the number of times you have to replace the bulbs.
4. Appeal Your Property Taxes
Many homeowners don't realize that you can dispute the tax assessment you receive, so take a good long look at what your assessment shows your home value to be. If you feel your home has been improperly assessed take the initiative to file an appeal. If you win the appeal, your tax bill will be reduced accordingly, saving you money.
Unfortunately, appealing your property taxes in today's market may prove difficult with the inflation of home prices.