5 Curb Appeal Designs Trends For 2021
Posted by Ashford Realty Group on Wednesday, September 8, 2021 at 7:18 AM
By Ashford Realty Group / September 8, 2021
Comment
Listing a house for sale in 2021 necessitates extensive planning. You must make your home look as appealing as possible to attract more bidders and increase your profits. It will require you to invest more time and money. Apart from preparing your home for sale, there are dozens of reasons why you should keep your home curb as appealing as possible, including: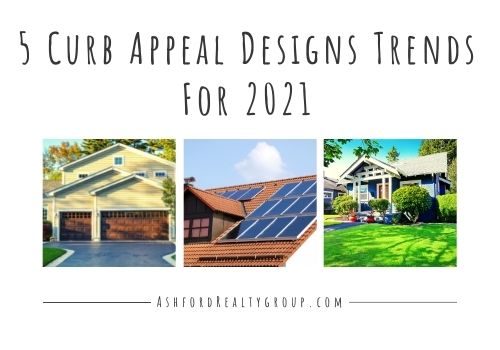 Garage doors made of wood
Wooden garage doors are trendy in 2021. Their trend is due to their natural visual appeal, excellent customization, and more extended durability. Most homeowners have abandoned traditional garage door materials such as metal and plastic in favor of wood options such as timber, oak, and other wood types. This wood undergoes special processing to produce a high-quality and long-lasting garage door.
Landscape with Native plants
Native landscaping is a fast-growing approach to make your home appeal in a single sight. Native plants have been preferred over conventional lawns because they do not require fertilizers and require few pesticides. They also need less irrigation water and play a good role in making your curb area free from soil erosion. Examples of native plans you can use include:
Boxwoods - it will give your yards a greenish, natural look.
Knock our family of roses - it produces spectacular flowers during spring—front door urns.
Blended colors
Blending colors have taken a new turn when it comes to making the curb appeal more and more. Choosing the most appropriate colors will bring drastic change to your curb appeal, making your home look fresh and giving it an all-new look. Here are among the top widely used colors in 2021 that have produced spectacular attraction to a home curb.
The house roofs
The type of roof will either be a deal-maker or a deal-breaker for those who want to list their home in the market. The metal roofing from aluminum materials and its alloys are making their way back to the market. Some other type of roof that has been desired for excellent curb appeal include:
The windows give a new fresh look to your curb layout. The 2021 trends in windows and gutters include:
Cast iron and wrought iron grilles
Conclusion
The year 2021 has brought in new ideas on making your home look as appealing as possible. It is of great benefit to employing these 2021 concepts to make an excellent curb appeal. If you want a great home or want to list your home for sale, the above guidelines are essential to make your home look good and attract more
If you're planning on selling your home this year, give us a call. Would love to offer tips and suggestions on how we market your home and present it to potential buyers. Contact us below for more details on presenting and selling your Colorado Springs home or property.