5 Staging Tips that Make a Bigger Profit
Posted by Ashford Realty Group on Thursday, December 30, 2021 at 8:29 AM
By Ashford Realty Group / December 30, 2021
Comment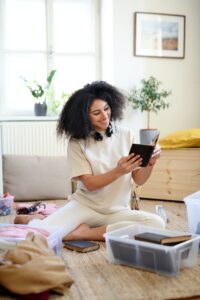 Staging your home to sell is an important step to selling your home. What staging steps do you take to maximize your profit? Deciding to sell your home is a big step, most people have lived in their homes 5-10 years before putting it back on the market, you have grown to love it and the quirks that go along with it. However, a potential buyer wants to see the bare bones of the home so that they can picture what their life would be like living there. So, what are the staging tips to maximize the profit you get from selling your home?
1. Declutter and Depersonalize
This step can sometimes be difficult for homeowners to hide away their prized possessions, family heirlooms, and family pictures but, giving a potential homebuyer a blank canvas to imagine their life and belongings fitting into your home this step is necessary. Pack away anything that is not required for your daily living, think of it as getting a head start on packing for your move. You may find that you had things just taking up unnecessary space that you no longer want or need that you can donate or sell.
When you have kids or grandkids that live in your home, or you babysit regularly can sometimes be hard. You don't want to pack up all of their toys and entertainment. Just make sure that you are reducing the number of toys available to them for the time being and make a space to put them away, out of sight from a potential buyer. The same goes for your pet children and their toys.
Take a good look at what sits on your counters, coffee tables, mantles, etc., and remove extra items that are not 100% necessary. Hideaway your stand mixer, air fryer, any extra appliance that doesn't need to be out on display. By putting away the extra items, your room will look more spacious and inviting.
Now for a bigger feat, take a look at your furniture in each room and remove excess pieces. Furniture that is bulky tends to not only make a room look small but, can look disorganized. If your furniture cannot be reduced, think about renting some furniture that would take up less space and spruce up your home.
2. Neutralize
Now that your reduced clutter and minimized your personal belongings, it's time to neutralize your home. Different shades of whites and cream colors might not be your desired look but, homebuyers tend to consider a home with neutral tones. When homebuyers are looking at a potential home to buy, they want to be able to imagine their belongings in the home, neutral colors make that possible, giving their eye a blank slate. Neutral colors are also easier to paint over if the homebuyer has plans to paint the walls with bolder colors.
Consider rooms with wallpaper, wallpapered walls are not as common as they used to be but, if you have them, consider removing it. It's a lot of work to remove wallpaper, take the initiative to go ahead and take it down, a potential home buyer doesn't want to look at a home and see more work they will have to complete once they purchase a home.
Examine all of the rooms in your home, replace loud, bold curtains with something light and neutral, this will brighten up your rooms and allow the natural sunlight in. Spend some money on new bedding with simple, neutral bedspreads or duvets, again giving a potential buyer a blank canvas view. Of course, don't ignore your bathrooms and kitchen, put fresh neutral towels in the bathroom and replace the shower curtain, in the kitchen making sure your dishtowels are fresh, clean and stain-free.
3. The Sniff Test
This step is extremely important, no one wants to buy a home that smells. It is common for homeowners to become nose blind in their own home, it wouldn't be a bad idea to have someone you trust to walk through your home and point out any smells that would be a deal-breaker for them. Once you know that there are unpleasant smells in your home, get to work to remove or reduce the odor.
Pet owners should find a safe place for their pets while trying to sell your home, especially animals with a litter box. Whether you have a hamster, gerbil, guinea pig, ferret, cat or something similar, your pet's bathroom is not something you want a potential homebuyer to smell. Cat liter boxes are the worst with their strong-smelling pee odor alone. If you can find temporary shelter for your animals and remove the litter box altogether, this is your best option.
Consider having your carpet professionally cleaned to get the musky odors out of your rooms. Carpeted areas trap odors like nobody's business, dirt, pet dander, dust, anything and everything can be trapped in your carpet making the entire room smell terrible. You may have your own carpet cleaner but, it's not a bad idea to leave it to the professionals.
A few other tricks, place candles that are strong enough to smell without being lit but, not overwhelming strong either. Take a cloths pin or binder clip to attach a sachet bag on the underside of your vents for a fresh smell to flow with the air coursing through your home.
4. Living Things
Add a few living things in your home, don't overdo it though. Sprucing up your home is one of the advantages of adding living things but, also shows your home is livable. A small bundle of flowers can bring a smile to your face, but consider a few live, maintenance-free plants such as a succulent. Put some fresh fruit in a bowl on the countertop to liven up your home or a small plant or bright flowers in the bathroom. You've had to put up with all the neutral colors, now it's your time to add a pop of color.
5. Curb Appeal
Curb appeal could make or break a deal before stepping foot into your home. Make sure your lawn is well tended to, mowed, trimmed and weedeated. If your walkway is boring, consider adding a few plants or bushes. Look at your entryway, if there is debris or it's dingy, look at giving it a fresh coat of paint and making sure anything that doesn't belong is out of the way. Consider pressure washing your home's exterior to take off any dirt build-up and make sure to clean your gutters. Take a good look at your porch or deck, bring out the pressure washer again, if necessary, add a plant or two to add a little life, make sure any outdoor furniture is clean.
Staging a home can be time-consuming and cost a little extra money but, in the long run, you can maximize your home's potential and your profit-making it all well worth it.