5 Staging Tricks All Seller Should Be Doing
Posted by Ashford Realty Group on Tuesday, February 15, 2022 at 8:01 AM
By Ashford Realty Group / February 15, 2022
Comment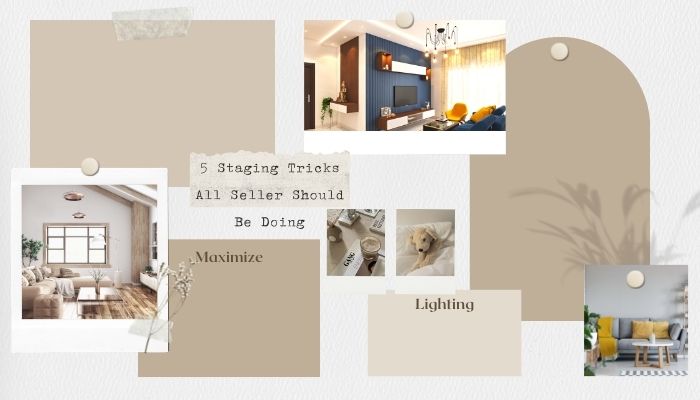 Staging a home does not sell a house, but it can make your home stand out against the other competition. Home staging can be pricey but, there are some affordable options as well. It is important to keep in mind that sellers don't often recoup the money they spend staging their home but, can ultimately bring in more profit at the time of sale. Here are 5 staging tricks that all sellers should be doing.
Define Rooms
When potential buyers walk into view a home, you don't want them to struggle to understand what the room is used for. If a room is being used for multiple purposes, it is best to narrow it down to one.
Currently, there are many more people working from home than ever before. Some homeowners were never expecting to need a home office, if there wasn't already a dedicated room in their home, they had to create a space for one, even if it meant putting it in a room with a different purpose.
Clearly defining a room will only help a potential buyer envision their belongings and family in the space.
Neutralize
When homebuyers are looking at a potential home to buy, they want to be able to imagine their belongings in the home, neutral colors make that possible, giving their eye a blank slate. Neutral colors are also easier to paint over if the homebuyer has plans to paint the walls with bolder colors.
Consider rooms with wallpaper, wallpapered walls are not as common as they used to be, if you have them, consider removing the wallpaper. It's a lot of work to remove wallpaper, take the initiative to go ahead and take it down, a potential home buyer doesn't want to look at a home and see more work they will have to complete once they purchase a home.
Examine all of the rooms in your home, replace loud, bold curtains with something light and neutral, this will brighten up your rooms and allow the natural sunlight in. Spend some money on new bedding with simple, neutral bedspreads or duvets, again giving a potential buyer a blank canvas view. Of course, don't ignore your bathrooms and kitchen, put fresh neutral towels in the bathroom and replace the shower curtain, in the kitchen make sure your dishtowels are fresh, clean, and stain-free.
Maximize Space
Regardless of the size of your home, you want to maximize the space you have. It's time to go through those closets, really clean them out. Those jeans you've been hopeful of fitting into once again, they don't fit now so donate them, shoe hoarders it's time to reduce the number. This can be a difficult task, especially if you have an attachment to your clothes and shoes but, it is necessary.
Not all closets only store clothes and shoes, many other things tend to get thrown in a closet to get them out of sight but, a potential home buyer will open up those closet doors, so hiding away miscellaneous items in a closest can be no longer. Pack away anything you aren't going to need right away or that you are unwilling to part with, such as family pictures and family heirlooms.
Take a good look at what sits on your counters, coffee tables, mantles, etc., and remove extra items that are not 100% necessary. Hideaway your stand mixer, air fryer, any extra appliance that doesn't need to be out on display. By putting away the extra items, your room will look more spacious and inviting.
Now for a bigger feat, take a look at your furniture in each room and remove excess pieces. Bulky furniture tends to not only make a room look small but, can look disorganized. If your furniture cannot be reduced, think about renting some furniture that would take up less space and spruce up your home.
Lighting
A poorly lit home can make potential buyers make a beeline back out the front door. Lighting is probably one of the most important aspects of a home. If your home is poorly lit, even after lightening the paint colors to lighter, clean colors, strategically place lamps around the room to help make the room shine. This is an inexpensive way to stage a room and make it more attractive to buyers.
Outdoor Space
Curb appeal could make or break a deal before stepping foot into your home. Make sure your lawn is well tended to, mowed, trimmed, and weedeated. If your walkway is boring, consider adding a few plants or bushes. Look at your entryway, if there is debris or it's dingy, look at giving it a fresh coat of paint and making sure anything that doesn't belong is out of the way. Consider pressure washing your home's exterior to take off any dirt build-up and make sure to clean your gutters. Take a good look at your porch or deck, bring out the pressure washer again, if necessary, add a plant or two to add a little life, make sure any outdoor furniture is clean.
Most importantly, your outdoor living space, potential homebuyers want to imagine their families enjoying a BBQ, entertaining, or simply watching their kids play in the yard. Offering a beautiful space to relax and unwind is something any homeowner would want, so a good impression of the outdoor living space is a must.
Taking time to stain/paint a fence and/or deck can make them look fresh and new. Showcase your outdoor space with nice outdoor furniture and maybe even a firepit. Add a pop of color with bright, pretty flowers and green plants.