5 Tips on Making a Competitive Offer
Posted by Ashford Realty Group on Saturday, March 26, 2022 at 10:27 AM
By Ashford Realty Group / March 26, 2022
Comment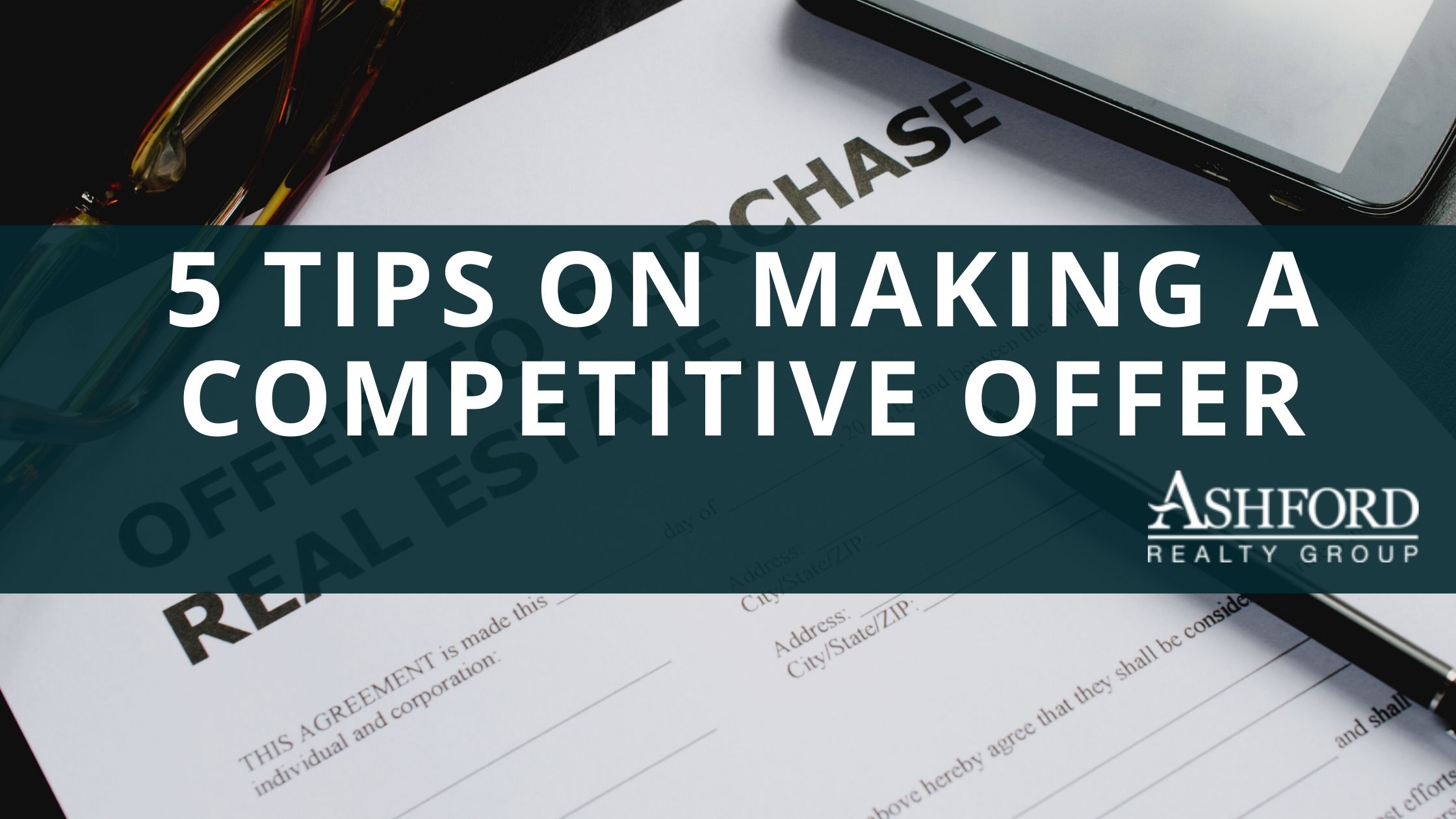 The low housing inventory and a high number of potential homebuyers have made competitive offers to outshine others necessary. To have the winning offer, doesn't necessarily mean that you have to have the highest offer. Potential homebuyers need to understand how to make a confident, competitive offer that stands out above all others once they find the home of their dreams. Here are proven successful tools that will help navigate you through the current competitive housing market and will give you a better chance of having the winning offer.
Pre-approval
Getting a pre-approval for a mortgage is a crucial step to take before even shopping around for a home. A pre-approval not only prepares you to shop for homes within your price range but, it's also a way to tell sellers that you are serious and have the funds to pay for the purchase. A pre-approval takes out a potentially lengthy process that the loan process can take, locating and providing the required documentation that a mortgage company needs to approve your loan. Sellers want the reassurance that your offer will not fall through due to your funding not being secured before the offer is made.
Hire an Experienced Realtor
Take your time to shop around and find the right realtor for you, you should want an experienced realtor but, you also want someone you can confidently trust to work for you. Schedule buyer consultations with various realtors for an introductory conversation to find the right professional for you. However, hiring someone that you feel comfortable with is not all you should look for, you want someone that is reputable and has the expertise to maneuver and properly guide you into homeownership. An experienced agent will not only be familiar with the contracts, helping to protect your money and interests, but will also likely have a good working relationship with various buyers and seller's agents.
Move Quickly but, Don't Panic Buy
Buying a home in a competitive market, if you find a home that is the right fit, you need to make an offer quickly. While submitting your offer quickly is necessary for the current market, be prepared for when you find the right home. Understanding your financial situation and what you are willing to pay is imperative. When making an offer, you don't want to go in with all your chips on the table, you want some wiggle room in case you need to counteroffer but set a price limit and stick with it if it's meant to be, it will be. Another pro tip, review homes online and only attend open houses for homes you are seriously considering making an offer on.
Earnest Money and Down Payment
Sellers want reassurance a buyer is serious and has money available to complete the sale. Buyers will usually submit an offer with an earnest money deposit, representing approximately 5% to 10% of the purchase price. The earnest money deposit will ultimately become part of the down payment at closing. More importantly, the down payment you're offering is usually between 5% and 20% of the purchase price. The larger the down payment the better. Unfortunately, a down payment could prove difficult or almost impossible for cash-strapped buyers. All is not lost when a down payment is not possible, there are options. Buyers can apply for a first-time homebuyer grant or down payment assistance program to help complete your offer.
Make a Strong Offer
There are a number of strategies that contribute to a strong offer, these strategies vary based on the location and the home you are attempting to buy. Let's break down some of the strategies that experts will refer their clients to use.
Waive Contingencies - a seller may be more willing to accept a buyers offer if there they aren't required to complete more time-consuming steps. Mortgage lenders require a home appraisal to be completed, so when an offer includes waiving a home appraisal it can really make the offer much more attractive. When a home appraisal is waived, the buyer should add an appraisal gap clause, so they don't get in over their heads. The appraisal gap clause will set an amount the buyer is willing to pay over the appraisal amount, so if the offer is for $500,000 and the appraisal is $475,000, the buyer would be responsible for paying the $25,000 difference unless the appraisal gap clause states differently.
Research and Construct a Tailored Offer - This is a good time for your agent to work some magic before submitting your offer. Your agent should find out if the seller has turned down other offers and if so, why? How quickly is the seller interested in closing? Knowing the answer to these questions can help you make a solid, strong offer by giving the buyer what they want.
Create an Emotional Connection - Write a sincere letter to the seller explaining why you are like the home and feel that it will be the perfect place for your family to make memories. Homeowners that have sentimental attachment to a home aren't too keen on selling their home to someone that is interested in completely changing the home or flipping it to resale.
Having an experienced Realtor is key during a competitive market between knowledge and connections, a realtor can help seal the deal.
Contact us today for all Colorado Springs homes and real estate.