5 Ways to Sell a House
Posted by Ashford Realty Group on Sunday, February 6, 2022 at 2:54 PM
By Ashford Realty Group / February 6, 2022
Comment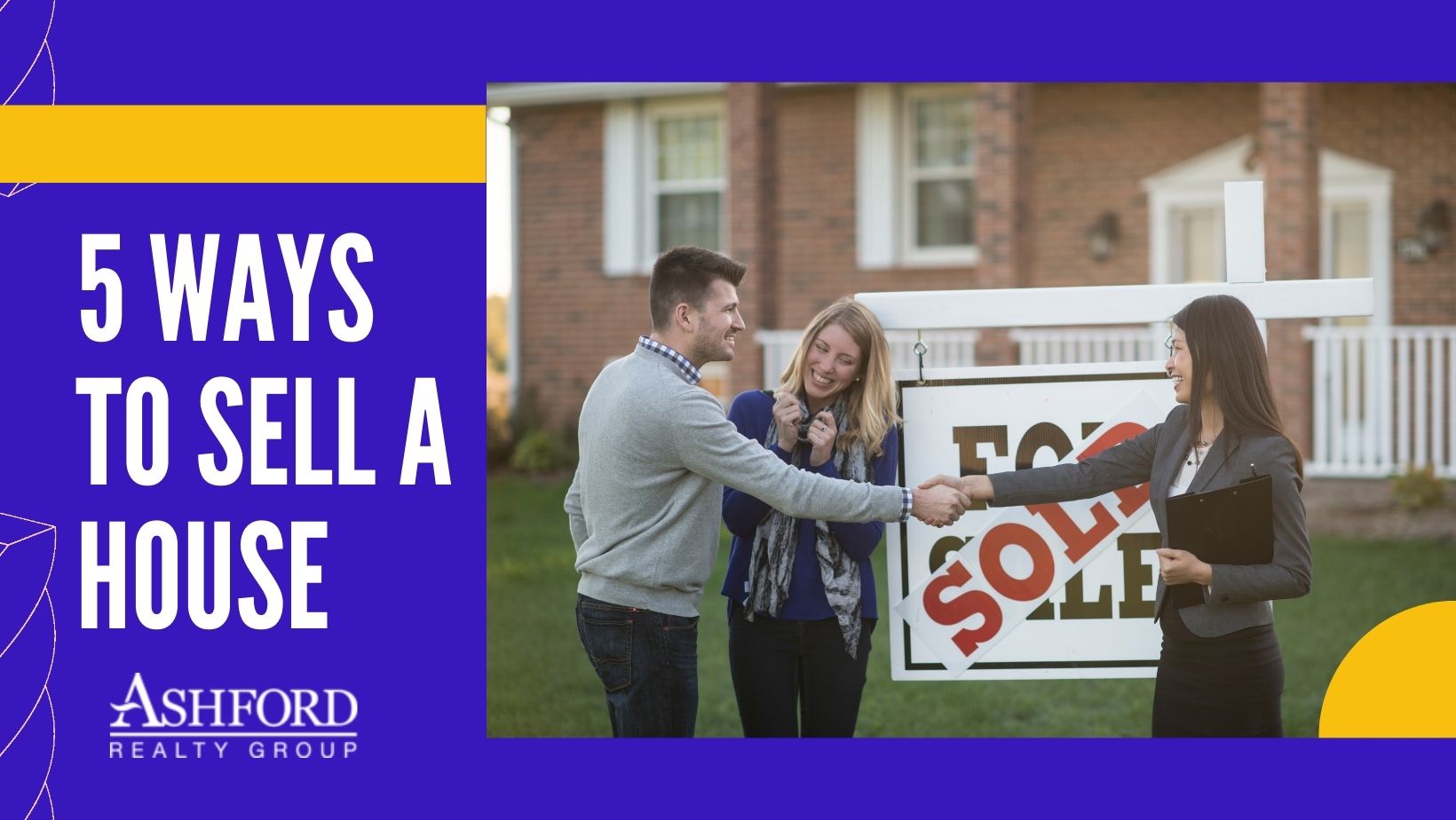 There are 5 ways to sell a house, understanding your options is important to decide which one is best for you. Ashford Realty Group will take the time to go through each of these options with their free consultation, even if they don't offer all of these options. Ashford Realty Group wants the seller to make the best decision for them, even if it's not the best option for Ashford. The way you choose to sell your home could make a huge impact on the final outcome.
Full Service
Realtors that offer full service don't pick and choose the services they provide sellers; they offer the whole package. What's included?
Ashford Realty Group includes a full marketing plan which includes listing on MLS, marketing on their website and trusted syndicate sites, professional pictures, 3D walkthrough virtual reality scan, social media, email campaigns, signs, and more.
Also included in the full service offered by Ashford Realty Group are guidance and consulting through every step of the process, help on negotiating offers and contract terms, setting the purchase price, staging tips, timing considerations that are in the best interest of the seller, a pre-listing inspection with Ashford's maintenance professional, recommendations on repairs and upgrades, and more.
Ashford Realty Group offers top-of-the-line service to their sellers saving time and money for their clients. Having a professional trusted maintenance professional on staff to provide sellers with a pre-listing inspection without having to hire a private contractor eliminates having to work with their schedule and costs more money.
Discount Brokerage/Limited Service
Deciding to utilize a discount broker or limited-service agent, you are getting a discounted rate as these agents charge less than full commission but, you are losing valuable services a full-service broker can provide.
Some discount agents will offer various limited marketing packages you can choose from or an a la carte type service menu, so you can customize the services you want to pay for. The marketing that most discount agents will offer is usually limited to just posting the MLS and will usually charge extra for items such as professional pictures and scans.
Discount or limited-service agents tend to not be as fully involved, offering guidance to the seller throughout the process.
For Sale by Owner
Most sellers plan on saving some money by selling their home on their own, although studies show that FSBO sellers make a considerable amount less than if they had used a realtor.
Sellers should not expect to get anything higher than fair market value, even if sellers are in an advantageous position based on the current, local market.
A few buyers agents will even avoid showing FSBO houses, reducing the number of potential buyers. The buyer's agents that avoid FSBO homes do so because they don't want to risk not being paid their commission due to there being no listing agent to split it with.
Sellers that decide to go the FSBO route need to be ready to put in the work. The seller has to take on the responsibility of marketing, negotiating offers, understanding contracts, and everything else throughout the process on their own. They will also need to be available to schedule showings.
Additionally, the seller will be responsible for paying for everything, as it will not be included in an agent's service. The seller is looking at paying for the inspections, marketing, etc. There may even be a fee to list the home on MLS as FSBO.
FSBO is not usually recommended as it can ultimately consume a lot of unnecessary time and money from the seller.
Cash Offer
The cash offer is rarely recommended to sellers, most often this is where an investment company or person will pay for the house in cash, flip it, and put it right back on the market to sell for a profit.
What are the rare occasions that this would be a recommended method of sale? When repairing and readying the home would cost more than what the seller would make off it, if the property is inherited and they just want to get rid of it quickly, or if the seller is upside down at the end of the transaction. A seller is considered upside down when they don't make any money on the sale of their home due to paying off other costs.
Investors are interested in buying a home at a low price and selling it for a high price, this is how they make their money.
I-Buyers
I-Buyers or Internet Buyers is a new option for selling your home. Online companies, such as Zillow are now trying to be brokers. This option does not lookout for the best interest of the seller, they are only interested in making money for themselves.
The seller is handing over complete control over the sale of their home with stipulations that must be followed for the contract to go through. Some of the common stipulations are moving out before closing, higher commissions (service fees), telling you what they want repaired; whereas you would normally be able to decide and adjust the purchase price based on what you have chosen to repair, and more.
The company will tell you what your home is worth, not the highest price you could get, then expects you to meet their demands and make repairs. The buyers have no responsibility or loyalty to you, they are only interested in making as much money as possible off of you and your home.
Sellers that use this method of sale, can expect to get fair market value at best, then watch the buyer turn around and sell your home for a profit. A seller would be better off going with a cash offer sale vs. an i-buyer.
Start the Selling Process Here