6 Great Tips For Hiring Movers
Posted by Ashford Realty Group on Monday, May 9, 2022 at 4:04 PM
By Ashford Realty Group / May 9, 2022
Comment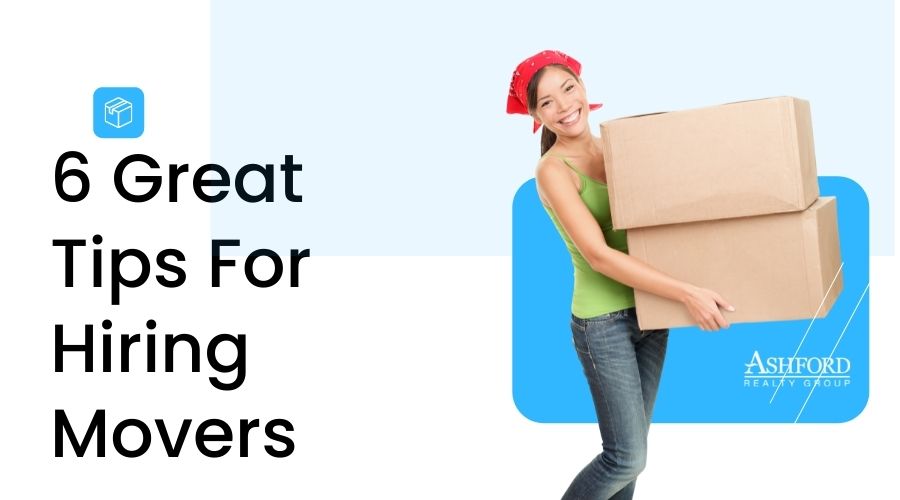 Moving is already overwhelming just getting everything done, hiring movers don't slack off, make sure you know who you're hiring. Of course, you don't want to spend a ton of money on movers but, you don't necessarily want the cheapest either. Taking the time to research and interview potential movers is imperative before deciding on who you will trust someone with your belongings.
What should you look for when hiring movers? Here are some helpful tips to avoid making a mistake by trusting the wrong movers.
Research Companies
Ask friends, families, and even co-workers for recommendations or even bad reviews about moving companies that they have personally had experience with in the past. Getting suggestions from your friends and loved ones you trust and have your best interest at heart, you can feel confident in their reviews. Take the time to contact the companies you are considering and ask them to provide references.
Once you've narrowed down your choices, go a step further and check reviews with the Better Business Bureau. Check both the good reviews and the complaints against the moving company. While the complaints are likely valid, what was upsetting to one person may not seem like a big deal to you.
It's crucial to verify that the company is legitimate, this seems a little farfetched but, scammers are prevalent everywhere and good at playing various roles to bait their target. Make sure to visit the company yourself to see if everything appears legit. Are the trucks labeled, displaying the company logo?
A few other steps you can take to validate that the company is legitimate are searching for the company's motor carrier license information on the Federal Motor Carrier Safety Administration SaferSys website. You just need the DOT number to check that everything checks out. If you are moving out of state, the moving company will need to be authorized for interstate moving.
Get Multiple Quotes
Getting two or three quotes is suggested to compare and make the best decision for your moving needs. Having a consultant come to your home to see what all your move will entail and make a solid estimate is highly recommended, never take a quote over the phone sight unseen. It is also important to ask moving companies if their estimates are binding or unbinding.
When getting a quote, make sure that the movers are aware of everything the move will entail, is you don't make them aware there could be costly additional costs that you were expecting upon delivery that were not included in the original estimate. Also, you will want to make sure that you advise the movers of any special circumstances. For instance, if the moving truck will have difficulty parking near the home and is forced to walk a longer distance to get your boxes to move in, they may charge extra.
For interstate moves, the moving company will factor in the distance between locations, the weight of the items they are moving, packing, and other services.
Insurance
While you may have homeowners or renters insurance already, it will only cover your belongings that are in the home, not in transit to your new home. For moves that are further away, you should consider purchasing moving or relocation insurance because unless you hire movers to pack your belongings as well as move them, it is unlikely they will be covered without a separate insurance policy.
Review the Contract
Like any contract, you need to make sure you read it thoroughly and that you understand every word of it. The contract should include the rates and charges, the mover's liability, dates for pickup and delivery, and claims protection. The last headache you want is the moving company holding your possessions hostage until you pay extra costs that they incur.
The legal contract between the mover and customer is called a bill of lading, the mover will issue this contract. You need to make sure that you have thoroughly read and understood this agreement before signing it. You will want to keep your copy of the bill of lading handy in case of any issues you may run into. Once it is signed, you are legally obligated to pay what it says you're supposed to pay. The bill of lading will also include information such as the name and address of the moving company, the type of payment method accepted, time of pickup, minimum and maximum amounts to pay, and other details regarding the payment.
Stick to The Delivery Date
Once the movers have picked up your belongings, you will want to stick to your delivery date. Unfortunately, there are times when a wrench is thrown in your plans, and changing the delivery date cannot be prevented. When the delivery date is changed after the movers have already picked up your belongings, you will likely incur storage fees to keep your items safe until they can be delivered.
Additional: Ways to Make a Move Easier on Soon-to-Be Moms
The Wrap-up
Hiring a moving company to take off some of the stress of packing, transporting, and delivering your belongings can be a wonderful thing but, it can easily turn into a nightmare if you aren't careful. Taking the time and initiative to thoroughly research companies should ensure that your move will go smoothly.