8 Things That Can Hurt Your Property Value
Posted by Ashford Realty Group on Sunday, May 22, 2022 at 9:56 AM
By Ashford Realty Group / May 22, 2022
Comment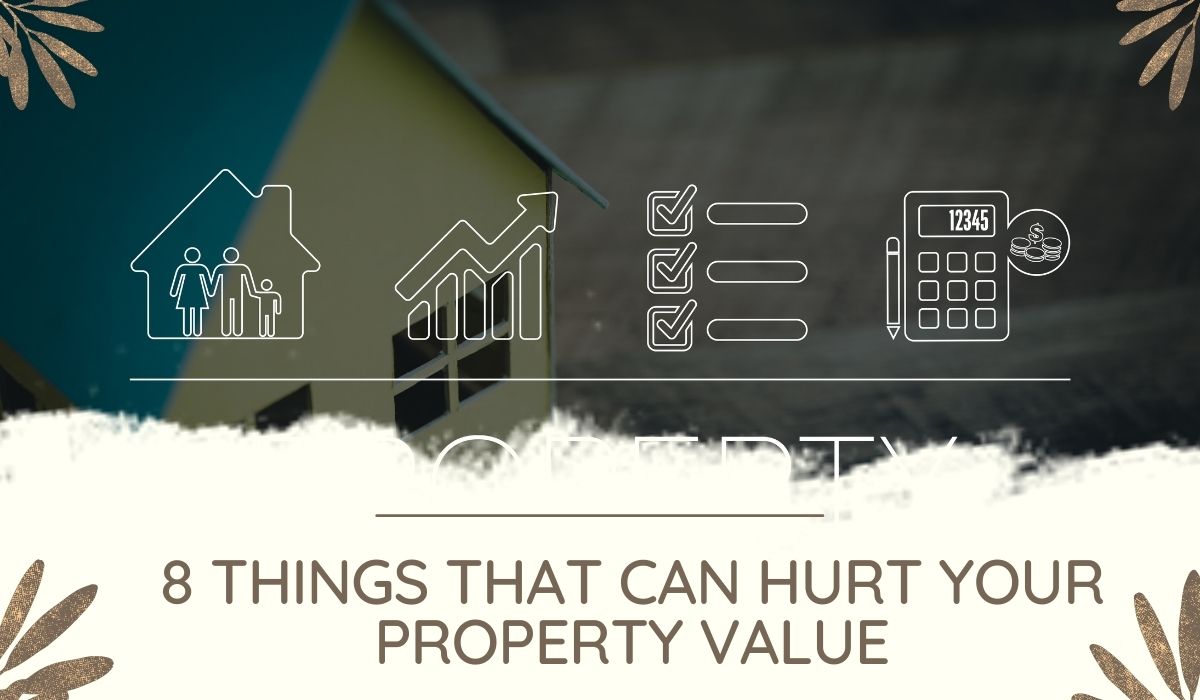 As a homeowner, you want to work towards increasing your property value, so knowing what can hurt the value of your home is important. There are many factors outside of your control that can decrease your property value such as market conditions, interest rates, and the economy. However, if you are aware of what hurts your property value that is within your control, you can make necessary improvements to protect your home's value.
1. Excess Clutter
Throughout the years, people tend to accumulate belongings that turn into clutter. Clutter can sneak up on you, you are happy and comfortable in your home and with your choice of furniture and trinkets. Unfortunately, most people don't realize the amount of clutter they have until they are about to list their homes. Overcrowded rooms can make it difficult for potential buyer to visualize their belongings in the space. Decluttering your home is an easy, inexpensive way to add value to your home. Yes, decluttering can be stressful, especially if you're attached to your belongings. Sometimes making hard decisions to let go can be freeing. Besides, donating your items can benefit someone else that may need it.
2. Unpleasant Odors
Unpleasant odors are not only off-putting but, can leave a negative and lasting impression taking away from your home's value. Regardless of the source of the odor, it's best to locate the root cause and eliminate it. The last thing you want to do is mask the odor with a strong perfume or fragrance. Keeping your home clean and tidy is the best way to avoid unpleasant odors from plaguing your home. Routinely dusting, vacuuming, wiping down countertops and other surfaces, and cleaning the bathroom and kitchen. It's not a bad idea to hire a professional to come in and deep clean your home at least once a month to ensure your home remains clean.
3. Too Much Carpet
Carpet tends to quickly show signs of use, trapping unwanted odors and dirt, it can be difficult to keep clean. Potential buyers will steer clear of homes with excessive carpets because they can be expensive to replace, and they can also collect indoor allergens that affect their entire family. To increase your home's value, replace carpeting with hardwoods, laminate, or tile flooring. For the carpet that you do have, make sure to have it professionally cleaned periodically to prolong the life of your carpet.
4. Unnecessary Upgrades
Homeowners usually have good intentions when they decide to renovate or add on upgrades to their home, but not all upgrades will increase the value of the home. If you are thinking of renovating or adding features to your home, think about whether the upgrade will be more attractive to homebuyers. For example, tearing out two small bathrooms to combine them into one large bathroom may be unappealing to potential buyers. If you are considering updates on your home, consider upgrades to items that will be an absolute sure thing a home buyer would want. Installing a new roof, adding insulation, and replacing windows are attractive to potential buyers because these things increase efficiency.
5. Interior Paint
A fresh coat of paint can do wonders for any home, so if you leave your outdated walls unattended you will only be hurting your home's value. Deciding on a paint color, you need to make sure to keep your colors neutral, bright, bold colors or wallpaper could cause a potential buyer to see more work and money they have to spend. If you do decide to paint your walls, you need to make sure that you are using quality paint and brushes. Using low-quality paint could end up costing you more, in the long run, due to having to use more paint to obtain similar results that more expensive, quality paint would have gotten the job done the first time. If you are unsure, consider hiring professional painters to take care of getting the job done right the first time.
6. Projects Gone Wrong
Homeowners have the best intentions when they plan a DIY project, they want to make their home better, save money by doing it themselves, and hopefully make a better profit when they sell their home. Unfortunately, some homeowners find they have taken on a challenge that is more than they can handle. Even experienced DIYers can end up in a bind when taking on larger projects, possibly costing more money to have a professional come in and fix what you have done. If you are considering a DIY project, make sure you know what you are doing or consider hiring a professional in the very beginning. Kitchens and bathrooms tend to be the toughest rooms to remodel and the most expensive, if you are confident in remodeling parts of the project but, maybe not all of it, have a professional come in and complete the work you aren't sure of, such as the plumbing or electrical.
7. Lack Luster Curb Appeal
Take a good look at your home from the outside, if you were looking for a home, would the outside be inviting, or would you want to keep driving by? Curb appeal has several pieces that need to be reviewed to ensure your home value is not at risk of decreasing.
Exterior Paint - Look to see if the paint is faded, chipped, or flaking it's time to give your home's exterior a fresh coat of paint.
Exterior Lighting - Is your home lacking lighting that would guide visitors to your front door? You would be amazed at how much of a difference exterior lighting can make to your home.
Rundown Fencing - Fencing that is weathered or falling simply creates an eyesore. Simple solutions could be to power wash or restain your fencing and replace any fencing that is in disarray.
Windows and Siding - Windows and siding that have dust and dirt build-up can take away from what your home has to offer. Make sure to take the time to wash your windows and siding to make your home shine.
Front Door - A worn front door can make a potential homebuyer quickly lose interest, if it needs to be replaced take care of it. You may just need a fresh coat of paint to encourage potential buyers to walk through the door.
Landscaping - Leaving your yard unattended, overgrown grass, untrimmed bushes, and tree limbs littering the yard, all of these things can quickly discourage a potential buyer from moving any further. If you don't have time or are unsure how to get a grasp on your yard, consider hiring a landscaper to take care of it for you.
8. Lacking Upkeep
It's important to keep your home well-kept and in excellent working order, neglecting maintenance tasks will only cost you more in the long run by further damaging what needs a fix or reducing the value of your home. When your home isn't taken care of, you risk having to negotiate repairs and major expenses before closing. If something breaks, take care of it right away and if you can't fix it yourself, hire someone who can. Unattended repairs could potentially cost you more if the break gets worse to the point that you have to completely replace instead of repair what's broken.