Best Dog Parks in Colorado Springs
Posted by Ashford Realty Group on Wednesday, December 29, 2021 at 11:13 AM
By Ashford Realty Group / December 29, 2021
Comment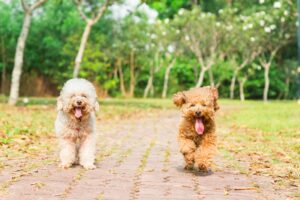 Colorado Springs is bursting with outdoor parks and hiking trails throughout but, what about your pet? While most parks and trails welcome your four-legged friend, there are plenty of parks designed specifically for them. While it's nice to be able to take your pet on hikes and walks through the park, there is nothing more satisfying for your pet than to run around free of a leash. Here are some of our top picks for the best dog parks in Colorado Springs but take the time to check them out on your own and let your pet decide, it will be fun for both of you.
Bear Creek Dog Park is easily named the best dog park in Colorado Springs. The 25-acre fully fenced park provides dogs plenty of freedom to roam; areas include open prairie, hills, and woods. There is even a creek for your playful pups to splash around or cool off from all their playing. Bear Creek Dog Park is the perfect place for social dogs to meet friends while enjoying nature. This dog park also includes dedicated areas for small or senior dogs to enjoy their time while keeping away from bigger, more energetic dogs. For athletic hounds, there is a separate agility area designed just for them. Bear Creek Dog Park is probably the most popular dog park, it is very popular among humans and dogs, a great way to socialize.
The Cheyenne Meadows Dog Park is a small neighborhood dog park that local community members tend to favor. The ground is covered with wood chips and there are logs for dogs to play on. The park is sectioned off to accommodate pets of varying size, age, and agility with an area for large and/or active dogs or small and/or senior dogs. There is plenty of room for your pet to play and meet new friends. A downside to the Cheyenne Meadows Dog Park is the lack of shade, so you may want to bring your means of shade.
Rampart Dog Park is just the right size, small enough to keep your eye on your dog and large enough for them to exhaust themselves from all the play. The dog park is equipped with an agility area for your dog to have a little extra fun and there is a walking trail that surrounds the dog park to allow your dog to stretch before joining in on the fun or for a post-play cooldown. On top of the fun experience for your dog, the park has incredible views for you to enjoy whether walking your dog on the trail or monitoring their activity in the park.
Red Rocks Open Space is located in a city preserve with walking and biking trails, so you need to always be mindful of where your dog roams. This park is best for dogs with good recall as the off-leash area is not completely fenced and you don't want your pet getting too far away from you or in trouble for hurting someone or their pet. There are two off-leash loop trails for nature walks with your pet, but otherwise, dogs must be leashed in all other areas of the park. Red Rocks Open Space has scenic views of red rock formations to take in while giving your pet some freedom to move, walk, and play.
Garden of the Gods Dog Area is located in a registered national natural landmark, so rules need to be strictly abided by. There is one off-leash area, otherwise, dogs are welcome on any of the trails as long as they are leashed. This park has amazing views and towering sandstone rock formations to enjoy while allowing your dog time of his/her own.
There are even more parks specifically for your pet or that are pet friendly you can check out to find the right fit for you and your pet. Keep in mind to check the rules and requirements to utilize a park you wish to visit before your visit but take the time to treat your pet to a park with only them in mind.
More Great Things About Colorado Springs