Colorado Springs Brunch Favorite Spots
Posted by Ashford Realty Group on Thursday, June 2, 2022 at 7:57 AM
By Ashford Realty Group / June 2, 2022
Comment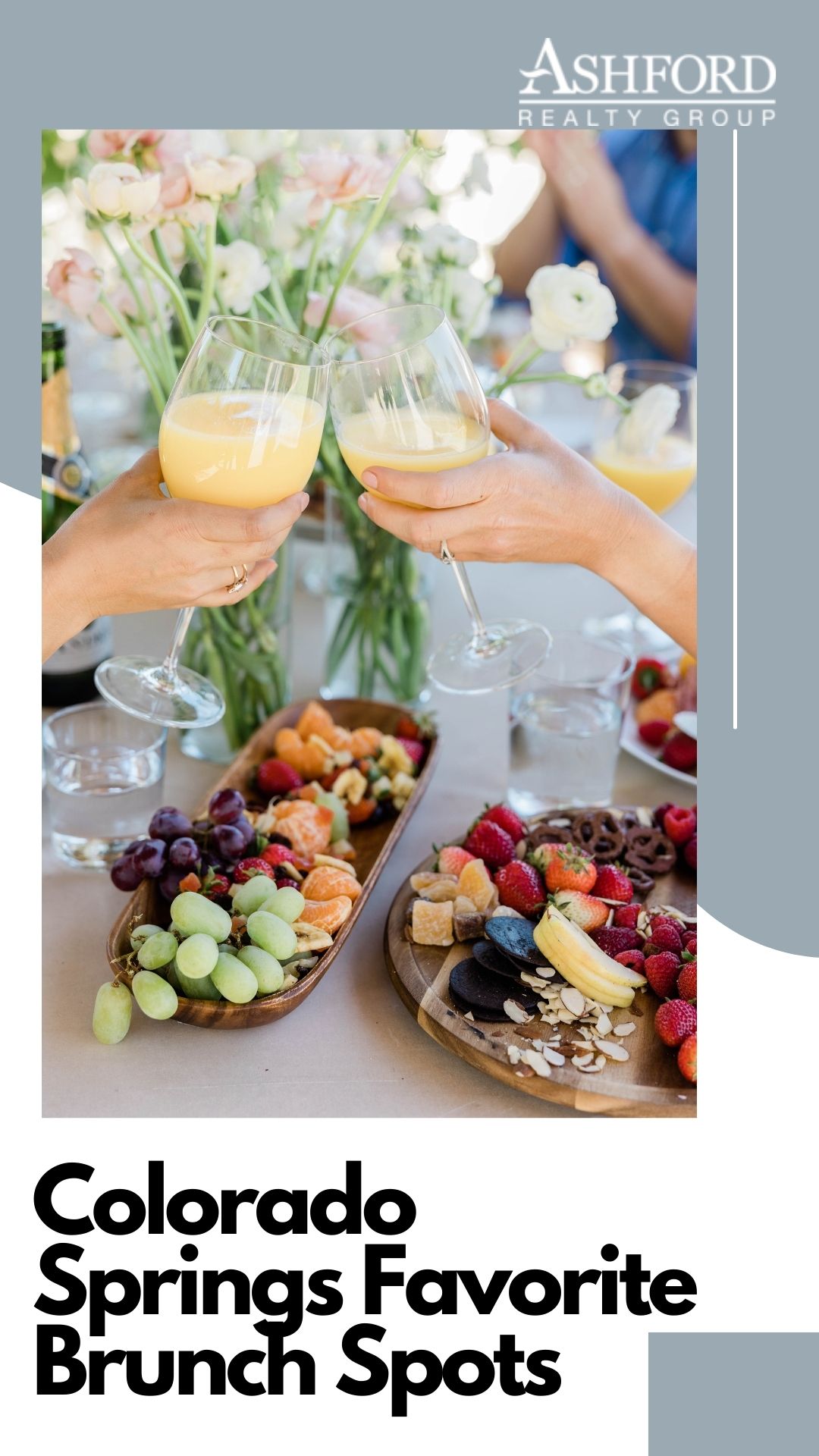 Brunch is easily a favorite mealtime offering the perfect combination of breakfast and lunch. Brunch is a particularly popular meal on the weekend. Sunday brunch is likely what most people initially think about when the topic of brunch comes up. Families would gather for a meal or go out for a meal after church services had ended and due to the timing, still early enough for breakfast but, right on the cusp of the lunch hour, the term brunch was used.
Throughout the years, brunch has grown in popularity for various reasons. Once women began working outside of the home, they wanted a day off from not only their paying jobs but, from the kitchen as well. As brunch began picking up in popularity, people discovered that by meeting for brunch, they were allowed to sleep in making this mealtime an even bigger hit. Brunch picked up even more speed for a crowd that spent the evening before staying out late or even drinking.
Nowadays, brunch is probably at its height in popularity. Families are still enjoying brunch altogether, and the group of friends appreciates sleeping in a bit before facing the day after a late night out, but now more than ever, friends are taking advantage of the brunch specials that establishments are offering. Restaurants tend to offer mimosas or bloody Mary's as part of their brunch specials, for those that may be hungover from a night out, bloody Mary's are known to be a cure for a hangover.
Regardless of your reason for liking brunch, Colorado Springs has plenty of brunch options for everyone to enjoy, so take some time to check out multiple brunch spots to find your favorite. Here are some of the brunch hotspots that everyone should check out.
1. 503W
An award-winning restaurant serving American cuisines that are Asian influenced. 503W uses fresh, natural, and locally-minded ingredients to create amazing food and drinks that will have your taste buds wanting to come back for more. More than half of the brunch menu uses Asian-inspired ingredients such as sriracha maple syrup, Korean 3 spice, wasabi soy dressing, or sriracha aioli, these ingredients are set their menu apart from other restaurants.
The sweet bacon hash or lucky belly hash is an extremely popular brunch item, the pairing of sweet potatoes, bacon, or pork belly with Korean-inspired ingredients meld together to make the perfectly unique plate of flavor. Of course, 503W does offer more traditional menu items such as a Belgium waffle or French toast that are topped with fresh strawberries and blueberries and sprinkled with powdered sugar. If these items are too sweet for you in the morning, the classic chicken in waffles or breakfast burrito is also an excellent option.
The food is not the only menu that attracts diners to choose brunch at 503W, the beverages offered are award-winning. The brunch menu includes a bottle of mimosas, they will pair a bottle of champagne with the juice of your choice. However, you may want to try one of their specialty drinks such as the Wasabi-Pineapple Mule or Korean Zombie.
2. Homa Cafe and Bar
Homa Cafe and Bar is located on the first floor of the Kinship Landing, a boutique hotel in downtown Colorado Springs. Even though Homa is located in a hotel, they welcome anyone to come in to enjoy one of their specialty crafted meals. Diners are welcome to sit anywhere they like, a cozy booth, fireside lounge, at a table alone or a community table, the indoor Greenhaus space, or one of the two outdoor patios.
The menu consists of various cuisines that were inspired by worldwide travels and brought together with some Colorado-style favs. The menu offered is available all day and the menu items are made with fresh locally sourced ingredients.
3. The Margarita at Pine Creek
The Margarita at Pine Creek offers fresh-to-order fares with their spin on some traditional brunch foods. Foods vary from the coffee cake, breakfast tacos, egg puffs, Eggs Rockefeller, and so much more. Enjoy your meal on the patio paired with a peach Bellini and during the summer with live music.
This is a brunch you'll need to dress to impress, The Margarita wants their guests to look nice when dining at their restaurant, we aren't talking formal gowns but, leave the whole t-shirts and ripped jeans in the closet and pull out a nice summer dress.
Conclusion
Colorado Springs offers tons of amazing brunch locations that will satisfy anyone's tastebuds. The ambiance and scenic backdrops may be something you long for to go along with the amazing food and beverage, there are plenty of brunch spots that can offer both. Carter Payne is located inside an old church-turned food hall and Bon Ton's Cafe is located in Old Colorado City with a mountainous backdrop.
Brunch seekers may be interested in trying more unique cuisines or simply looking for something more basic. Mountain Shadows Restaurant offers a cinnamon roll large enough for the entire table to share and they offer some of the best green chilies to add some flare to your food or Patty Jewett Bar & Grill offers a lot of food and some hair of the dog if that's needed as well.
Colorado Springs is home to several brunch spots offering a well-versed menu, so depending on what you're looking for, whether you want something fancy and proper, somewhere to take the family, or need to rid yourself of a hangover, pick your poison.
We love Colorado Springs and think you will too! Thinking of moving? Check out other Colorado Springs things to do: