Colorado Springs Farmer's Markets
Posted by Ashford Realty Group on Sunday, June 5, 2022 at 7:57 AM
By Ashford Realty Group / June 5, 2022
Comment
The season has come when Farmer's Markets are open and ready to serve the community. The Farmer's Market not only offers fresh, locally grown produce, but they also offer local art and other creations to discover.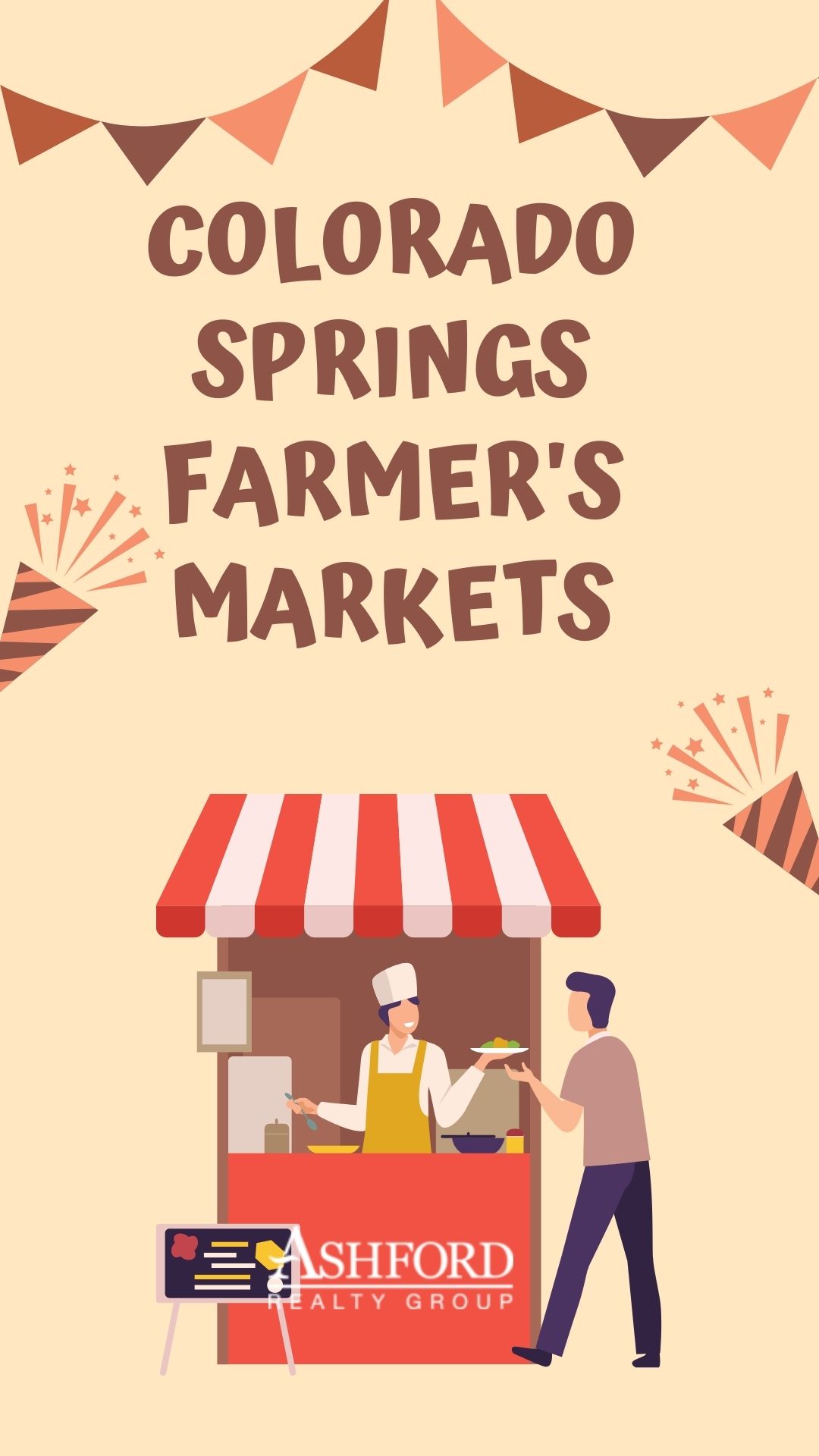 Why support the Farmer's Market?
There are many reasons supporting a local Farmer's Market is important to a community. Supporting local farmers is probably one of the first things that come to people's minds when thinking of the Farmer's Market. While local farmers do want and need the support of the community, Farmer's Markets help the local economy thrive as well. When purchasing produce from the supermarket, that tomato you are buying may have come from as far away as Mexico. That "fresh" produce they are marketing may have been transported by truck across multiple states, for multiple days, and literally on its last leg before going bad, not to mention that the taste is usually very lackluster.
By buying produce from the Farmer's Market, you are purchasing a product that only traveled mere miles before reaching its destination and ultimately into your hands. You will be buying truly fresh produce and supporting the local farmers while you are at it.
However, Farmer's Markets are not only offering produce, there are usually a variety of other goods that are available for purchase and that are also locally produced. Artists will present their various works from painting, woodworking, glasswork, ceramics, and much more. Most markets will offer baked goods such as bread, cakes, and muffins.
Colorado Springs Farmer's Markets Schedule
Here is a breakdown of Farmer's Markets in the Pikes Peak Region including the months, times, and locations of each. Some markets are limited to only a couple of months, while others are open for several months leading into the fall. Exploring each market can be a fun, eye-opening experience, so make sure to check out as many as you can.
Monday Markets
Tuesday Markets
Currently, there are no known markets that are held on Tuesdays.
Wednesday Markets
The Briargate Market, Briargate - Located at 7610 North Union Blvd, this market runs from May 18th - October 5th from 9 am - 2 pm. The booth at the Briargate Market will include even more produce than previously offered, dog treats, honey, locally ground coffee, pasta, Pampered Chef, Tupperware, locally designed and created jewelry, and so much more.
Farm & Art Market, Downtown, Colorado Springs Pioneers Museum - Located at 215 S Tejon St, this market runs from June 8th - October 5th from 3 pm - 7 pm.
Mining Museum Farm Stand Market, Western Museum of Mining - Located at 225 North Gate Blvd, this market runs from June - October, 9 am - 4 pm.
Thursday Markets
Banning Lewis Ranch, North Powers - Located at 8833 Vista Del Pico Blvd, this market runs from June 2nd - August 25th from 3 pm - 7 pm. Over 30 vendors ranging from produce, locally raised meat, soaps, baked goods, clothing, and more take the opportunity to show off their products for the community to discover. Beginning in June, live music is provided once or twice a month to attract more visitors.
Friday Markets
Woodland Park Farmers Market - Located at Henrietta Ave at Center Street from June 2nd - September 30th from 8 am - 1 pm. This market will offer seasonal produce, eggs, cheese, bread, baked goods, jams, salsa, wellness products, crafts, flowers, and more.
Saturday Markets
Sunday Markets
Backyard Market in The Farm - Located at 11631 Ridgeline Dr, it runs from June 12th -September from 10 am - 2 pm.
Cordera - Located at 11894 Grandlawn Circle from May 22nd - September 4th from 10 am - 2 pm.
Conclusion
As much as Colorado Springs residents enjoy spending time outdoors, any of these Farmer's Markets create an excellent opportunity for people to get out enjoy the weather, shop local, and socialize with neighbors. The perfect family-friendly way to spend your day.
We love Colorado Springs and think you will too! Thinking of moving? Check out other Colorado Springs things to do: