Colorado Springs Most Popular Breweries
Posted by Ashford Realty Group on Wednesday, June 1, 2022 at 7:57 AM
By Ashford Realty Group / June 1, 2022
Comment
Colorado Springs is home to more than twenty craft breweries, creating amazing drink selections. Breweries have become very popular in Colorado Springs offering ample opportunity for residents and visitors to get outside, socialize, and be entertained. Colorado Springs is a city that welcomes creative, artist entrepreneurs a chance to shine, whether it be paint, wood, jewelry, food, or more craft brewers continue to create unique beverages that keep customers coming back for more.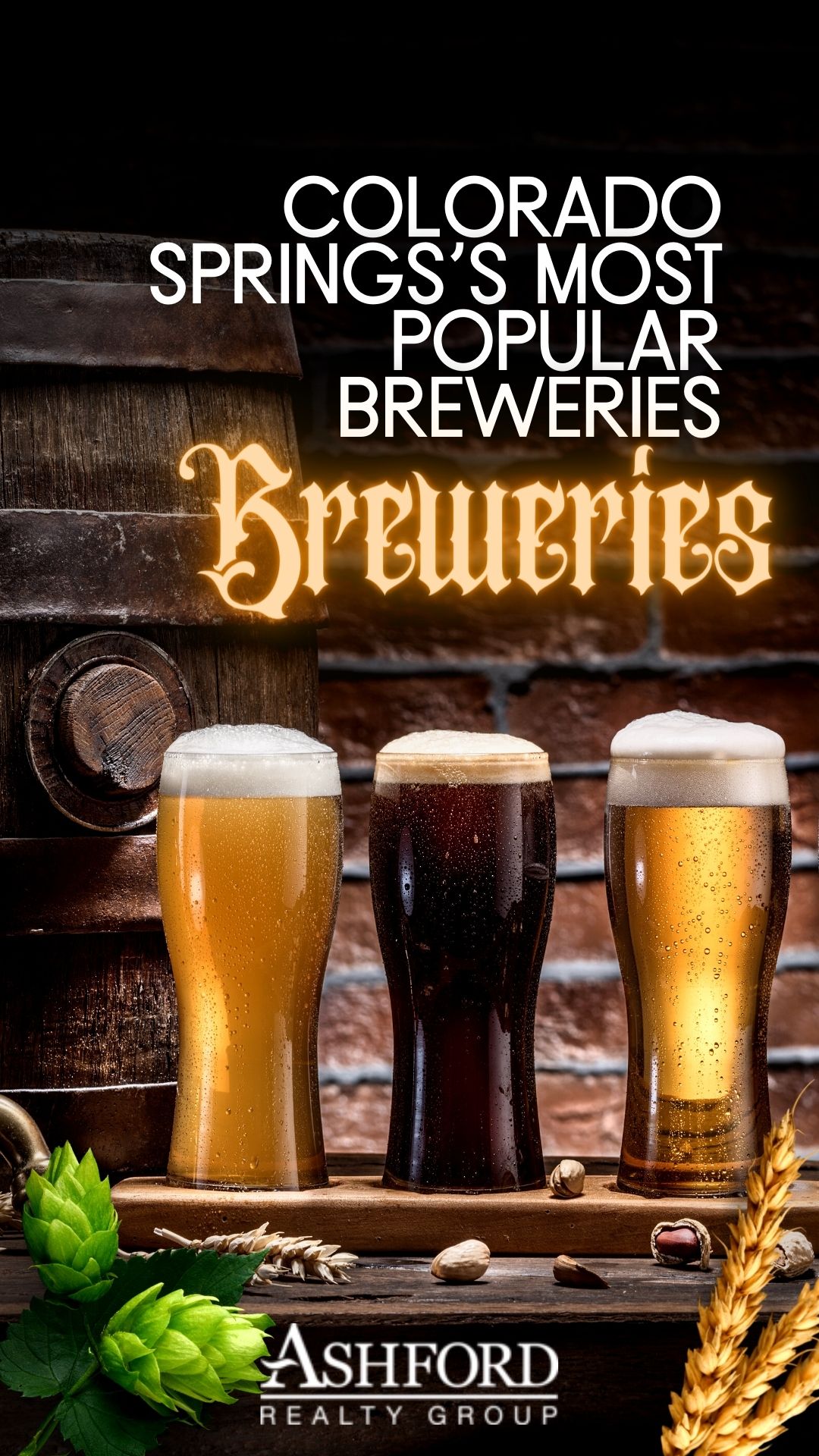 We encourage you to take the time to check out all the local breweries in Colorado Springs if time allows, but if time is limited, here are the most popular breweries to check out.
Phantom Canyon Brewing Company
Phantom Canyon opened its doors in 1993, taking residence in the historic Cheyenne Building named after Cheyenne Mountain and Chief Two Moons of the Cheyenne Indian Tribe. The creators of Phantom Canyon Brewing Company choose to honor their namesakes by dedicating themselves to offering the best overall experience of beer, food, and hospitality they can offer.
Take a seat at the bar and select from one of fourteen to nineteen unique beer selections. Phantom Canyon expert crafters are continuously concocting new beers for visitors to experience, so the selections they offer are continuously rotated. If beer isn't your drink of choice, they offer unique cocktails and fine wines to choose from.
When visiting Phantom Canyon Brewing Company make sure to come with an appetite. While they offer some standard food selections, they also put a unique spin on some of their selections. Check out their grilled octopus bruschetta, Phantom burger, pastrami burger, Bahn mi, lemon tabasco fried chicken, or goat cheese cheesecake.
You won't regret your experience at Phantom Canyon Brewing Company.
Bristol Brewing
Bristol Brewing opened its doors in the old Ivywild School in 1994. This is a family-owned brewery that was started by Mike and Amanda Bristol creating fresh, distinctive ales. Working alongside Mike and Amanda is a team of smart, friendly, beer-loving people that together make Bristol Brewing possible.
The location of Bristol Brewing offers a unique experience with the brick walls, hardwood floors, and student artwork throughout the halls. You'll feel like you're breaking the rules when you are being served your beer in one of the classrooms.
Now you can enjoy Bristol Brewing creations all across the state on draught and in six-packs, four-packs, and bombers.
If you're in Colorado Springs, take the time to enjoy the unique atmosphere of Bristol Brewing.
Cerberus Brewing Co
Cerberus Brewing Co is located on the west side of Colorado Springs, a craft brewery and full-service restaurant. Cerberus offers a variety of unique handcrafted brews, including a frozen beer slushie, as well as cocktails and spirits.
There is a full-service menu offered inside and, on the patio, and a limited menu is offered in the beer garden. The menu offers an array of unique cuisines that are busting with exciting flavors.
Cerberus Brewing Co received gold for The Best Brewpub in 2022 Best of The Springs.
Goat Patch Brewing Co
In 2016, what started as a conversation among close friends turned into reality. The group had a common passion with a shared set of values to create balanced brews, community engagement, and adventure.
Goat Patch offers a variety of brews from pale ales, IPAs, porters, and stouts. They don't offer more than small bites; however, they do host a daily food truck to tempt your taste buds and they also welcome you to bring in outside food.
Even if you're not a huge beer drinker, supporting Goat Patch Brewing Co is well worth the occasional brew because you aren't only supporting a local business but, you are supporting the community. Goat Patch chooses two non-profits a year to host the It Takes A Tribe Initiative giving money back to the non-profit.
Another way they give back to the community is their Bleating Heart Night, which takes place every Tuesday night when they proudly sponsor a local community organization that is making changes to the Colorado Springs community. During the evening, representatives from the organization will provide customers with more information about what their organization is about. Goat Patch will donate $1 from every pint, growler, and cooler to the featured organization.
The Wrap Up
Colorado Springs features several truly amazing breweries that feature a unique experience. If you have the time to visit more than one or even all of them, explore and support local businesses and community, and possibly discover new friendships.
We love Colorado Springs and think you will too! Thinking of moving? Check out other Colorado Springs things to do: