Critical Things to Look for When Touring an Open House
Posted by Ashford Realty Group on Tuesday, November 9, 2021 at 10:39 AM
By Ashford Realty Group / November 9, 2021
Comment
When you are walking through an open house it can be easy to get distracted by things that seem to stick out that may not matter much with the overall function of the home. For example, noticing the odd choice of brown and orange patterned furniture. Or the very large collection of less than useful figurines on several big and cumbersome shelves.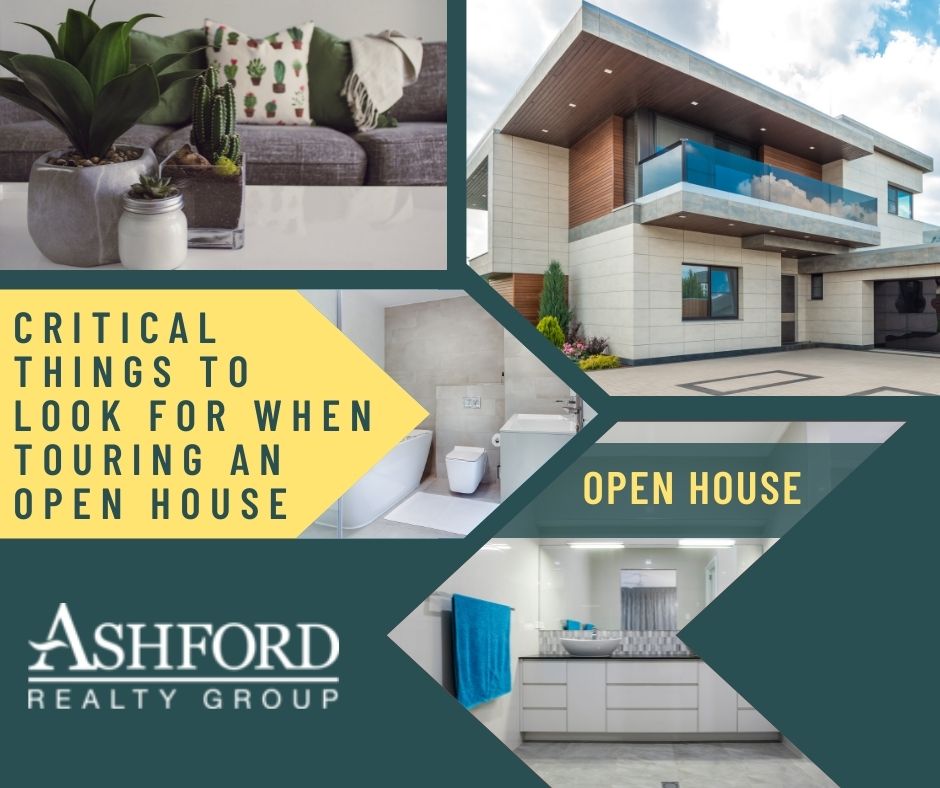 Style choices that don't match yours aside, there are more important things to look at when you're walking through an open house. Some may be obvious to you and some may not. Here are some important things to make sure you check out in an open house.
Any sign of water damage
Make sure to check out all the walls especially where the wall meets the floor or the ceiling for the darker areas that signify water damage. Sometimes this will be in the form of brown water lines. This is especially important if the home has a basement, make sure to pay attention to the carpet, walls, and flooring down there. You could even reach down to touch the carpet in its lowest point to make sure that it is not wet. Musty smells can also be a signifier of moisture.
A body of water nearby
This is something important to notice especially if you plan to move into the home with small children or hope to start a family in the near future while living in the home. It can be a wonderful asset but it can also be a safety hazard.
Large number of stairs
Staircases can be beautiful and add a lot of styles as well as take you to an extra room in a house, but they can also be a nuisance or hazard if you have elderly parents or small children living with you, or plan to age in place in this home.
The Windows
If the windows in the home are older they could have issues with closing tightly and letting too much air in. Make sure to test older windows by simply making sure they open and close well, and by feeling around the edges to see if they are letting in a significant amount of air.
Neighbors
There are several things you can do to improve the condition of a home, however, you cannot change the neighbors. Make sure to look around outside and try and get a feel for the neighborhood and the immediate neighbors around the home.
Check out the neighborhood, see if there are items that you are hoping to have such as walkable streets or public transportation or public amenities within walking distance. Is there plenty of street parking available for the number of cars you would need to park?
Closet space
One thing we often don't consider but should make sure of is if there's a good amount of storage space in a room. Will the closets be enough to hold all of your items including your entire wardrobe and shoes? Many times, homeowners get frustrated because a room has a very small closet.
Other storage space
Every homeowner needs a place to put things they are not currently using like seasonal decorations, camping gear, and out-of-season sports equipment. Don't just think about the regular closet spaces in the rooms, but ask yourself if there is ample space to store all the items you will not be used on a daily basis. You do not want to end up having to stack these items against a wall or in a corner where they can become frustrating and irritating.
When touring any open house, you want to make sure that you already have in mind what you're searching for in a home. You don't just want to fall in love with a home right away without having in mind what you truly need for my home. It is also always a good idea to check out the practical areas of your home and not just the stylish ones when touring an open house.
More Tips for Buyers:
Surprising Things to Buy When Moving
Contact us for all Open Houses