Do I Need an Attorney to Buy Real Estate in Colorado?
Posted by Ashford Realty Group on Saturday, February 19, 2022 at 8:22 AM
By Ashford Realty Group / February 19, 2022
Comment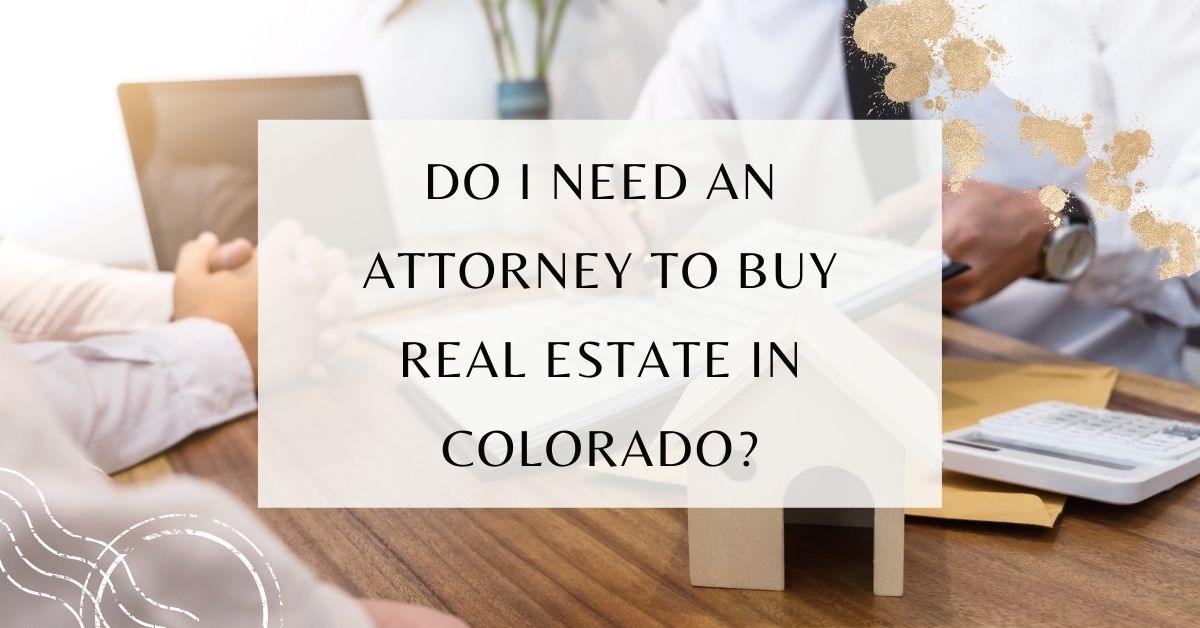 Some states require a real estate attorney to be present when buying or selling a home, Colorado is not one of them, but you may consider having one.
For most people, a real estate transaction is the largest legal and financial transaction they will ever make in their lives. When buying or selling a home there is a mountain of documents with a plethora of legal jargon that you will sign to complete the transaction.
The majority of residential sales can be completely handled by a lender and a licensed real estate professional. However, there are times that the sale is not straightforward, and the real estate agent recommends that a real estate attorney be hired.
What is the Role of a Real Estate Attorney?
Colorado is a state that does not require a real estate attorney to be involved in the home buying process. A buyer or seller may choose to hire a real estate attorney on their own for added peace of mind that there will not be any hitch in the transaction and that someone is looking out for their best interest aside from their real estate professional.
While real estate professionals can guide their clients through straightforward transactions in their sleep, it's the more complex transactions that they may advise a client to retain a real estate attorney.
Real estate attorneys are licensed to practice law and specialize in real estate transactions. These attorneys are familiar with all aspects of the home purchase process and can represent buyers, sellers, or lenders.
When Would a Real Estate Attorney be Needed?
While a real estate attorney is not required to be retained for the purchase of property, it's up to the buyer, seller, or lender if they'd prefer to obtain one. Some real estate transactions may get tricky, and a real estate professional may encourage their client to retain an attorney to ensure everything goes along smoothly.
Real estate professionals may encourage their clients to hire a real estate attorney when other factors could hinder the sale. Some examples would be:
Purchasing a home in another state
Selling a home that is part of a divorce settlement
Selling a property that was once owned by a family member, you were left in charge of the estate
Purchasing a home that is part of a special type of sale, estate, auction, short sale, or purchase from a bank
Trying to sell a home when you are having financial issues and the property has liens on it.
Buying or selling a home that has major issues, such as structural damage.
For Sale By Owner - to ensure that all paperwork is handled properly
High-Value residential transactions
Ultimately, if you'd like a little more peace of mind by hiring a real estate attorney to help you through the real estate process it's up to you. However, if you don't have an issue that requires one, you may want to keep the cost of hiring an attorney in your pocket.
Real estate professionals are trained, educated, and handle these types of transactions daily. Working with a real estate professional, they are working for you. They want you to get the best deal to meet your needs and make you happy. Most real estate professionals make their living from the commission on their sales, so the bottom line, is they need to work hard to make the sale.
The knowledgeable real estate professionals at Ashford Realty Group would love to guide you through the purchase process.