Getting Your House Ready to Sell
Posted by Ashford Realty Group on Thursday, January 27, 2022 at 6:48 AM
By Ashford Realty Group / January 27, 2022
Comment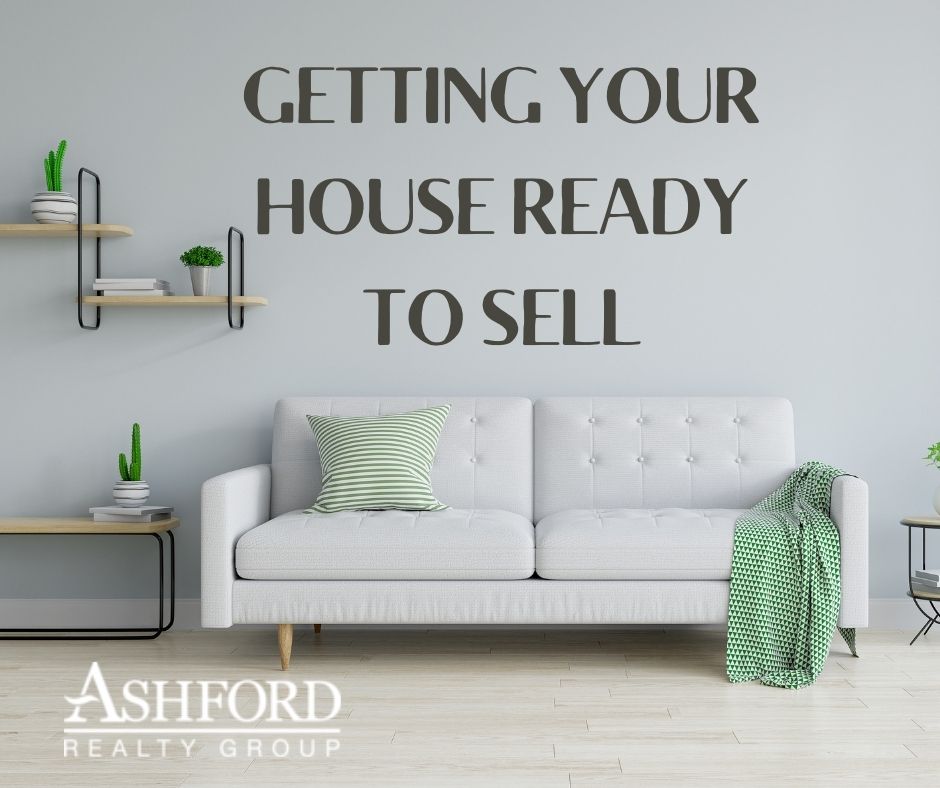 Preparing your home to sell can determine how quickly your home sells and how much money you'll get for your home. Sellers that want to get the most out of the sale of their home will take the time, energy, and spend the money to prepare their home for the best outcome. What things should you do to prepare your home to go on the market?
Pre-Inspection
Sellers do not always choose to have a pre-inspection of their home before putting their home on the market, it's an expense they chose not to have. A pre-inspection usually costs around $200 to have a professional give you a list of repairs that will add to the list of expenses associated with selling a home.
A pre-inspection is a step you don't want to pass up, while it is going to cost some money upfront, it will pay for itself in the long run. A contractor will walk through your home and suggest repairs or potential issues you may run into when trying to sell your home.
Once you have received the pre-inspection report, you can determine what repairs need to be fixed ahead of listing your home and what repairs you can potentially leave alone. Some sellers find that the pre-inspection discovers items in need of repair that they were not even aware of. Taking the time to make any necessary repairs can ultimately reduce the time of having to make the repairs during the sales process preventing a further delay.
Ashford Realty Group offers a service that can save time and money for a seller, along with their experienced real estate professionals, they have trusted contractors available to complete a pre-inspection of the seller's home. This will save them time from having to find a private contractor and scheduling the inspection.
Once the inspection is completed, the Ashford team will go through the results with the seller and help them determine what repairs and/or upgrades need to take priority. They will inform the seller what will help them get the best return on their investment and the overall process will eliminate any surprises stemming from the inspection that occurs once the home is under contract.
Cleaning
Cleaning, decluttering, and depersonalizing your home before putting it on the market is a step you don't want to miss. Of course, keeping your home clean is a standard chore, however, this is a different kind of clean. A good recommendation is to hire a professional cleaning service to come in a deep clean your home, but it may not be in your budget.
Regardless, of cleaning your home yourself or hiring a service, you will want to ensure that all the nooks are crannies are cleaned. Take the time to clean your cabinets from top to bottom, including the baseboards, thoroughly clean your windows and window treatments, shampoo your carpets (especially the heavily trafficked areas), dust everything, change the lightbulbs, you want your home to look shiny and new.
Consider giving your walls a fresh coat of paint. It is suggested that walls are painted with neutral colors, not everyone likes bright yellow or deep red on their walls. By using neutral colors, it allows the potential more opportunity to visualize their belongings in the home.
Don't forget the outside of your home! Power wash siding and decks, trim your grass, trees, and shrubs. Check the lighting around the outside of your home or consider putting solar lights along the walkway leading to your front door. Your home needs curb appeal, make buyers want to line up to get a glimpse of what your home can offer.
Declutter
Take a good look at your home, try to eliminate bulky furniture. The size of your furniture or merely too much furniture in a room can make the space seem small and cramped. Remove any extra furniture that you can.
Furniture is not the only item to declutter, if you have kids or pets, it's time to reduce and minimize. You want your children and pet children to have all of their toys and games but, they don't need that much to tide them over. It's time to go through your child's books, toys, and games, you can sell or donate any items that they don't need or want anymore. Store what you can in a safe place for later use.
Closets are a top priority for potential homebuyers, so it is important to put a lot of focus on decluttering your closets. This is your time to get organized. Go through clothing and shoes, get rid of anything you don't need or want. Donating clothes and shoes that are still in good shape is an excellent way to rid yourself of excess items. If your closet space is small, consider putting away off-season clothes and shoes, this is a good habit to get into giving yourself some much-needed extra room.
Depersonalizing
Another tip on how to prepare your house for sale is depersonalizing. As much as you love to show off your family pictures, it's time to put them away. Potential buyers like to be able to picture their own family in the home, so when they have a stranger's child staring back at them it makes visualizing a little difficult.
When you put your home on the market, most people need to be able to continue to live in their homes. When you have children and pets, it can be a little more difficult. After decluttering your home, the personal items should be drastically reduced. Make sure you have a space to put the remaining personal items out of sight when potential buyers come to view your home.
Staging
Staging your home is an excellent way to maximize your profit when getting your house ready to sell. Buyers that find your home is the perfect match for their family, will try to win you over with their offer. Cleaning, decluttering, and depersonalizing are all parts of staging your home. Staging will often cost money and varies in how much but, the ultimate goal is to get you the maximum profit.
Saving money while staging can be done, believe it or not. Most people have a general idea ahead of time, that they plan to put their house on the market. Items like new bedding, towels, curtains, etc. can usually be found on sale reducing the hit to your pocketbook.
If your home is full of bulky furniture, it is suggested to rent something smaller for staging. For instance, if you have a huge sectional in your living room, rent a couch that takes up less space.
While trying to temporarily reduce your belongings or substitute furniture, you need to consider where the belongings you intend to keep can be stored. Do your homework to find the most cost-effective, safe, and convenient place to store your items until you are ready to put them in your new home. If you're lucky, you may have a great friend or family member that can temporarily hold onto your items until you sell your home and are ready to move into your new home.
Once you've painted your walls with neutral colors, thoroughly cleaned your home, and decluttered, it's time to add a bit of life to your home. Spruce up your home with a few flowers or plants, nothing too big. Put a few fresh herbs in the kitchen window or if you don't have a green thumb add a simple cactus to any room.
Finding a temporary home for your pets is usually the best solution. Not all people are animal lovers and some are even allergic, so it's a health concern. If you can find a family or friend that can temporarily house your animals, it is one less stressor for you.
Take a good look at the outside of your home. If you pulled up to your home, would you be excited to get out to take a closer look? The outside appearance is more important than most people think, homebuyers tend to walk away from a home that isn't appealing to the eye at first sight. Consider adding bushes or flowers to draw attention to the eye.