Home Projects You Should Do Before Selling
Posted by Ashford Realty Group on Monday, May 23, 2022 at 10:01 AM
By Ashford Realty Group / May 23, 2022
Comment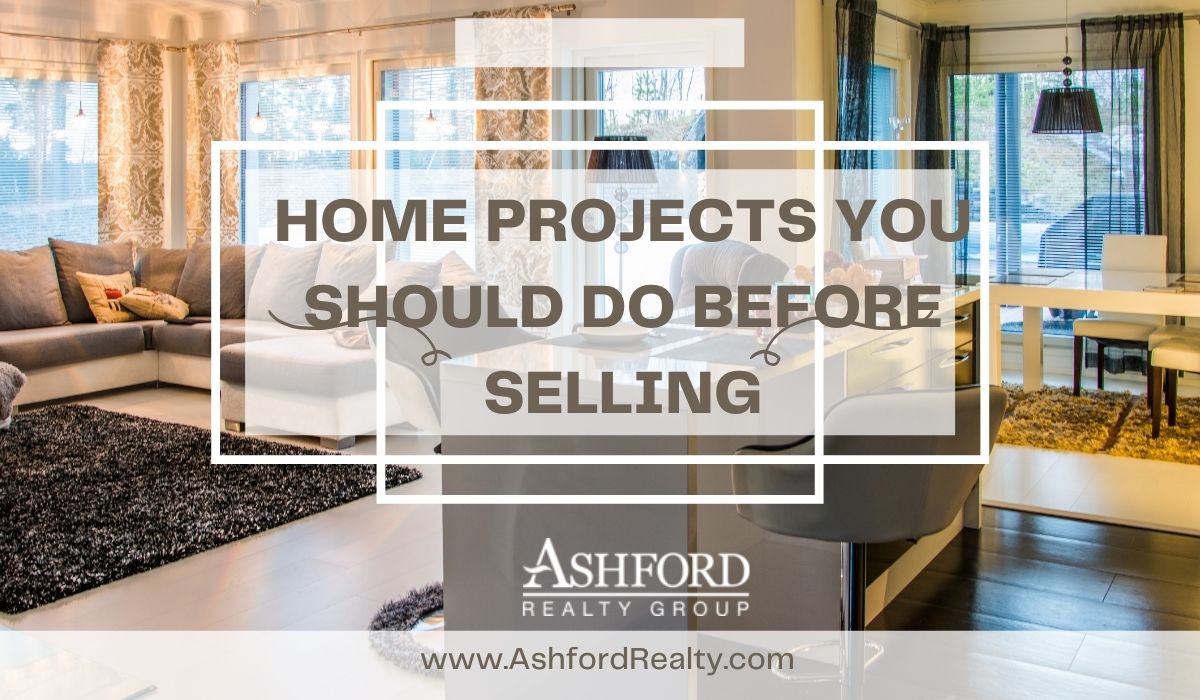 Preparing to sell your home can seem overwhelming, but there are home projects you should make sure to complete before selling your home. When you're ready to put your house on the market, you want your home to stand out above all others, so home improvement should be at the top of your list of to-dos before putting it on the market.
You are probably wondering where to begin? Here is a list of projects that you should do before selling your home and make sure that you get the best price for your home.
Update Your Paint
Any home that is lived in will have normal wear and tear on the walls, so make sure to freshen up your walls with a fresh coat of paint. It's amazing what a fresh coat of paint can do for any room, it can change the entire look of the space. If you currently have dark-painted walls, you want to lighten them up with lighter, neutral colors. If your walls are already light, neutral color, you should still freshen up the walls to clean up the space.
Updating your paint is not just for the interior of your home, you need to take a good look at your home's exterior as well. If the exterior of your home is looking dull and dingy, a fresh coat of paint would be in order. You don't want potential buyers pulling up to your home and want to immediately leave because your home doesn't look well-kept. The exterior of your home needs to be inviting, a welcoming feeling that a nice, clean coat of paint can add to your home.
Floor Check
Check out your flooring, is it riddled with scuffs, dings, or stains? If your flooring is looking worn and dingy, you should replace the flooring with something new. Simply hiding the huge chip in your flooring with a rug is not going to cut it when you're trying to sell your home.
When deciding to replace your flooring, you should speak to a flooring professional for suggestions on the best flooring for your situation. While hardwood floors are currently the most popular option, you may consider laminate or ceramic flooring. If you have pets, small children, or your family is generally rough on your floors, you may want to consider flooring that can handle your herd.
Window Replacement
It may not be necessary to completely replace your windows, they may just need some minor repairs. Take a good look at your windows and window frames, if they are worn, leaking, and windows are difficult to open, you need to replace your windows.
You may want to replace windows yourself but hiring a professional to remove and replace your windows will ensure that the windows are installed correctly, and you shouldn't have any additional issues.
Kitchen Update
The kitchen is the #1 priority room for most potential buyers, if the kitchen is outdated and rundown, it needs to be a priority to spruce it up. If a complete renovation to your kitchen isn't necessary or within the budget, there are many updates you can perform without having to spend a lot of money; although the kitchen is one of the most expensive rooms to renovate.
Updates you should consider, replace your cabinet faces with more modern doors, change out the hardware on your cabinets and drawers, replace your countertop, or a new backsplash. These smaller improvements can completely change the look of your kitchen.
Eco-Friendly Updates
Current homebuyers desire an eco-friendly home, ultimately saving them money over time and using less energy. One of the biggest upgrades you can do is add solar panels; although solar panels can be a quite pricey addition. If adding solar panels is outside of your budget, there are other eco-friendly additions you can add.
Less expensive improvements would include adding ENERGY STAR appliances, installing a high-efficiency faucet aerator in your shower and on your taps, or upgrading your thermostat to a smart thermostat to reduce your energy imprint.
To Get Started on the Home Selling Process, Contact Ashford Realty Below