How Much Does it Cost to Sell a House
Posted by Ashford Realty Group on Saturday, January 29, 2022 at 7:02 AM
By Ashford Realty Group / January 29, 2022
Comment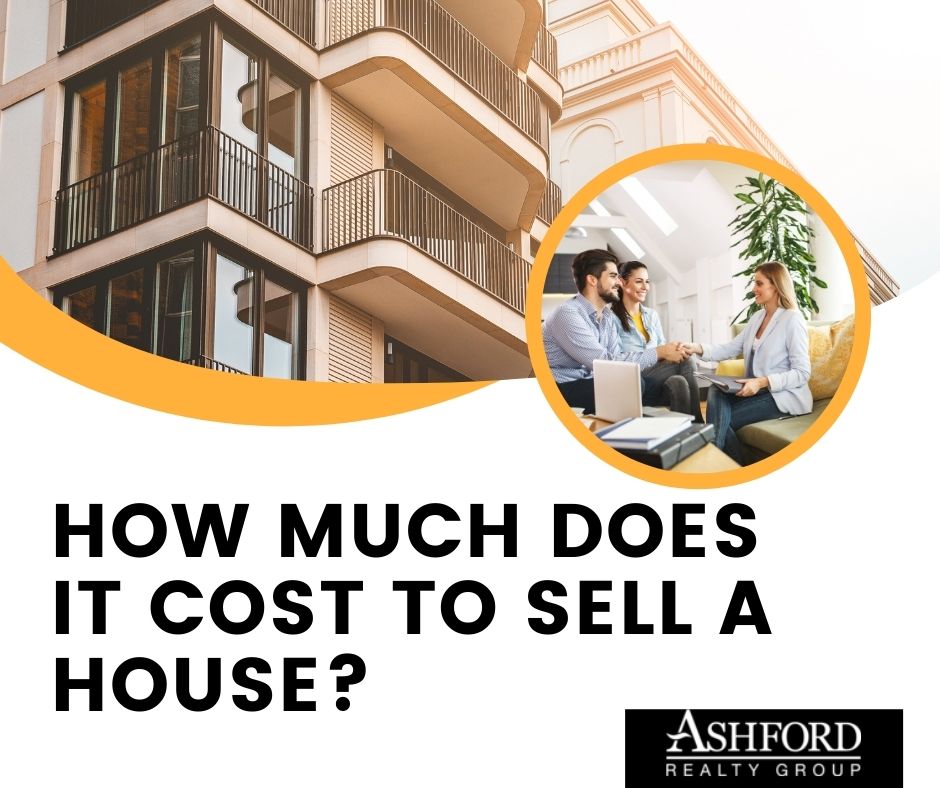 Deciding to sell a home is a big step, understanding the out-of-pocket cost to expect when selling a home is important. The current housing market when trying to sell a home can make a difference on some of your upfront costs but, the more work you put into preparing a home to sell, the more likely you will see more profit.
Preparing To Sell
There are steps you can take to properly prepare your home to sell that can ultimately attract more buyers and give you more power during the sale. Let's review a list of things you can do to prepare your home to sell.
Pre-listing Inspection
A pre-listing inspection is not a requirement to selling a home but is ultimately a good idea. There may be issues in your home that you were unaware of that could cost you a sale. Sellers that choose not to have a pre-listing inspection usually decide against it because of the additional cost; normally a couple of hundred dollars.
The Ashford Realty Team has a maintenance contractor that is well equipped and experienced to go through the home before it is listed. The maintenance contractor will provide a list of repairs and updates that would have a high return on investment. The seller will not have to hire and pay for an inspector.
Repairs & Updates
Any repairs or updates that need to be done can cost not only money but time. If you are unable to complete the necessary repairs or updates yourself, finding a reliable contractor that won't empty your pocketbook can be difficult. Once you find a contractor, you're on their timeline to get the job completed.
Ashford Realty has certified vendors lined up and ready to work for you. These vendors have worked alongside one another and the Ashford team for years. They are committed to completing the job at discounted prices if the seller chooses to work with the Ashford chosen vendors. The seller benefits from not having to shop around and get estimates from multiple contractors, they can have peace of mind knowing that the job is being completed by trusted vendors.
Cleaning
Taking time to clean in and around your home could put more money in your pocket. Giving your walls a fresh coat of paint, in neutral colors can give your home a fresh new feel. Carpet, especially heavily trafficked can make your home feel old and dingy. Consider hiring a professional carpet cleaning service to give your carpet a fresh, clean feel, or even consider replacing old carpet with new carpet or hardwood floors.
Hiring a cleaning service to come in and clean your home from top to bottom, getting all the nooks and crannies is not a bad idea. Professional cleaners will thoroughly go through the home cleaning areas of your home that you probably never thought about.
The outside of your home is just as important, if not more important. The curb appeal of the home you're selling can stop motivated buyers in their tracks. Making sure your yard is mowed and trimmed, adding shrubs and flowers, having a well-lit walkway to the front door, or trimming your tree limbs can make a big difference.
The Ashford Realty Team will provide you with tips and recommendations on what needs to be done to make your home attract more buyers. The team can also recommend and even schedule their team of vendors to help you get the job done, taking the extra work off your hands.
Staging
When staging a home to sell, it is important to declutter and remove personal items so that potential buyers can envision their life in the home. Removing excess furniture can make rooms seem bigger, so excess or bulky furniture needs to be removed. If your only couch is a large sectional, you may consider renting furniture for staging.
Staging your home can be daunting, especially if you don't know where to begin. Sellers will hire a professional stager to come in and note what needs to be done to stage their home to sell. The Ashford Realty Team is capable of providing this service saving the seller hundreds, potentially thousands.
Commission
The seller is responsible for paying the commission that is given to the real estate agents for their services, both buyer's agent and seller's agent. The commission is usually 5% to 6% of the sales price and is split evenly between agents.
Consider everything that an agent does for you, from the moment you agree to work with an agent they are working to get you to ensure that you get the most out of your sale. Giving you tips to attract more buyers, feedback on how to stage your home, suggestions on upgrades that could get you more profit, and more. Ashford Realty has a team of experts working for you.
Mortgage Payoff
When selling a home, if there is an outstanding mortgage on the home, the closing table is where the seller has to pay it off. The amount of the payoff will vary depending on the amount of the mortgage that has been paid down, the number of years they have owned the home, etc.
Closing Costs & Concessions
The seller is usually not responsible for many of the closing costs but can offer to pay more as an incentive to the buyer. At closing, as discussed above the seller is responsible to pay the agent's commissions and the mortgage payoff. Other costs they may incur at closing are prorated property taxes, utilities, HOA payments, etc.
If the seller agreed to any concessions with the buyer, the seller would pay these at closing.
Additional Fees
Depending on the sale of the home, there may be additional costs to the seller. The seller may have thrown in a home warranty to incentivize the buyer.
In the state of Colorado, an attorney is not required to be present at closing. However, a seller may choose to hire an attorney for peace of mind to ensure that the sale is properly handled. If the seller chooses to hire an attorney, they will be responsible for any fees owed to the attorney.
Capital gains tax is a tax on the profit that the seller is making on the home. If the home was the primary residence of the seller for 2/5 previous years, then $250,000 profit is exempt for a single seller (or couple filing separately) or $500,000 for a couple filing jointly.
Relocation Costs
Relocating can be costly, aside from packing materials and boxes, you may decide to hire a moving company to handle the move, especially if moving a further distance. If you are handling the move on your own, you may have to rent a moving truck.
Depending on the timing, there may be a gap between the sale of your home and the purchase of your new home. If that's the case, temporary housing may be necessary until your permanent home is move-in ready. It may be necessary to put your belongings in storage.
Get Started Selling Your House Now