How Much Over Asking Price Should I Offer
Posted by Ashford Realty Group on Sunday, March 27, 2022 at 10:31 AM
By Ashford Realty Group / March 27, 2022
Comment
When the housing market is in a seller's market, it is not uncommon to offer over the asking price to make your offer more attractive.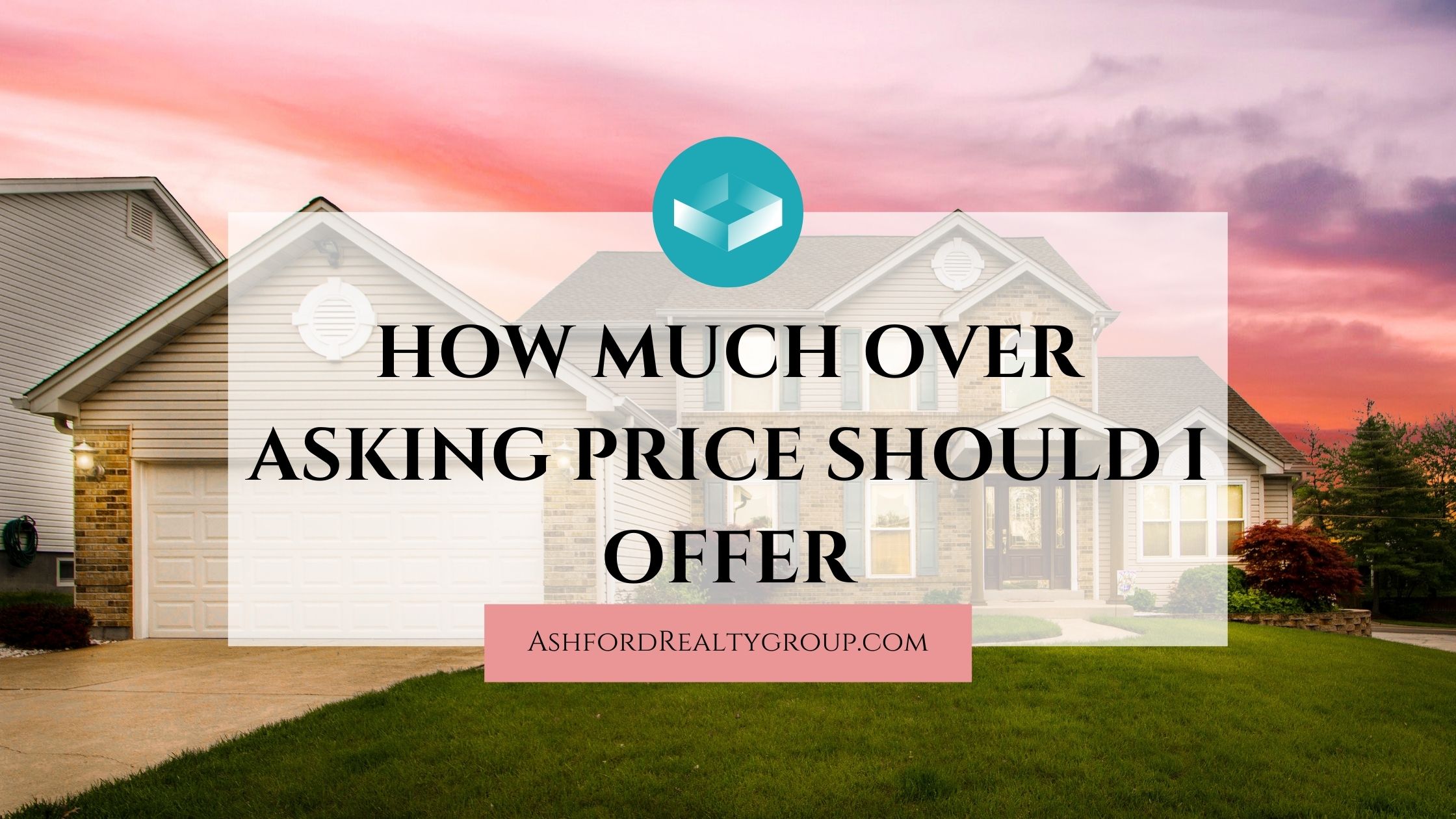 How Much Over Asking Price Should You Offer
Experts suggest offering at least 1% to 3% above the asking price when the competition is fierce. Depending on how the market is, this amount could require the offer to be even more than 3% to get the winning bid.
When a potential buyer is offering above the asking price, they have to keep in mind their budget, additional costs that they will be responsible for such as down payment, earnest money deposit, and closing costs. It's important that the buyer stays within their budget or know when to walk away.
How Much Over Asking Price is Too Much
Offering over asking price is not uncommon, especially in a competitive market. Ultimately, how much over asking you offer comes down to your budget.
While most experts suggest 1% to 3% over asking price, if you find yourself in a battle with competing offers, you may have to go over the standard 1% to 3%; if it's within your means.
Your real estate professional should be able to assist you in determining how much is too much to offer based on the current market, the location, and the property itself. They should be able to compare recently sold homes in the area to help you determine a reasonable offer that is within your budget.
Analyze the Homes Worth
When you are considering offering over the asking price, it's best to ask yourself questions to determine if you should move forward. What are you willing to compromise?
Location, location, location - Is the home in an area that's right for you?
Square Footage - Is the home size reasonable for what you need?
Is there a similar home nearby that you can pay less money for but, may need to give up something you want in return?
Can you find a home that needs updating but, you can pay less money for and make the updates yourself?
Buying a home over asking, you want to make sure that the home exceeds your expectations. Potential buyers will also have dealbreakers that will seal the fate of making an offer or not.
Avoid Overpaying
There are times when overpaying for a home is the only option to get the winning bid, however, there are ways to avoid overpaying altogether or reducing the amount that you are required to overpay.
This is one of the times you want your real estate agent to work for you. Have your agent pull comparable properties that recently sold in the area. By reviewing comps, your agent can help you determine a reasonable amount to offer that isn't too far beyond the threshold, requiring you to shell out even more money.
Other Options
There are other ways aside from paying over the asking price that can make your offer more attractive. Consider balancing out the overall offer to avoid paying too much over asking or paying over asking at all.
Beef up your Good Faith Deposit instead - Offering a larger good faith deposit shows the seller that you are serious about purchasing their home, The good faith deposit is still upfront money out of your pocket but, it goes towards the purchase price of the home vs. paying over asking price.
Cash Offer - If it is within your means a cash offer could come out as the winner. Sellers tend to be attracted to cash offers because there are fewer steps and loopholes they have to deal with.
Get Personal - Write a letter to the seller, explain why their home would be the perfect home for you and what you love about their home. Tugging a few heartstrings can make a world of difference, especially if the seller has a sentimental attachment to the home.
Limit or Do Away with Contingencies - During a seller's market, limiting the contingencies is imperative. Sellers will lean towards offers that don't require more time and money on their part. Appraisal and home inspection contingencies are still not out of the question but, dependent on how hot the market is, you still may need to consider leaving one or both of these out, if it's an option.
Conclusion
Unfortunately, buyers in a hot seller's market will more often find themselves in the position of needing to offer more than the asking price to be competitive with other offers. Being prepared and working with an experienced real estate professional to put you in the best position to make your offer outshine all others is key.
Ashford Realty Group would welcome the opportunity to put their expertise to work for you. Their experienced professionals will guide you through the entire home buying process. Contact them anytime for a free consultation on all Colorado real estate.