How to Choose an Offer
Posted by Ashford Realty Group on Wednesday, May 4, 2022 at 7:20 AM
By Ashford Realty Group / May 4, 2022
Comment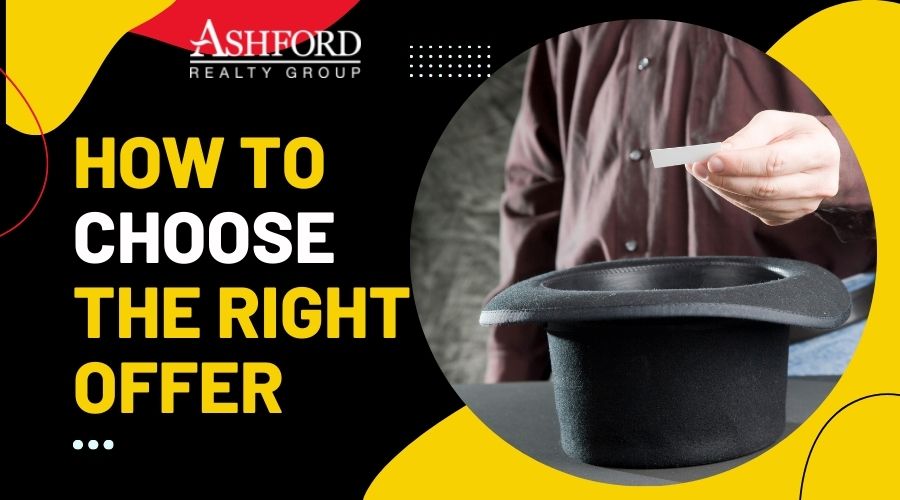 After going through the laborious process of preparing your home for sale, you've listed it, shown it, and received multiple offers. Congratulations! Now what? If you're not sure how to choose between multiple offers, we have some things to keep in mind to help you decide. It's not quite as simple as looking for the highest dollar amount.
Determine your priorities
Before looking through offers, determine your priorities and communicate them with your agent, and your partner if applicable. Some sellers need to prioritize timing over the bottom line, while others have a more flexible timeline and are more concerned with selling for top dollar.
Also consider your current capacity for projects on the house. If your financial position or spare time do not allow for major repairs or renovations on the house, you may be open to lower offers because your priority is not having to fix anything.
Whatever your priorities are, make sure they are clear to you before reviewing offers to make the process more efficient and less stressful.
Pay attention to contingencies
In most cases, the difference between two offers comes down to contingencies. Even if two hopefuls buyers offer you the same price, with identical earnest money, the contingencies may make or break the process. Take your time understanding the contingencies in any offer. Common contingencies include a home inspection, appraisal, and buyer financing. In many cases, a buyer will make an offer contingent on selling their existing home.
Some contingencies are expected protections for the buyer, and are no reason to reject an offer. It's reasonable for a buyer to make an offer contingent on inspection or appraisal. An offer contingent on the buyer's home selling is a bigger risk to you as the seller. It doesn't mean you should reject any offer with that contingency, but it does mean you should be aware of how that may affect your escrow process and timeline.
Consider the buyer's financial strength
Complications with buyers' financing is one of the most common reasons the sale of a home falls through. If you're able to select from offers and find one with a high level of financial strength, you will be able to insulate yourself against some of that risk. A buyer with a high down payment, excellent credit, or a cash offer is of far less risk to you than someone who barely qualifies for the mortgage required to buy your home.
Think about the timeline for each buyer
Money isn't everything. The timeline indicated by each offer may be more important depending on your scenario (think back to what we said about prioritizing). For example, if you are relocating for a new job, selling a home for a recently deceased family member, or looking to liquidate assets in a divorce, taking a lower offer that will close more quickly may be in your best interest.
On the other hand, if you are able to be flexible with the move-in date, you may be able to accept a higher offer that literally pays off in the end.
Verify funds from a cash offer
Cash offers are exciting, because they represent an easy home sale process, right? Well, maybe. Before getting too excited, have your agent verify the cash offer's funding. In some cases, it may be worth going with a financed offer from a strong buyer with a conventional mortgage. Lean on your agent to determine which is the best in your scenario.
Take a large deposit seriously
Some buyers will offer a higher deposit than others. Offering more earnest money than is expected indicates a buyer who is serious about your home. This should signal to you someone who is willing to do what it takes to not allow the deal to fall through. When a potential buyer offers more earnest money than others have, it is an indication that they have the cash to make sure the sale of the home can be completed, and should signal to you as the seller that they are a top contender.
Leverage a bidding war
Remember, when you are in the position of receiving multiple offers, you can leverage that position to your advantage. Negotiate with potential buyers, working to get the deal that is best for you. For some sellers, this is an exciting idea, while for others it seems overwhelming and stressful. This is where having the right team on your side becomes essential.
To find out how we can help you sell your home for the best deal, contact our office any time. We have the team of experts you need to have the best experience.
Contact Ashford Realty Group for all Colorado Springs homes for sale and Colorado real estate.