How to Choose Between Multiple Offers
Posted by Ashford Realty Group on Saturday, December 4, 2021 at 9:27 AM
By Ashford Realty Group / December 4, 2021
Comment
In today's housing market there are not enough homes to meet buyers' demand therefore multiple offers are not uncommon, but how do you decide which offer to accept? The highest price is going to be the first to catch your eye, but you need to take the time to evaluate the entire offer, it may be too good to be true. For example, a buyer may make an offer over the asking price but, they may not be able to qualify for a mortgage in the amount that they need.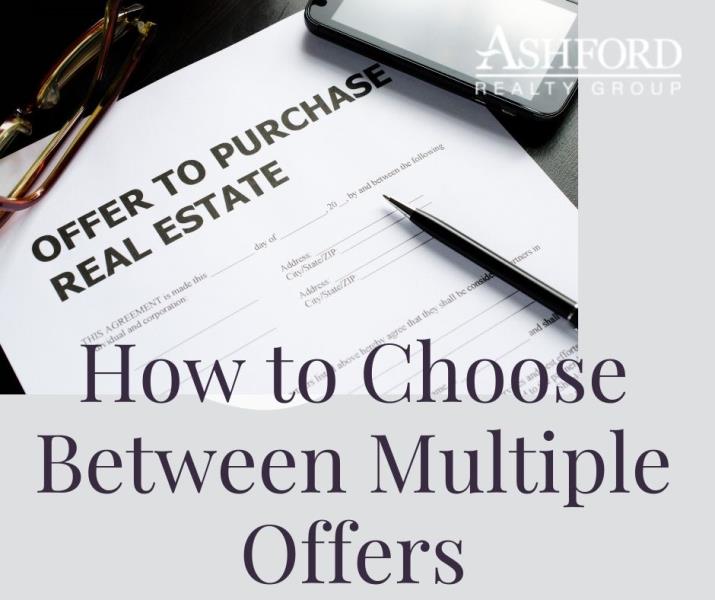 Slow Down and Review
When you receive multiple offers, take the time to review each contract with your agent or another advisor. If a buyer is offering over the asking price, how much are they offering to put down towards the purchase? If your asking price is already reasonable and a buyer is offering to pay over what you are asking, their lender may not be willing to loan them more money, so a solid down payment would need to be offered as well. A buyer is more likely to obtain a loan from a lender if the loan amount is lower.
Contingencies
Contingencies can affect the sale of your home as well. You will want to consider an offer with fewer contingencies to reduce the risk of stopping the sale in its tracks. Common contingencies that buyers put on their offer are getting their mortgage approval, a home inspection, and making sure the home appraises for the amount you asking for.
During the current housing boom that we are in, most buyers are choosing to get a pre-approved home loan before even shopping around. If a buyer is requesting a contingency for getting their mortgage approved, you may pass on that offer and move on to the next. Home inspections are becoming less common for the buyer with there being fewer homes available, buyers don't want to risk losing their selected home with a home inspection contingency. A home buyer that puts a contingency for a home appraisal may not be able to get enough financing or have enough of a down payment if the appraisal is lower than the asking price.
Consider how a buyer is planning to pay for the home. If a buyer is offering a cash offer, ask for documents to confirm that they have the funds available to pay in cash. Cash offers are not very common, there are not many home buyers that have that kind of money in the bank. If the buyer will need a mortgage to purchase your home, are they pre-approved. Pre-approval can make a huge difference, reducing the amount of time to close and assurance that the buyer's financing is already confirmed.
The housing market is on fire for sellers, allowing them to ask over the appraisal, this can cause issues for buyers if they are not able to continue with the purchase if the appraisal is lower than the asking price. Sellers will likely lean towards a buyer that can provide documentation that they can make up the cost difference if the appraisal is low. Lenders aren't usually willing to loan more than the appraisal price.
Buyers may try to sweeten their deal by offering to pay closing costs for both buyer and seller to stand out from other offers. Another method buyers are using to stand out from other offers is offering to outbid other offers by a certain amount. This maneuver indicates to the seller that the buyer is serious and determined to win over all other offers.
Receiving multiple offers can be very exciting and overwhelming, ultimately you as the seller are in control so take your time to study each offer and determine which one is the best for your family.
For more information on homes for sale in Colorado Springs, contact our office at any time.