How to Find Real Estate Comps in Your Area
Posted by Ashford Realty Group on Tuesday, October 4, 2022 at 7:23 AM
By Ashford Realty Group / October 4, 2022
Comment
Whether you are buying a home or pricing a home to sell, pulling real estate comps in your area will only help you get the best deal.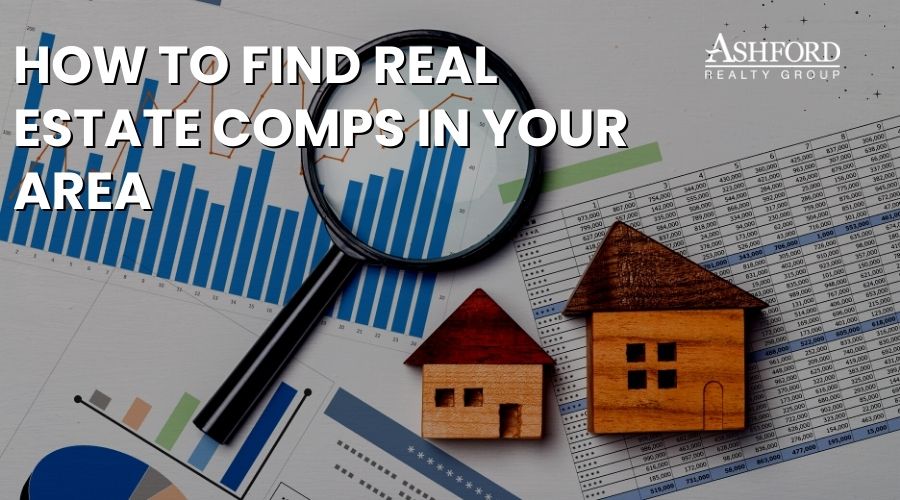 Real Estate Comps Explained
Real Estate comps is an evaluation of recently completed home sales in the area you are selling or buying a home that shares similar characteristics, such as size, number of rooms and bathrooms, etc. The home value is determined by geographical area and the current housing market, they are the major influencers that determine a home's value.
The rule of thumb when researching comps, you should compare at least three, if not more properties to ensure that any comparable property isn't an outlier in price. For example, one comp could reflect a lower price but could be outdated and need work, while another property could be priced high but, includes all the bells and whistles.
Now that comps have been explained, let's dig into how you can go about finding real estate comps so that you can effectively determine how to price your home or if the home you are interested in is priced right.
Search a Reputable Real Estate Website
Websites will vary in how you can perform a search for recently sold properties in the area but, you should be able to complete an advanced search to narrow down homes with similar characteristics. If you know a specific address for a home recently sold, that could make your search a little easier and once you enter that address, similar properties should be listed as well.
TIP: "There are times that you will need to broaden your search if there aren't enough recently sold homes in the area. Most real estate websites will allow you to search by the city but, you should still attempt to narrow your search down to homes near your area." - Calgary Real Estate Expert Kenton Ryan
When selling your home, this tool will help you estimate a reasonable starting price that reflects the current housing market. However, other variables could impact your home's value, such as updates or property improvements.
Utilize a Home Valuation Tool
A home valuation tool will help you understand what your home is worth and aid you in determining the fair market value. It is recommended when utilizing an online home valuation tool that the one you are using uses complete MLS data on recently sold homes in the area. There are a couple of different ways to access an online home valuation tool, an instant home-value estimate, and a professional estimate prepared by a real estate professional.
Instant Home-Value Estimate - This type of tool will provide a quick, easy way to see what your home should sell for. Generally, you simply type in your home address and an estimate will be returned based on similar homes that were recently sold in your area.
Professional Estimate - While a professional estimate is not instantaneous, a professional estimate will be provided by an agent familiar with the area, the current housing market, and potentially what future development is in the works that could affect your home's value. The estimate will be determined by comps from other homes recently sold in your area, they will just have an added touch from a professional agent.
Ask Your Agent
Once you've hired a real estate agent, they are there to help you navigate through the entire process, accurately pricing your home is key to having a successful experience. Your agent will advise you on how to appropriately price your property and help you understand the data in the comps that lead them to determine the price for your home.
MLS listings are the most up-to-date and accurate information for comps and only a licensed agent has access to the MLS listings. Agents pull comps daily, they are familiar with current fair market value trends, if the value of the home should be increased, or if the price is out of line for the area.
Public Property Records
Researching property records can be a good starting point when beginning your search for comps. However, searching public property records is not the most accurate and does not always reflect today's market conditions. To get more accurate numbers, public property records are only the beginning of your research. Public property records indicate the last sales price for the home, which could have been 10 years ago vs. two weeks ago.
Usually, county records are free to access unless you request printed documents, they still shouldn't be too pricey. The information can be obtained by actually visiting the local county or city office or by searching their website for property records. As long as you have the street address, the information provided will include the price that the home last sold for, as well as the current taxes.
Comparable Market Analysis
A comparable market analysis (CMA) is a tool used by real estate agents and brokers to provide the necessary details before pricing their home and listing it. Your agent wants to ensure that your home is priced just right to sell quickly at a fair price, hopefully leaving you some extra money in the end.
CMA's will not only provide you with the numbers, but they will also provide you with the most accurate, current data about the home and the surrounding area. Agents utilize software that will generate a CMA report, pulling comps for 3-5 comparable properties.
What does a typical CMA include?
Three to Five Comps
Description of each property, it will include the elevation, floor plan, number of bedrooms and bathrooms
The sales price of each property
Dollar adjustments will be made for any differences
The adjusted sold price per square foot
For more information on Colorado Springs real estate contact Ashford Realty Today!