How to Perfect Your Home's Curb Appeal
Posted by Ashford Realty Group on Thursday, March 17, 2022 at 9:58 AM
By Ashford Realty Group / March 17, 2022
Comment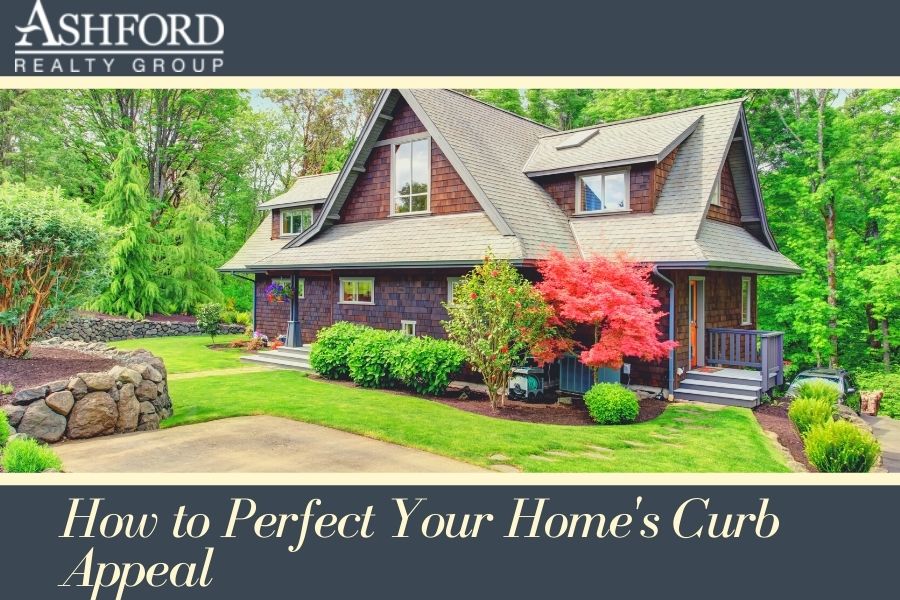 Curb appeal is an important aspect when selling your home and spring is the best time to give your home more curb appeal.
When deciding to sell your home, you want potential buyers to see the outside of your home and want to see more.
Here are some things you can do to increase your home's curb appeal.
Flowers and Plants
Planting new flowers and plants not only adds an extra layer of foliage and color but, can make your yard appear larger.
Adding flowers along your walkway leading to your front door will give an inviting appearance. Planting fragrant flowers will give visitors a lovely aroma as they make their way to your front door.
Well-Maintained Yard
A well-maintained yard is an important element for great curb appeal. Making sure your yard is well-kept and tidy will indicate to potential buyers that you care about your home.
Aside from planting new plants and flowers, there are many other ways to give your home more curb appeal. A freshly mowed and trimmed lawn will give your yard a well-manicured look.
Taking time to pull weeds, trim back overgrown bushes, and add fresh mulch can boost curb appeal. Any bare areas in your yard should be re-seeded to promote new growth.
Outdoor Lighting
Lighting is not only welcoming but also a safety measure as well. Lighting placed around the outside of your home will make your home shine.
A porch light makes your home feel more welcoming and adding solar lighting along your driveway and walkway leading to the front door will help guests navigate their way at night.
Easily Identified House Number
Walk away from your home, across the street, or stand near the road, can your house number easily be seen? If not, it's time to correct that.
When placing your house number, make sure that there will not be anything
ng blocking the numbers from easily being seen. You will want to ensure that trees, shrubs, porch railings, etc. are clear from blocking the house number.
The position of the house number is also very important. Numbers that are placed horizontally are easier to read than when they are placed vertically.
Ideally, when placing your house numbers, they are best placed beneath a porch light where they will be illuminated at night.
Front Door Enhancements
The focal point of your home's exterior should be your front door; therefore, you want it to stand out and look its best.
Take a good look at the color of your front door, consider painting it a color that will stand-out like a rich red or green. If painting your front door, color is not an option you want to go with, consider staining the door if it's looking old or dilapidated.
Consider polishing the hardware on the door, the handle and door knocker should shine. Add a seasonal wreath to make your home appear more welcoming.
Exterior Maintenance
While your yard, trees, shrubbery, and lighting are important to your home's curb appeal, the upkeep of the exterior maintenance is crucial.
Potential homebuyers pulling up to your home may initially be attracted to your home with a well-manicured lawn, beautiful flowers and plants, and a front door that stands out but, if they notice a gutter hanging or chipped paint around the windows, they may turn away before giving your home a chance.
Walk around the entire outside of your home, check for chipped paint, missing or damaged shingles, or siding in need of repair. These are items you want to ensure look their best before listing your home for sale.
Most homebuyers will want to know the condition of the roof and when it was last replaced. Having a home inspection these are items that an inspector will address but, it is a smart move to do your due diligence and inspect the roof and gutters yourself.
Make sure that the gutters are free and clear of anything that could be blocking the path of water flow, ensure that the downspouts are in good condition and are properly placed.
Take a good look at the outside of your home. If you pulled up to your home, would you be excited to get out to take a closer look? The outside appearance is more important than most people think, homebuyers tend to walk away from a home that isn't appealing to the eye at first sight.
Ashford Realty Group has a team of professionals to help you discover ways to give your home more curb appeal. Contact their office for a free consultation and begin your home selling journey.