How to Properly Clean Your New Home Before Move-In
Posted by Ashford Realty Group on Friday, May 6, 2022 at 6:20 AM
By Ashford Realty Group / May 6, 2022
Comment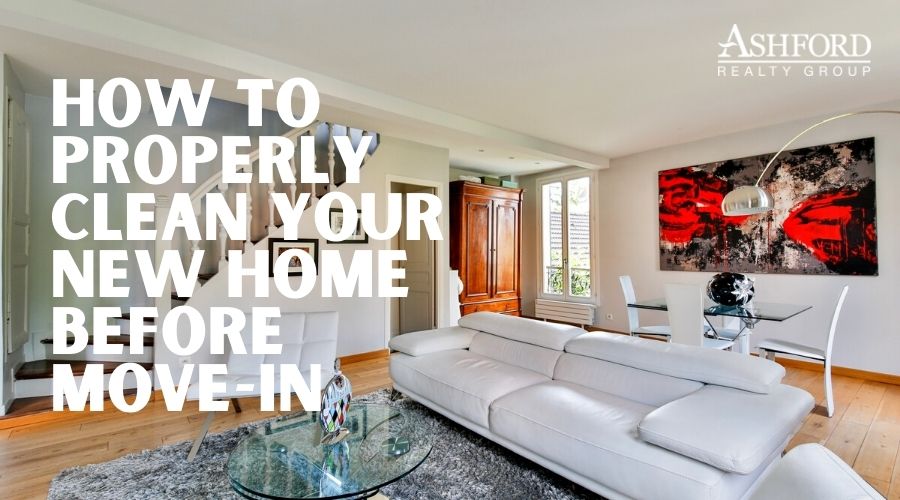 Moving into a new home can be exciting, but if you have allergies, pets, or other special considerations, you will want to make sure your home is spotless before move-in. Sellers usually clean the house before showing, but you may want to go the extra mile by improving air quality and doing your own deep clean. Statistics show that over half of those surveyed in the U.S. had a reaction to one or more allergens. Cleaning air filters, clearing mold, and removing harsh chemicals can help reduce these reactions. Here are some tips on cleaning your new home before you move in.
Improve the Air Quality
Most people are familiar with the air purifiers you can buy at big box stores or online, but installing a whole-house system is one of the most effective solutions to poor air quality. Not only will a system like this make it easier for you and your family to breathe, but it will add tremendous value to your home should you decide to sell it later. Older homes often have more allergens than new ones, so this can be especially helpful if you've chosen to buy one. Vacuuming is another way to help by sucking up any allergens, pet hair, and dust that is sitting on the floor or embedded in the carpet.
Wash Away Harsh Chemicals
You never know what previous owners used to clean the home, and you don't want to breathe in toxic bleach every time you take a shower. Fortunately, there are many green brands that make healthier cleaning options. For the most control, try making your own household cleaners with recipes on the internet. Many of these use very common items like white vinegar and baking soda. If you love a fresh scent when cleaning, you can add essential oils to your liking.
Wear a Mask When Cleaning
When cleaning your new home, it's always a good idea to protect yourself by wearing a mask, especially when cleaning a basement, attic, or storage area. These areas often contain large amounts of dust, debris, and allergens that you won't want to inhale.
Keep Pets in Mind
Pets can have reactions to some plants, pest spray, and other chemicals, so it's vital to assess the house's safety for pets before moving them in. If you want to pet-proof your home office, you can cover electrical outlets and make sure to avoid using cleaners that will irritate your dog or cat. Here is a list of some ingredients that can be harmful.
Do a Deep Clean
If you really want to make sure the house is in top shape before moving in, you'll want to clean from the ceiling to the floor. Start with fans, vents, corners, and lights, then move downward. Clean the walls delicately with a soft sponge and water or a diluted cleaning solution. Then, scrub the baseboards before sweeping and mopping the floors.
For bathrooms, make sure you clean the grout, toilets, sinks, and tubs before use. You don't have to use bleach to kill mildew and mold. You can put baking soda on 1-inch sponge cubes, put them over the moldy areas, spray them with vinegar and water and wait for them to do their magic.
The tips above can help you get your house ready for move-in and keep you and your family safe. If you have allergies, remember to check on getting rid of any specific allergens that could be irritating to you or your pets. It's much easier to do a deep clean when the house is still empty than after you've moved in all of your belongings.
For more information on moving into your new home or all Colorado Springs homes for sale, contact Ashford Realty Group today.