How to Stage an Empty House
Posted by Ashford Realty Group on Monday, April 18, 2022 at 10:14 AM
By Ashford Realty Group / April 18, 2022
Comment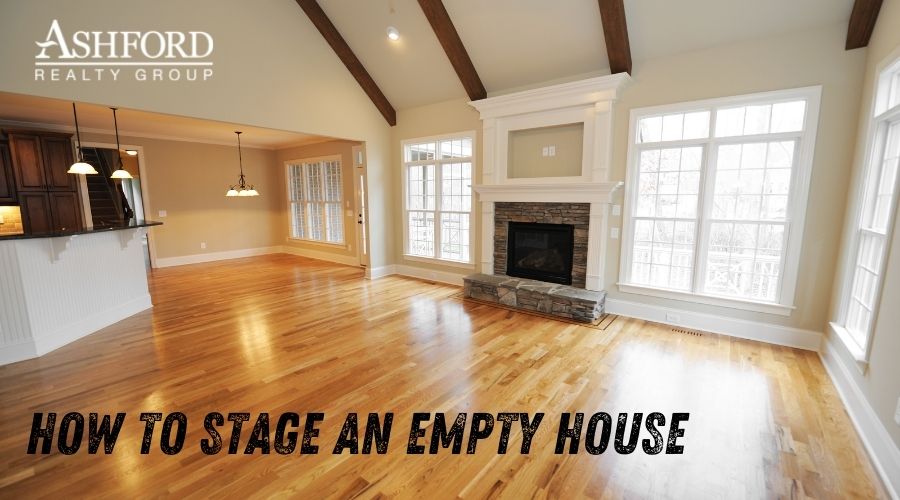 When selling your home, staging is a successful method to entice buyers, allowing them to picture themselves living in your home. However, if you've already moved out of the home, your now empty home has nothing left to stage. You may feel it is no longer necessary to stage an empty house, but most realtors would advise against it.
Staging an empty house, you can rent furniture to fill the space with nice, new furniture bringing your rooms to life again. Unfortunately, renting furniture can be pricey and may not be in the seller's budget. While renting furniture would be ideal, some companies will require a minimum rental period, leaving you footing a bill even longer than necessary.
There are ways to stage a home without breaking the bank. Here are some tips for staging an empty house to make a bigger impact.
1. Focus on Rooms that Matter
Don't overwhelm yourself trying to stage every single room, it's not realistic. Spend your time focusing on rooms that matter to most home buyers. When you try to spread your limited resources through every room, you take away the focus on the spaces that should be your focal points.
The top three rooms that buyers focus on are the living room, master bedroom, and kitchen, so set your sights on drawing more attention to these rooms over all others. While these are the rooms you should focus most of your attention on, you can forget to do some general touch-ups in the other spaces as well.
2. Paint and Quick Fixes
An empty house makes it easier to spot imperfections and bold colors, it is crucial to pay attention to detail and touch up where it's needed. Potential buyers want to picture their family living in your home, so you want to make sure that the walls are clean and visible cosmetic issues are taken care of.
Once your home is empty, take the time to go through each room make any necessary touch-ups, and add a fresh coat of paint. While moving your furniture out, someone may have accidentally bumped in the wall, creating a hole or small crack, make sure it is properly patched up. Giving your walls a fresh coat of paint will not only give your rooms a fresh, clean look but, it will give potential buyers a blank canvas to picture themselves living in your home.
When painting the rooms in your home, it is important to use neutral colors such as beige, whites, light grays, etc. Using neutral colors will give potential buyers a better opportunity to visualize their belongings in the home.
3. Focus on Curb Appeal
Curb appeal is important whether the inside is empty or not, but when a home is empty it serves as an extra incentive to entice potential buyers to take a closer look. Curb appeal is an important selling point on its own.
When most people think of curb appeal, they think of the landscaping, flowerbeds, and lighting. These are important components to curb appeal; however, most people may be surprised that the front door is equally important. A dull, boring front door can change the entire look of a home, so make sure that the front door draws the right kind of attention. Aside from a beautiful, natural wooden front door, popular colors that draw attention are a bright yellow, a bright blue, and red.
Now that the landscaping, lighting, and door have been taken care of, how does your home's exterior look? Take the time to inspect your home's exterior. Is your siding dirty and in need of a good cleaning? Does your siding need a few touch-ups or a fresh coat of paint? This is the time you want your home to shine, it's important to make sure the exterior of your home is clean and tidy.
4. Accessorize
Just because your home is empty doesn't mean you can't accessorize. Thoughtful placement of a picture, a few window treatments, or a couple of flower arrangements can brighten up a room and give it a little more life. Flower arrangements and plants don't necessarily have to be the living kind, they can be fake requiring a little less work trying to keep them alive or replacing old with new.
Contact Ashford Realty Group for all Colorado Springs homes for sale and Colorado real estate.