Is a Cash Offer Always the Best?
Posted by Ashford Realty Group on Friday, December 3, 2021 at 9:21 AM
By Ashford Realty Group / December 3, 2021
Comment
Cash offers tend to be more popular options during both high and low peaks of the housing market. When plenty of homes are available for sale cash offers tend to come from house flippers and investors. This type of home buyer searches for homes that wouldn't normally qualify for a mortgage, this way the seller doesn't have a lot of bargaining room and the buyer can get the best deal. During higher peak times, similar to today's market, when available homes are harder to find, buyers use cash offers as a tactic to win over the seller and have their offer accepted over others.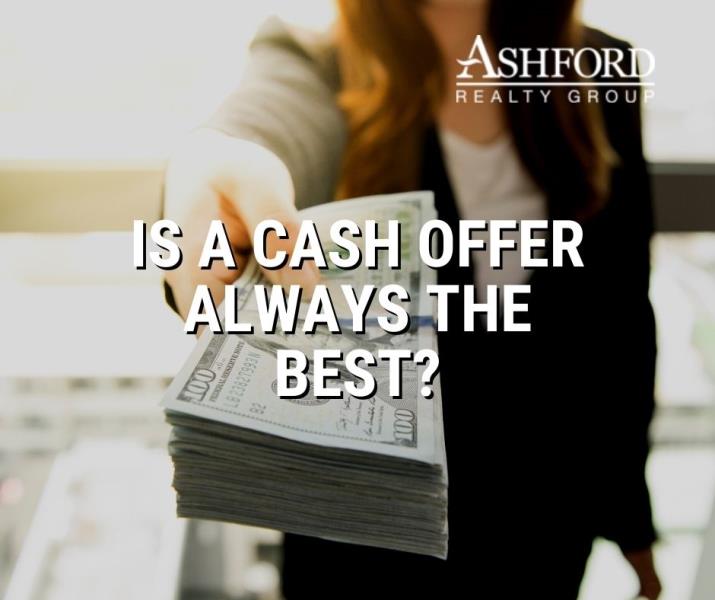 The timeline should be a major factor when determining whether to take a cash offer or not. If you are in a hurry to sell your home, a cash offer would likely be your best option. Many steps can be skipped with a cash offer. The time waiting for mortgage approval, inspections, appraisals, and dealing with contingencies are removed from the timeline. Cash offers can be completed within as little as two weeks while a mortgage-based offer can take up to 60 days, so if you need more time to find your own new home this would likely be the smarter choice.
When a cash offer is received, the buyer is less likely to request an inspection or appraisal because they are probably planning to make their repairs and renovations making an inspection or appraisal unnecessary. Alternatively, a lender will want to perform an appraisal and may require a home inspection before the loan is approved.
Mortgage-based loans require an appraisal to be completed and unfortunately, with the rapidly rising home values, there can be appraisal gaps due to appraisals being based on comparable home sales. This can present an issue for a home buyer if the lender is not willing to finance the amount that the buyer needs. A cash offer does not require an appraisal, the home value is determined by the buyer.
When a cash offer is accepted, the buyer will usually seek a buyer's agent or a real estate lawyer to ensure that everything goes smoothly at closing but, ultimately there is a lot less to review and sign off on. A downfall accepting a cash offer, the buyer could potentially be pushy thinking that what they are offering is irresistible to the seller.
When the housing market is at its current peak, to the seller's advantage, make sure to not rush into accepting the cash offer right away. It is not always the best option causing you to potentially leave more available money at the table. Some cash offers come with an expiration date and time making the seller feel rushed into making a decision, this is advantageous to the buyer by ensuring that no other offers could kick them out of the running. Even if you're in a hurry to unload your home, a hurried decision opens you up for mistakes.
Several real estate agents have commented that their seller has held out for other offers and ultimately ended up with more than they would have to accept the cash offer.
For more information on homes for sale in Colorado Springs, contact our office anytime.