Is Buying a Home 'As Is' a Good Idea?
Posted by Ashford Realty Group on Monday, May 2, 2022 at 10:58 AM
By Ashford Realty Group / May 2, 2022
Comment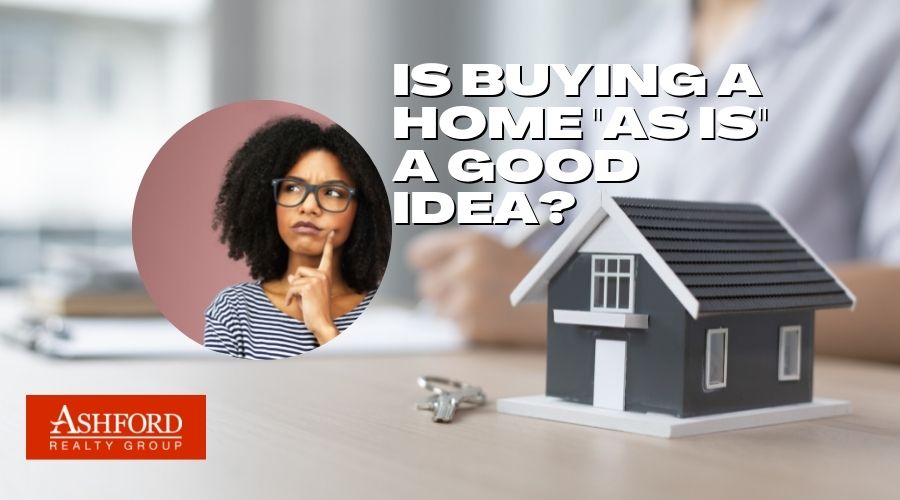 Buying a home "As Is" has its pros and cons but, before deciding if this is the right option for you, you need to understand what "As Is" means. When the term "As Is" is used during a sale of property, most people would understand that the seller is unwilling to make any changes, updates, or repairs, what you see is what you get. This also usually means that the price that is set is the lowest the seller is willing to go.
Buying a Home "As Is" Explained
A home being sold "As Is" means that the seller will not be making any repairs before closing and making no guarantees that everything in the home is in working or very good condition.
In a normal home sale situation, after the inspection is completed, the buyer can go back and request that maintenance or repairs be resolved before closing. Some buyers and sellers will agree to share the cost of the repair. However, when an agreement cannot be made this is the opportunity the seller has to back out of the deal with little to no penalty.
When purchasing a home "As Is", the seller is making it clear that there will be no negotiations regarding repairs, no matter how big or small. In situations like this, they may be required to make any mandatory disclosures concerning structural issues, electrical or plumbing problems, or even issues with pests or mold, but ultimately you are agreeing in advance that you are liable to correct these issues.
Buyers are still able to use an inspection contingency to back out of the deal should the home inspection shed some light on issues that the buyer is uncomfortable handling.
Does "As Is" Equal Big Problems?
A common misconception when a home is being sold "As Is" is that there is something major wrong in need of repair. However, this is not always the case. In fact, in some cases, only a portion of items are being included in the "As Is" such as the roof or HVAC, anything else is up for negotiations.
You may wonder why a seller would resort to selling a home "As Is" vs. making the repairs and selling the home in tip-top shape. While we can't cover all of the reasons, some of the most common are:
The Seller needs to sell quickly and doesn't have time to have the repairs completed.
The Seller may not be able to afford the repairs that need to be completed, regardless of how minor.
The home was a family members that have passed away and the family just wants it sold.
The Seller wants to avoid negotiations over repair concessions.
What Are the Pros and Cons?
As previously mentioned, when a seller is selling a home "As Is" they have already made their concessions in advance and the price they are asking is generally always less than you would normally pay. Of course, you could be walking into a lot more money in repairs than you bargained for. Let's examine the pros and cons of purchasing a home "As Is".
Pros
A Good Deal - Buying a home "As Is" could mean that you are paying substantially less for a home than you otherwise would. The amount of money you are saving on the home could pay for the necessary repairs or upgrades that you may want to complete.
Speedy Close - You are much more likely to close quickly due to not having to go back and forth in negotiations. Sellers that are selling the home "As Is" are sometimes in a hurry to sell, so they are not interested in dragging out the closing process.
Cons
Financing - Purchasing a home "As Is" could lead to issues getting the necessary financing or if you can get financing the terms may not be great. Depending on the condition of the property, lenders could see the home as a "fixer-upper" and a potential money pit that is too big of a risk.
Major Repairs - While you understood that there were repairs that need to be completed on the home and the home inspection does a good job of spelling out to you what all you are going to be tasked with repairing, the cost of the repairs still need to be budgeted for. Not all homes being sold "As Is" equal major repairs but, unfortunately, it is not uncommon. The savings you make on the cost of the house may be offset by the cost of the repairs.
The Wrap-Up
Finding a home you love and how you plan on paying for the home come hand in hand, you can't have one without the other. Buying a home becomes a bit more trying when the home is being sold "As Is" because securing a loan will ultimately be more challenging.
A home must meet minimum property requirements to secure most traditional mortgages. Depending on the type of mortgage will determine the requirements that must be met as these can vary.
The lender will go into detail about the loan and what requirements are necessary to secure your loan. You need to make sure you are aware of what conditional requirements must be met so that you know what you are up against. Examples of some conventional loan requirements are:
Working water and heating systems
Clean Drinking Water
Structurally sound roof and foundation
Electrical that is up to code
When you find a home that you love and want to pursue purchasing, if it is being sold "As Is" does not necessarily mean that all is lost. If the requirements for your conventional loan are not met, there are other types of financing available but, they are limited and may not be what you are willing to accept.
More Tips for Buyers