Maintenance You Should Not Neglect When Selling Your Home
Posted by Ashford Realty Group on Saturday, April 16, 2022 at 10:05 AM
By Ashford Realty Group / April 16, 2022
Comment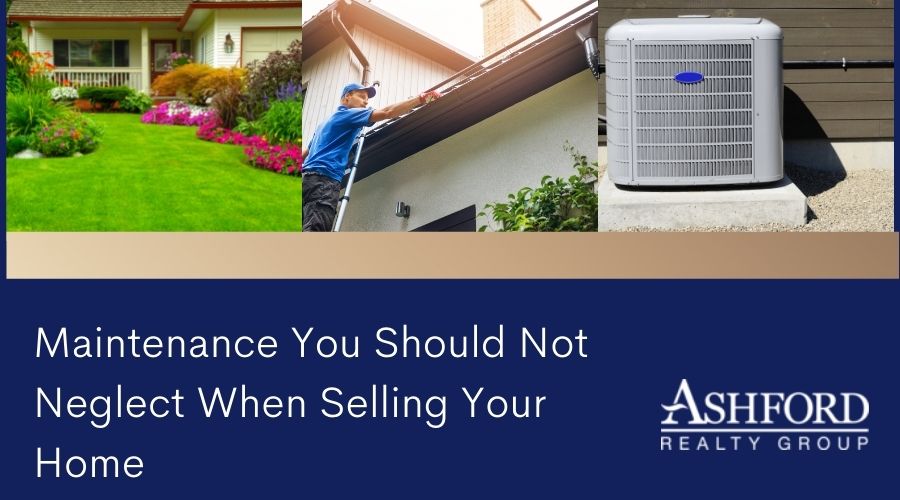 When selling your home, you must keep up with regular home maintenance to keep potential buyers interested. Selling a home can be exhausting, especially when you're buying a home at the same time, just moving can be overwhelming. It is important to make sure you keep up with your home's maintenance while it's on the market not only to impress potential buyers but, to show that even though you are selling, you still love and care for the home.
Unfortunately, once your home hits the market doesn't mean you are done and can simply walk away without taking another look. Potential buyers want to see that a home was well-cared for and that they will not have more tasks to complete once they move in. The condition of your home can also affect the value of your home as well.
Yard and Sidewalks
A well-kept yard and sidewalk will help showcase your home, if your yard and sidewalk are overgrown or simply in disrepair potential buyers may drive by and not stop to take a look at the potential your home has to offer.
If you move out before the home is put on the market, your vacant home still needs to have a well-maintained yard and sidewalks, it may be best to hire someone to ensure the upkeep of your property. Your yard needs to be well-trimmed, free of tree limbs, leaves are raked, weeds are pulled, and flowerbeds are clean and tidy.
Having lights on timers so your house doesn't look dark all the time, is not only a way to keep your home looking nice but, it is also a safety feature. If your home is vacant, having lights on timers will make your home look occupied and deter thieves and vandals from taking an opportunity to take what they want.
It is also important to make sure that your mail doesn't overflow your mailbox, so make sure to either forward your mail or rent a post office box until you have moved into your new home.
Gutters and Roof
Whether you are selling your home or not, maintaining the roof and gutters on your home is imperative, if you don't the neglect can cause major, costly issues.
Clearing your gutters from leaves and branches will allow the flow of water from rain or snow to move away from the roof preventing damage to the roof. Downspouts should be placed and functional leading water away from your home. Potential homebuyers don't want to see puddling water around your home and drainage issues can also lead to expensive foundation issues.
Taking the time to examine your roof for potential issues is important to ensure that a pesky, undetected crack in the roof can cause water to leak through and infiltrate the interior of the home causing water damage and even mold if left untreated. Of course, the roof will be checked during the home inspection but, it's best to take care of issues before a home inspection.
Service Your Heating and Air
Routine maintenance of your HVAC includes regularly changing your filters and cleaning your ductwork. Homeowners that regularly attend to the upkeep of their HVAC system will have a longer-lasting system.
Vacuuming the exterior of the vents is an easy way to regularly tend to your HVAC but, not always enough, it is recommended that you have a professional service thoroughly clean your ductwork as well. Having your ductwork cleaned professionally at least once a year will keep your system performing at its peak capacity.
Do you have a fireplace you use as a heat source? Make sure that you have the flue properly deep cleaned to maintain the integrity of the fireplace. Even if you don't use your fireplace very often, you should have it cleaned due to birds tend to find the chimney a good place to make their home.
The air conditioner unit should also be checked professionally at least once a year to ensure that it is free and clear of any unwanted critters and that it is operating like a well-oiled machine. When the unit locks up or freezes in place when in use, the air conditioner will continue to try to work causing unnecessary wear on your unit.
Avoid Getting Unwanted Guests
Critters are very resourceful and when they find an opportunity to move in, they will. Take the time to walk around and inspect your home both inside and out for holes or cracks that need to be plugged.
Damaged siding or fascia can cause cracks or holes that give just the right amount of room for a critter to establish their new home and cause you some major headaches. Inspect your home for potential areas that need to be plugged and don't wait take care of it right away.
Stove and dryer vents are also a source of entry for unwanted guests, make sure that these are covered with a wire mesh to prevent critters from taking occupancy of your home.
Clean the Windows
Clean windows can make a huge impact on the look of your home. Make sure that you clean all around the windows, you want your windows to shine.
Dirty windows can deter potential homebuyers leaving them wondering what other areas of the home have been neglected. Continue to make those windows shine, keeping them free and clear of any build-up of dirt.
Wrap-Up
Properly keeping up with your home maintenance will determine how quickly you can sell your home and the price buyers are willing to pay you for your home.
Take the time to keep giving your home the attention it requires to make your home stand out creating more interest.
Contact Ashford Realty Group for all Colorado Springs homes for sale and Colorado real estate.