May Events in Colorado Springs
Posted by Ashford Realty Group on Wednesday, April 20, 2022 at 7:38 AM
By Ashford Realty Group / April 20, 2022
Comment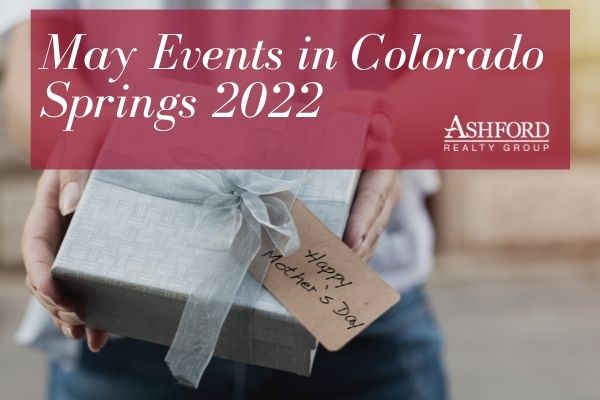 Spring is in full swing; Colorado Springs is bustling with activities and events that will attract the community to get out and enjoy. Colorado Springs is never lacking events providing the community an opportunity to be entertained, explore new things, or learn. May welcomes warmer, more mild weather perfect for planting, shopping at outdoor markets, exploring nature, or attending events.
Of course, popular holidays that land in May are celebrated, Cinco de Mayo and Mother's Day are included in the events planned for May. There are plenty of opportunities for everyone to enjoy, no matter their interests or abilities. This is the perfect time to get out and enjoy what you already know and love or take the opportunity to explore new things and find something new to enjoy. Here are some popular events happening in May broken down by categories to make it easier to spot the events that pique your interest. Let's first get into the events celebrating Cinco de Mayo and Mother's Day.
Holiday Events
38th Annual Cinco de Mayo Fiesta & Car Show - This event is a fun family event, so bring out the entire family for some fun-filled entertainment. The organized event is a fundraising endeavor to provide scholarship opportunities to under-served and under-represented students in the local community. The event features a car show, live music, food vendors, dancers, a kid's corner, & more, all while building cultural awareness.
Mother's Day Tea - McAllister House Museum is hosting an Afternoon Cream Tea in the carriage house featuring scones, finger sandwiches, and desserts. After enjoying the tea service, guests are invited to tour the oldest house in Colorado Springs.
Mother's Day Market - Goat Patch Brewing Company is saving the day for gift-giving procrastinators, they are holding the Mother's Day Market event featuring amazing local makers and artists perfect for finding a unique gift for your mom. The list of makers includes Moonchild Candle Company, Saturday Side Hustle, Hapke's Hortum, Encaustic Art by Shannon Mello, KB Sweet Treats, and The Honni Dew Boutique.
Mother's Day Shopping Event at G44 Gallery - G44 Gallery is happy to hold this special shopping event that features some amazing pop-up vendors. Some of the fabulous vendors feature Flowers by Christy Metz, a live painting demo by Rita Salazar Dickerson, J Star Jewelry, baked goods by Flour Child Cakes, teas by Wildflower Botanical Menagerie, and Becoming Poetry to create a personalized poem for your mom.
Art Events
Art Student Exhibition - Studio West Gallery will be hosting Pikes Peak Community College Student Art Exhibition. Opening the Student Art Show with a reception, the Student Jazz Ensemble performance, Art Show Awards Ceremony, and closing the show with Dance and Theater performances.
Kids Events
Kids Fest - Presented by The Resource Exchange of Ute Pass Cultural Center this event is ideal for young children to enjoy hands-on activities, enjoy a dance performance, participate in activities, and even have the opportunity to win prizes. The focus is on early childhood activities and is ideal for children from birth - to 5 years of age.
Nature's Classroom - Nature's Classroom is an ongoing event presented by Bear Creek Nature Center. Themes will change but, the experience remains the same. This event is ideal for children that are pre-k to Kindergarten, featuring a puppet show, discovery hike, and even a game of "Who-Dunnit?".
We Dig Dinosaurs - This event is hosted by Garden of the Gods Visitor & Nature Center and is ideal for older children between the ages of 8 - and 12 years old. Each We Dig Dinosaurs will focus on a different type of dinosaur native to Colorado. This event is sure to be both fun and educational for all participants.
Youth Fishing Derby - Willow Springs Pond at Fountain Creek Regional Park is hosting this youth fishing derby for kids ages 5 to 15 years old. Participants will need to bring their rods, reels, tackle, and fishing bait for an opportunity to win prizes.
Animal Events
Seventh Annual Pikes Peak Birding and Nature Festival - Presented by Bear Creek Nature Center participants will be given the opportunity to discover new birds while promoting conservation and education.
Kentucky Derby Party - The Junior League of Colorado Springs is hosting a Kentucky Derby Party at The Gold Room. Guests will watch the derby in action and enjoy live music, a silent auction, and a few contests.
Fitness Events
Goat Yoga - The Goat Patch Brewing Company and Rocky Mountain Goat Yoga are bringing back this popular event to enjoy some fun interactions with goats while getting a workout in. Once you've completed your workout, enjoy a beer at the Goat Patch Brewing Company.
Colorado Springs Fitness Expo - The fitness expo is presented by Hillside Community Center and will offer free live fitness classes, on-site health and fitness vendors, and on-site studios and fitness clubs available to sign you up to begin your health journey.
More on Colorado Springs
Colorado Springs Most Historic Neighborhoods