May Festivals in Colorado Springs
Posted by Ashford Realty Group on Friday, April 22, 2022 at 7:43 AM
By Ashford Realty Group / April 22, 2022
Comment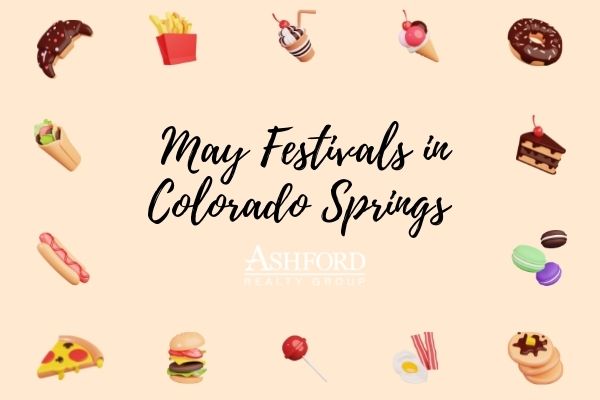 Colorado Springs in May begins the uptick in a variety of festivals. Visitors from all over will head to The Springs to attend the festivities.
People have not only been cooped up during the winter months, but they are also finally venturing out from Covid-19 restrictions. Colorado Springs provides ample outdoor adventure and places to enjoy some relaxation, festivals allow visitors to enjoy the outdoors while being entertained.
Check out the upcoming May festivals in Colorado Springs and mark your calendar to attend, you won't regret it.
CILA World's Fair
The Colorado International Language Academy presents the CILA World's Fair to celebrate another school year in the books. The event will feature food trucks, cultural performances, music, a fashion show, vendors, games, and activities. This event is sure to be a fun-filled family affair packed with homemade treats, jewelry, and family resources.
Silent Disco & Food Truck Rally
Presented by the Manitou Springs Chamber of Commerce, the Silent Disco & Food Truck Rally is held at the Soda Springs Park in Manitou Springs for an evening of fun and great food. The food trucks open for business starting at 4 pm - 10 pm, along with a variety of vendors, fun activities, and a beer/spirits garden. At 7 pm, the silent disco will begin, featuring 3 different DJs taking guests back in time to the '60s and '70s. Dance the night away and sing along to some of your favorite tunes.
719 Battle of The Food Trucks
The 719 Battle of The Food Trucks is an event first with the hopes of continuing the tradition for years to come. Hosting this event is Phil Long Dealerships with proceeds benefiting the Mt. Carmel Veterans Service Center. Over 30 of Colorado Springs's favorite food trucks will be competing against one another in this friendly competition. Admission will include a sample from each food truck with their most loved, award-winning menu item. This is a family-friendly event that includes live music, community business booths, local vendors, games, face painting, and more. An excellent way to show your support to our cherished defenders, the veterans, and military communities while participating in fun family activities.
13th Annual MeadowGrass Music Festival
MeadowGrass Music Festival is presented by Rocky Mountain Highway Collaborative that is held every year over the long Memorial Day Weekend. This highly anticipated music festival is the Pikes Peak region's kick-off to summer. Family and friends enjoy camping the entire weekend for the chance to listen to some of the best up-and-coming musical talents. Aside from music, the festival offers fun activities such as; workshops, yoga, a ropes course, and an archery range. Now included in the MeadowGrass Music Festival is the 4th Annual MeadowGrass Beer Festival. The festival will include a variety of vendors both food and retail. There are also several hundred acres of forest and historic buildings that guests are invited to explore. This festival takes place regardless of rain or shine. Seating is first come first served, so make sure to bring your chairs to find the perfect spot in the meadow. A fun-filled Colorado Springs-style festival to begin the festival season.
WCC 2 in 1 Fun
The Westside Community Center is hosting the 2 in 1 Fun event featuring a Flea Market and Community Picnic all in one. The event will feature a variety of food trucks and retail vendors for your shopping experience. There will be free to play carnival games with prizes, giveaways, and more. The Flea Market will run from 8 am - 2 pm, the Community Picnic will begin at 11 am, and the HSPPR Wellness Wagon will be available from 8:30 am to 4:30 pm.
The Wrap Up
While some of these festivals may not be of interest to you and your family, Colorado Springs is constantly putting on a variety of events and festivals there is bound to be something that piques your interest. Take the time to open up to new experiences, if you haven't tried attending one of these festivals, give them a chance, you may find a new interest you never realized you had.