Pros and Cons of a Homeowners Association
Posted by Ashford Realty Group on Wednesday, April 6, 2022 at 10:06 AM
By Ashford Realty Group / April 6, 2022
Comment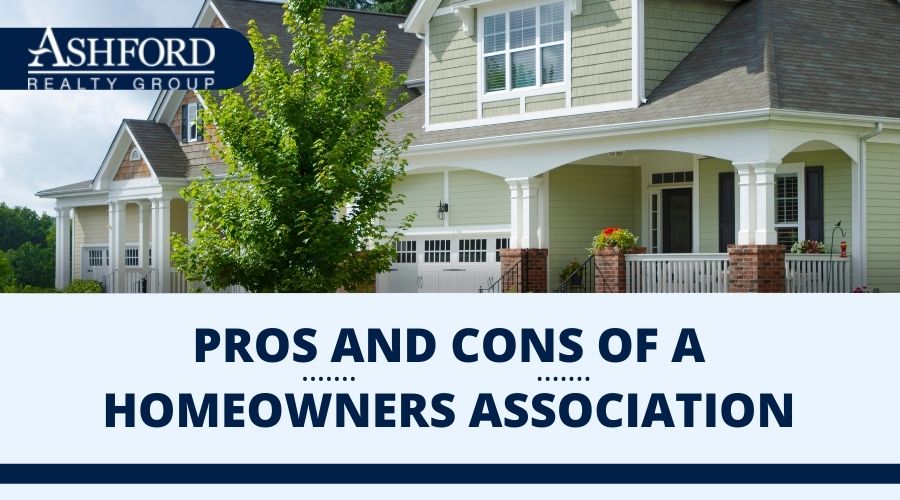 Homeowners Associations can have a significant impact on homeowners. Some homeowners find them beneficial while others find them intrusive. It's important to understand what a Homeowners Association is and its purpose to decide if you want to live in a neighborhood that is operated by one.
What is a Homeowners Association?
A Homeowners Association is a community organization that is in place to manage a neighborhood by maintaining common spaces, ensuring that local regulations are followed, and allocating funds to maintain the neighborhood. In neighborhoods with an HOA, homeowners are automatically members of the association and are required to pay monthly or yearly dues to fund neighborhood improvements and maintenance. HOAs are run by an elected board of directors.
What Does a Homeowners Association Do?
There are three key tasks that a Homeowners Association is responsible for, they are:
Listening to Homeowners - The HOA is responsible for conducting meetings, taking polls, reviewing letters, or just speaking to homeowners to best serve the community and neighborhoods' common interests. Every homeowner should be heard, and it is the responsibility of the HOA to listen.
Establishing Rules - HOAs have rules in place that they enforce, otherwise known as covenants, conditions, and restrictions (CC&Rs). CC&Rs are created to keep the community in line with particular standards of home design, curb upkeep, and conduct.
Collecting and Allocating Funds - Community members are responsible for paying dues to fund the management, maintenance, and new projects. The HOA is responsible for collecting the dues owed by community members.
HOA Pros
Homeowners Associations vary in what they do, based on the covenants, conditions, and restrictions of the neighborhood.
Well-Maintained
A neighborhood with an HOA is going to have rules about the appearance of the community. The rules require homeowners to keep their lawns mowed and free of junk. The HOA is responsible for the upkeep of the common areas but, the homeowners are required to maintain their property, making sure that the sidewalks are free and clear of trash and yards are kept tidy.
Community Facilities
Communities that have recreation facilities, such as swimming pools, tennis courts, golf courses, playgrounds, and community centers are maintained by the HOA. HOAs tend to sponsor activities such as sports teams and children's activities utilizing the community facilities. Some HOAs will even offer frequent adult get-togethers to encourage neighbors to mingle.
Maintenance Free
Some HOAs will take care of cutting the grass, weeding the garden and flowerbeds, shoveling snow, and more. Potential buyers that don't have the time or no longer have the ability to handle maintaining their routine chores will look specifically for HOAs that will take care of these necessities for them. Maintenance-free communities are not often easy to find, but even if they don't offer a complete maintenance-free, they may offer some, such as snow removal from the sidewalks.
Resolve Disputes
A big perk to an HOA, is they run interference when feuding with a neighbor. When an issue arises with your neighbor, you can file a complaint with the HOA and they will make sure that the issue is resolved. They are there to help resolve the conflict and prevent future issues.
HOA Cons
Unfortunately, along with the advantages of an HOA, there are going to be some disadvantages, you just have to weigh the good and bad to determine if you can live with the rules of the HOA.
Fees
Most homeowners like the perks a community run by HOA offers, but there is a cost to those perks. HOAs usually charge a monthly or annual fee for operation and maintenance costs, this is additional costs over your mortgage. Homeowners need to understand that if they fall behind on the HOA dues, the HOA has the authority to foreclose on their home.
Cookie Cutter
Some HOAs have pretty stringent rules that can dictate what your house looks like, down to the paint color, what landscaping you're allowed to have, and even the type of decorations you put up. These stringent rules can make homes look the same, so if you don't like the cookie-cutter look an HOA-run community may not be the best place for you.
Loss of Power
Homeowners are automatically required to agree to the HOAs governing documents and bylaws. There are few avenues for homeowners to dispute rules they disagree with, aside from running for a position on the board or pursuing legal recourse.
Conclusion
As you can tell, HOAs do have plenty of advantages and disadvantages, homeowners need to consider if the perks they would get from an HOA are worth the loss of freedom and the costs associated with the HOA. Some HOAs are not as stringent as others, so take the time to evaluate the covenants, conditions, and restrictions of an HOA before making an offer on a home. You need to understand what you are agreeing to.
Contact Ashford Realty Group for all Colorado Springs homes for sale and Colorado real estate.
More Tips for Home Buyers:
Take a look at our newest listings