Renovations That Will Increase Your Home Value
Posted by Ashford Realty Group on Friday, March 18, 2022 at 10:02 AM
By Ashford Realty Group / March 18, 2022
Comment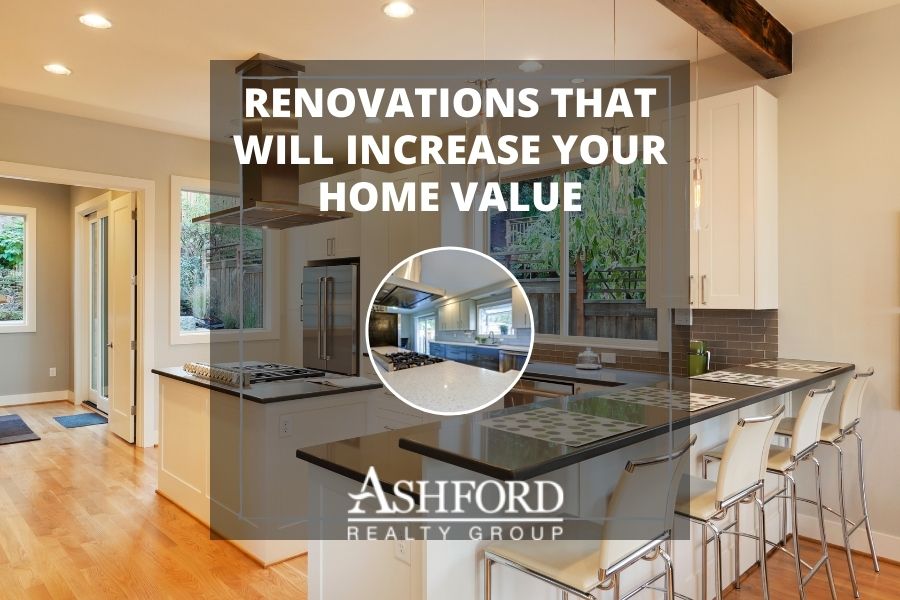 Home renovations can not only improve your home's look, but renovations can also increase your home's value.
Some renovations are much more expensive than others, so understanding which renovations will retain their value and deliver the highest return on your investment is important before you begin.
The top renovation projects with the best return are listed below.
1. Replacing the Garage Door
Giving an outdated garage door a fresh coat of paint may not be enough to improve your home's value, a complete replacement may be the best option.
Replacing your garage door can bring new life to your home, it is likely well worth the investment. A simple garage door upgrade costs approximately $1,200 but can add almost $2,800 in resale value.
2. Add Stone Veneer
Replacing existing vinyl siding with manufactured stone veneer on the bottom third of the home is a pricey renovation. The average cost for a midrange home can cost just over $10,000; however, homeowners can recover around 92% at resale.
Updating the front of the home's street-facing, bottom third of the home can give the home a complete facelift.
3. Minor Kitchen Remodel
Remodeling the kitchen tends to be one of the more expensive rooms to remodel in a home, but one of the most important. A kitchen is a place that everyone uses and wants to enjoy while in it. Potential homebuyers not only look for a kitchen to be functional, but they also want it to be a great place for entertaining.
Updating kitchen appliances t0 modern, energy-efficient appliances can be pricey but should provide a good return on your investment. You don't have to upgrade to the top-of-the-line appliances that are outside of your budget but, you don't want the cheapest either.
The kitchen countertops can bring new life to the entire kitchen, get rid of the old, and bring in the new. Granite countertops still tend to be the most popular option and can be expensive, consider granite tiles if you want to try to save a little money.
Kitchen cabinets can easily date a kitchen, consider upgrading them to give your kitchen a more modern feel. Kitchen cabinets don't have to be replaced in their entirety, making a few changes can give your cabinets a fresh new look. Refacing the cabinets with shaker-style panels can give your kitchen a new modern look or you can work with what you have. Painting your kitchen cabinets can save you the cost of refacing the cabinets and still give you a clean, modern look. Consider replacing the hardware on your kitchen cabinets, updating the handles can give your cabinets a clean, sleek look.
Replacing the kitchen sink is a great way to give your kitchen a clean, new feel. A popular trend is to replace your kitchen sink with the one basin, farmhouse sink. While this type of sink is currently the popular trend, it's probably best avoided. It has been found that two basin sinks are more desired for functional purposes.
Updating the kitchen floor can wrap up the kitchen remodel, wrapping up the space with a fresh, new clean feel.
While even minor kitchen remodels can be expensive, homeowners average approximately a 72% return with a minor kitchen remodel.
4. Siding
The siding on a home can make a home look old and outdated, replacing the siding may be the best option if cleaning it still makes the home look old and dilapidated.
In an average home, replacing 1,250 square feet of new fiber-cement siding, the average cost is around $19,500 but, you can expect to get a return of a little over 69% of your investment.
Another more budget-friendly option, replacing your siding with vinyl siding. The average cost to replace a 1,250 square foot home with vinyl siding is $16,576 with a return of around 68% on your investment.
5. Vinyl Windows
Replacing old windows is a must-do when it comes to home renovations. Replacing old windows will not only give your home an updated look, but it will also save you energy.
Potential homebuyers don't want to see old, leaky windows when looking at a home. Most homebuyers are looking for a move-in ready home, they don't want to add more to a to-do list once they move in.
On average, homeowners can expect to recoup around 69 percent by replacing their windows.
In Conclusion
Take a good look at the inside and outside of your home, if you were looking at a home similar to yours what would deter you from making an offer on this home?
Consider what appears to be outdated or looks dingy. A fresh coat of paint, new flooring, updated appliances, and fixtures can make a home look almost new again.
Homebuyers want to see a home that was loved and well-cared for, so take the time to invest in your home.