Should I Sell or Rent?
Posted by Ashford Realty Group on Friday, December 10, 2021 at 6:39 AM
By Ashford Realty Group / December 10, 2021
Comment
Life happens, unfortunately sometimes life doesn't happen the way we plan. You may have moved into your home thinking it would be your forever home or at least a long-term home but, life threw you a curveball and now you're faced with deciding if selling your home would be in your best interest. Before deciding you need to do your homework because selling is not always your best option, it may be beneficial to rent your home.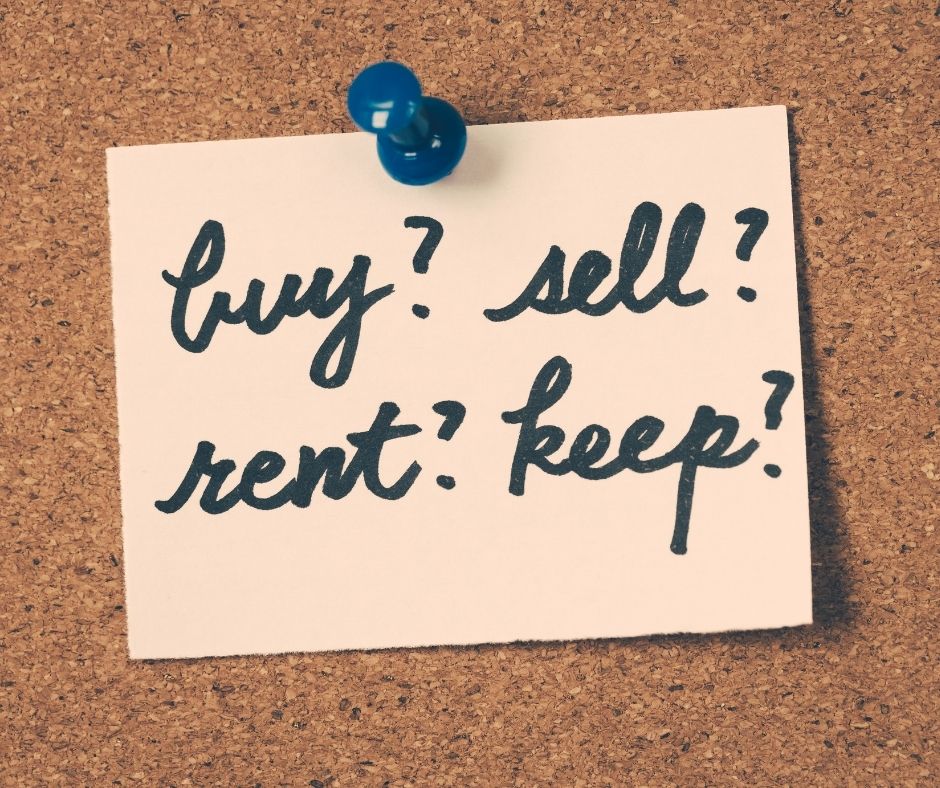 Evaluate Your Home's Value
Working with a real estate professional is probably the easiest way to determine your home's value and guide you through deciding to sell or rent. If you decide to determine the value of your home on your own, you will want to review the prices of recently sold properties. When working with a real estate professional, they can quickly access the information and prepare a comparative market analysis, providing a list of comparable properties in terms of square footage, number of bedrooms and bathrooms, lot size, and more.
You will need to consider the current condition of your home when determining your home's value. If your home has recently been updated, you would want to look at the higher-priced comparable homes. However, if your home needs repairs or updates you would want to consider homes that are priced on the lower end to determine your home's worth.
Time to do the Math
Now that you have determined your home's value, now you have to take into consideration other fees that will be deducted before the sale is final. The seller is responsible for the entire commission paid to both the buyer's agent and the seller's agent, usually 6%. Once you have all your information gathered, you will now need to put your math to work. Calculate your asking price (if you get your asking price), subtract your mortgage balance, and subtract the closing cost with the agent's commission included, the remaining amount is yours as the seller.
The amount that you have left, is it a negative or positive number? Negative amounts, you will have to make up the difference to pay for closing. If you are already in a situation where you feel you have no other option but to sell, you likely are not in a position to pay to sell your home, so selling may not be the right solution.
Becoming a Landlord
You've determined that selling may not be the right option, so what about renting? There is still a lot to consider before taking the landlord leap. First and foremost, you want to make sure that the rent you are charging will cover your mortgage, the taxes, and provide some wiggle room for repairs. Here are some questions you need to consider.
Is the amount you need to charge comparable to the area?
Will someone be willing to rent your home?
Are you able to make necessary repairs on your own or will you have to hire someone to complete them for you?
Will you be able to cover your mortgage if your tenant misses a payment?
Can you afford to buy?
or rent a home for yourself to live in if you don't sell your current property?
Are you able to afford two housing payments if you're not able to rent your home for a few months?
You have non-paying tenants, what are the laws in your area if an eviction needs to take place?
Renting your home can be an excellent option but, you have to take into consideration the negative things that could arise to be prepared to take on such a big responsibility. Thinking of long-term goals is something to consider as well. If you are planning to pay down your debts to put yourself in a better position to continue owning and eventually living in your home again, is it a feasible solution? Will your current home remain an investment property or is this a temporary solution?
Keep in mind that becoming a landlord you will end up paying additional income tax on the rent you collect throughout the year. Once this is all said and done, are you simply breaking even?
Deciding to sell or rent can be a difficult one to make. Schedule an appointment for a free consultation with our office before making such a difficult decision, we would welcome the opportunity to sit down and thoroughly go over each of your options to ensure you are making the best choice for your family.
Vital Information to Sellers:
Get our Full Seller's Report Here
6 Questions to Ask A Potential Real Estate Agent
What is the Absorption Rate and Why Should Sellers Care?
Is Now Really the Best Time to Sell?