Tips on How to Tackle Moving With Children
Posted by Ashford Realty Group on Friday, April 15, 2022 at 9:58 AM
By Ashford Realty Group / April 15, 2022
Comment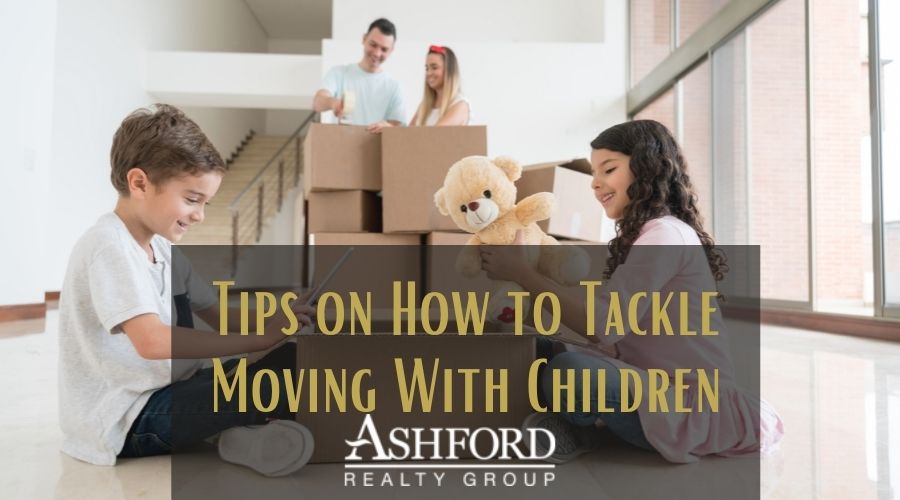 Moving can already be stressful, even overwhelming at times, but moving when you have children can make you feel like you're losing your mind. What steps can you take to ensure that your move is as smooth as possible, even with children in the mix? Here are some tips to minimize the chaos when you are challenged with moving with young children.
Let Them in On the Plans
Some parents may think that leaving their kids in the dark about their moving plans is the best route to take; however, this can cause undue stress for your children. Children tend to be much more perceptive than they get credit for, they are going to pick up on your stress and the sudden changes that are happening in their familiar space.
As soon as you have determined that you plan to move, let the kids in on the plans. A suggestion you might consider, take the family out for dinner at your family's favorite spot and start discussing the plans. These are children you're talking to so no need to get overly detailed, but if you are moving because of a job, tell them that and then point out something about the new town that they will be excited about, such as the great park in town.
Packing Their Boxes
Consider the age of your children, if they are younger and will have a difficult time understanding why you are taking their toys away, you may want to consider having a friend or family member babysit away from the home while you begin packing their room. They may have a difficult time understanding that their toys are just being moved to the new house.
If your children are a bit older, you can make it fun for them, let them decorate their moving boxes, and then fill them on their own. This will not only allow your children to be creative but, also keeps them busy.
The Essentials
Everyone has essential items that they don't feel like they can be without for long, it's the same for kids. Give your kids one box and allow them to fill it with the essential items that they can easily access.
Make sure that their essentials do not end up in the moving truck, rather place their essential box in the car for the move to ensure it makes it to your destination. It will give them peace of mind and an extra sense of security, knowing that their essentials are with them on this journey.
Perfect Time to Purge
No matter what your age, moving is the perfect time to begin purging, for kids, it tends to be more difficult because they are mini hoarders by nature.
It's important that kids are involved in the purging process and feel okay with letting go of some of their items. You wouldn't want to get rid of something that may bring them comfort in the new home.
Take the time to go through their items and discuss if they still need the item or if they've outgrown it. Some kids may find comfort in donating some of their toys, books, or stuffed animals. Donating items will give your kids the opportunity to give what was once their prized possession to someone that needs it.
Proper Farewell
Allow your kids a chance to properly say farewell to people and places. Take pictures of important places and people, then create a memory book so they can look back at their beloved memories. Consider taking pictures of their room, school, friends, teachers, and more.
Make It Fun
If you are moving out of state, consider making it fun for your littles. Collect souvenirs along the way to document your journey. Take the time to make stops along the way to check out points of interest or landmarks.
Keep Up on Routines
This will be challenging at times, but sticking to routines is imperative to make moving a smooth transition. Making sure to stick with nap times and bedtimes will keep your child's mood happy, ultimately keeping you sane.
Important Documents
Don't forget to keep important documents such as birth certificates, transcripts, medical records, etc. in your own essentials box, not only to make sure they make it to your destination but, in case you need them to quickly register your child in school or medical emergency.
In Conclusion
Make sure to reassure your kids that the most important thing during this transition is that you are all together. make it a fun adventure everyone will enjoy.
Contact Ashford Realty Group for all Colorado Springs homes for sale and Colorado real estate.
Related Real Estate Tips