Tips to Refresh Your Space
Posted by Ashford Realty Group on Sunday, April 17, 2022 at 10:11 AM
By Ashford Realty Group / April 17, 2022
Comment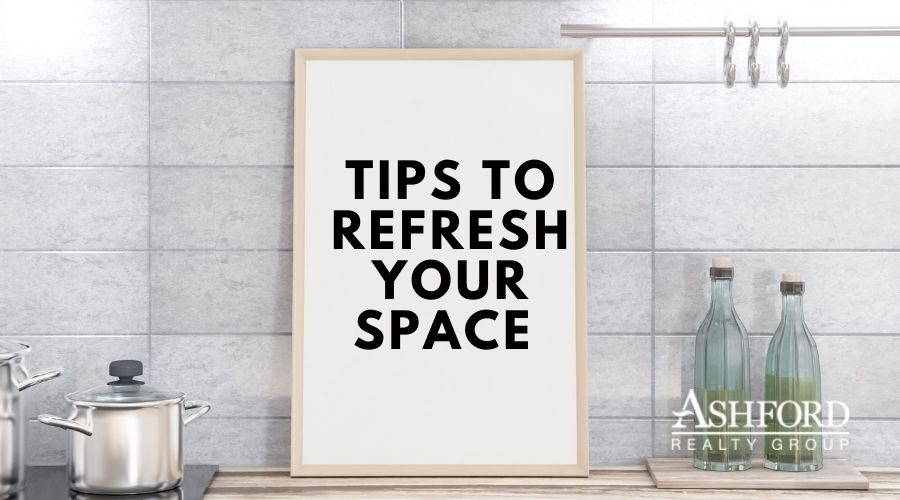 Spring has sprung and along with greeting spring comes a sense of renewal, organization, and cleanliness, no better time to refresh your space. Simple changes can quickly whip your space into shape, giving it a clean and fresh brand-new look.
Here are some tips that you can take to refresh your space.
Natural Light
Natural light is usually a quick, easy way to refresh your space, allowing natural light to brighten your rooms. Letting the sunshine light up your space will not only save you some money on your electric bill, but it will also enhance your mood. Welcoming in spring, there is no better time to pull back the curtains and lift the blinds.
Some homes are not equipped with many windows that can light up a room, there is a solution for that, fake it. Mirrors are an amazing asset to create more light in a room with little natural lighting, to begin with. Mirrors will not only reflect the natural light creating more light to brighten your room, as a bonus it creates the illusion of a bigger space.
Furniture Refresh
The beginning of spring is a time when people will start storing their warmer decor and replacing them with lighter, brighter colors. Furniture should not be neglected. A simple slipcover can change the entire look of a room without having to buy a new couch. Keeping a few slipcover options handy that you can change out with the seasons is an easy way to lighten up a room.
Adding a light, a neutral color chair can also assist in setting the tone of the room without having a big impact on your pocketbook.
Natural Decor
Utilizing decor that is lightweight and made with natural materials such as wicker, light wood grain, or cotton curtains to keep it light and airy.
Store your heavier, darker throw blankets and replace them with lighter, summery throw blankets. Replace your decor items with woven baskets or nature-inspired accessories to invoke nature inside and out for a fresh, renewed feel.
Pops of Color
Spring is a great time to shed your home of dark colors that go along with winter, it's time to switch them out with lighter, brighter colors. While light, natural colors are usually what replace the dark, it doesn't mean all color has to be given up. Picking a bright color that enhances the spring season, such as oranges, pinks, yellows, purples, blues, and greens. Once you pick your favorite hue, select decor that will brighten your room, throw pillows, spring scented candles, or even decorative bowls.
You want to make a statement but, keep it subtle, you don't want to overdo it. Adding bright pops of color will not only give new life to your home but, it will be mood-lifting as well.
Plants
Freshen up your home by adding a few plants, flowers, or herbs to a room bringing some of the outdoors inside. Plants will improve your mood, they give off a little extra oxygen and make a beautiful focal point.
Adding a few plants to your home doesn't have to be expensive, pick up a few bouquets of inexpensive flowers to brighten up a room in your home. If you are limited on space, but a few small herb plants on your windowsill.
Let's face it, some of us don't have a green thumb. If this is the case, a hardy plant that requires little attention such as an aloe plant or small cactus is an option. However, if you are not only lacking a green thumb and a black thumb is more what you are working with, consider a few plastic plants. While they aren't living, they still make for an excellent focal point.
Conclusion
Freshening up your home doesn't have to be expensive or even difficult to put in place. Take a little extra time to give your home a fresh new look.