Top 10 Things Buyers Look for in a Home
Posted by Ashford Realty Group on Thursday, February 10, 2022 at 6:44 AM
By Ashford Realty Group / February 10, 2022
Comment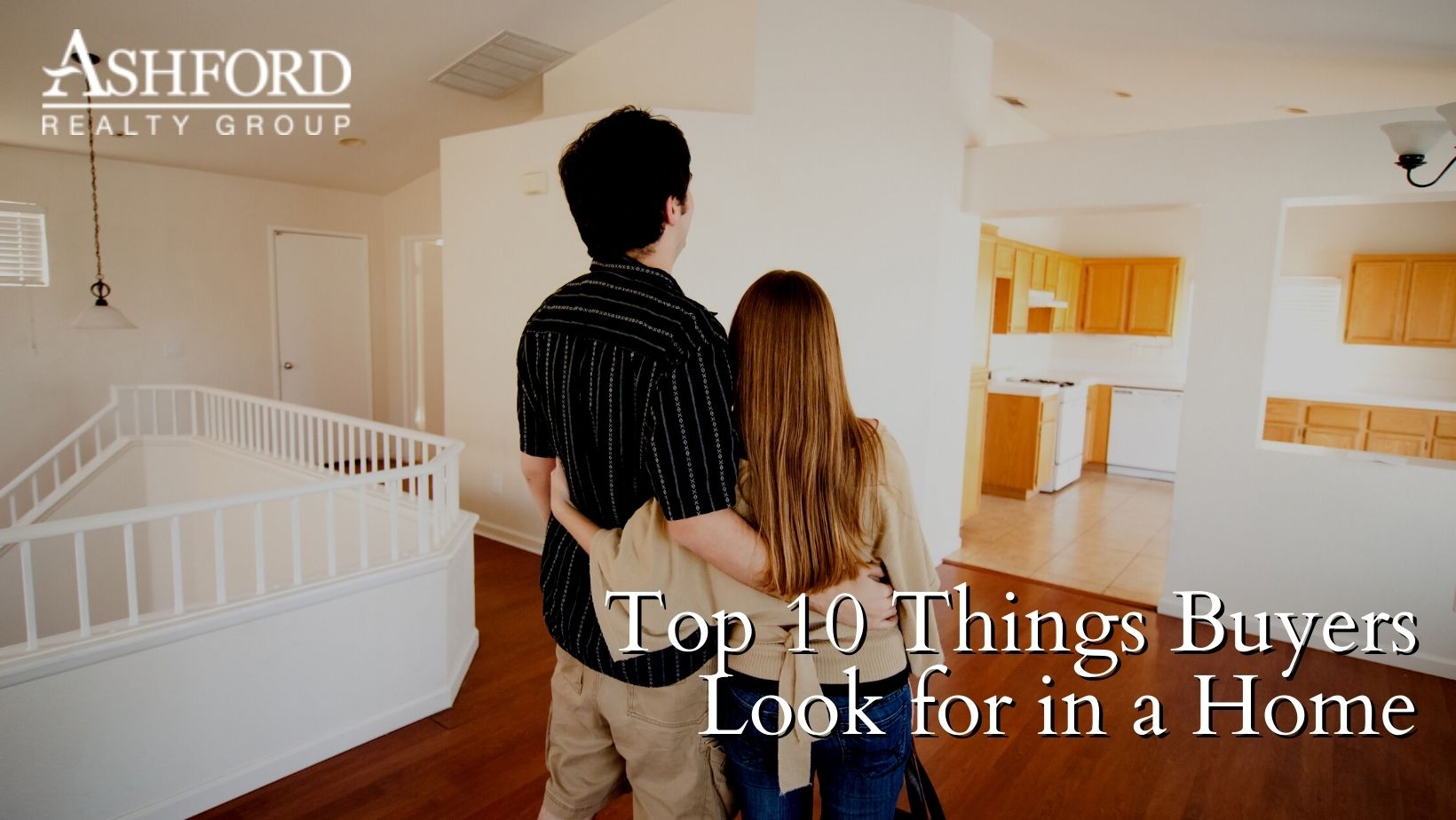 When home buyers are looking for their ideal home, they tend to have set in their mind things that are at the top of their list of wants or must-haves. The list of top-rated things the home buyers want has remained relatively unchanged through the years, but just like most things they become outdated over time. Sellers would be aloof if they did not take a good look at their home before putting their home on the market to ensure the best outcome on the sale of their home. So, what are the top 10 things buyers are looking for in a home?
1. Laundry Room
When referring to a laundry room, we mean an actual dedicated room for laundry, not randomly placed in the corner of a basement. Buyers are looking for a clean, dry, organized space with plenty of room to complete their laundry tasks. Ideally, home buyers also want a laundry room to be easily accessible on the main floor of the home. While a dedicated laundry room or main-level laundry room may not be possible, it's important to work with what you have to make the laundry space as accommodating as possible.
What can be done to increase the value of a laundry room?
Paint the walls, give the room a nice clean, crisp feel. Painting the walls white or even a light, bright color will give the room a cozy, clean feel.
Storage, taking the time to add storage solutions around the laundry room is an attractive quality home buyer will be sure to notice. Consider installing a built-in ironing board on a wall takes up less space and is easy to store.
If your washer/dryer hookups are in the basement and there isn't a feasible option to move the laundry room upstairs, consider an upgrade. The money spent upgrading your basement to include an actual dedicated laundry room will only add value to your home.
2. Outdoor Living Space/Patio
Homebuyers looking for a space they can enjoy family time, relax, entertain guests, or simply enjoy the scenery. Patios are more attractive to homebuyers over decks and porches. If you don't already have an outdoor living space, a patio is usually simpler to build over a deck or porch.
Creating an attractive outdoor living space or patio can add major value to your home, especially if you have a scenic view. This is an investment worth making to get the most from selling your home.
3. Walk-in Pantry
A walk-in pantry has become a high priority for home buyers, unfortunately, not all homes were built with this option. Homebuyers want plenty of space to store food and kitchen gadgets that a walk-in closet provides.
Homes that don't already have a walk-in pantry will want to take on the challenge to add one. A walk-in pantry will only add value to your home.
4. Full Bath in the Main Living Area
Older homes commonly only have a half bath in the main living area but, newer homes have moved away from this trend with good reason. A full bath on the main level of a home creates a more convenient and comfortable space for both homeowner and their guests.
Families with small children find it's easier to multi-task with a full bath in the main living area. A parent can clean up after dinner while their kids splash around in the bathtub. Guests staying overnight, don't have to trek through multiple rooms to clean up. There are many reasons for the attraction of having a full bath in the main living area.
If your home only has a half bath in the main living area, renovating should be on your radar. Bathroom renovations tend to be some of the priciest renovations for a home, so upgrading the existing bathroom may not be in the cards but should be a priority.
Homes that already have an existing full bath need to focus on giving this room a lot of attention, updating if necessary. Fresh paint and new linens can update an existing bathroom to give it a clean, crisp feel.
5. Exterior Lighting
Exterior lighting is probably not considered a high priority when preparing a home to sell, but it definitely should. Homebuyers want a home that will make their home stand out, but also provide added security.
When referring to exterior lighting, we aren't suggesting massive spotlights to showcase your home, we are referring to soft solar lights along the pathway to your front door and a nice light at the front door. Ideally, you want enough lighting to accentuate the landscaping and improve the curb appeal of your home.
6. Energy Efficient Appliances
Potential homebuyers are looking for energy-efficient appliances, saving money is appealing. However, the expense of buying brand new appliances right before putting your home on the market is unlikely to get you a return on your investment.
Make sure to consider what appliances your home is equipped with when selling your home. If your appliances are not updated to energy-efficient appliances, this could potentially affect the overall price a buyer is willing to offer.
7. Hardwood Floors in the Living Areas
Carpeted floors are becoming a thing of the past. Homebuyers have become increasingly attracted to hardwood flooring over carpets for the ease of cleaning and maintaining.
Hardwood, laminate, vinyl, or even tile floors that look like hardwood floors don't hold in odors and take a lot longer to show wear and tear on heavily trafficked areas.
8. Energy Efficient Windows
The main focus when shopping for a home is the windows, this is not something you want to skimp on or ignore. The windows in a home can easily turn a potential homebuyer away if they are cheap, old, or drafty. Homebuyers consider a drafty window as throwing money out the window.
Replacing windows is not a cheap home improvement, but if you're going to make improvements this is a big one to consider. Energy-efficient windows will help regulate the overall home's temperature but, save money overall.
9. Energy Efficient Lighting
Lighting in a home is extremely important in the overall feel and design of the space in your home. Natural, bright light is going to make a home appear bigger and more open which is more appealing to homebuyers. Traditional incandescent bulbs utilize 90% of their energy-generating heat, which is wasteful.
Upgrading the lights in your home with energy-efficient LED bulbs may seem like an unnecessary upfront expense, they are more costly than traditional incandescent bulbs, but they last longer, utilize less energy, and as a bonus, you'll be helping the planet.
10. Side-by-Side Kitchen Sink
Large farmhouse kitchen sinks can be found all over design magazines and DIY channels, but is it really what homebuyers want?
Side-by-side kitchen sinks are a top feature that homebuyers look for when shopping for a home. If a farmhouse sink is best suited for your home design, by all means, go with it. It's not an absolute turn-off for homebuyers, they just tend to prefer the double basin kitchen sink. The double basin sink tends to be more appealing to potential buyers.
Start the Selling Process Today!