Top Things to Look For When Buying a Home
Posted by Ashford Realty Group on Monday, April 11, 2022 at 9:51 AM
By Ashford Realty Group / April 11, 2022
Comment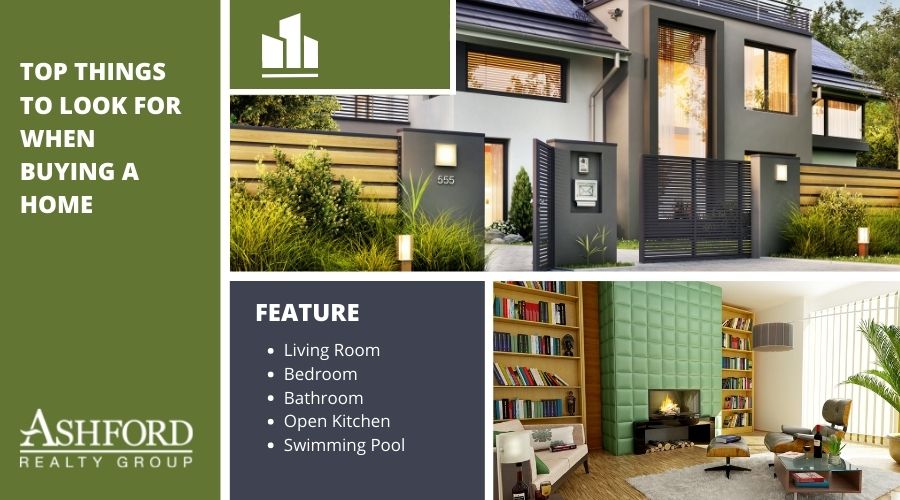 When shopping for a home, buyers are going to have "must-haves" they will look for, but not all must-haves should be deal-breakers. We are going to dig into the most important things to consider when buying a home to ensure that you don't overlook things and later regret them.
Every homebuyer has their set of wants and needs but, some things can be worked around or added later, while other things are impossible to change. Homeowners need to make sure that their list of must-haves has the things that are unchangeable at the top of their lists.
Location
The location of the home is important for many reasons, a potential buyer needs to consider all of them. When shopping for a home, a buyer should determine a few potential locations they would consider living and stick with those locations. The location of the home is easily the most important thing to consider when buying a home.
When deciding on a location, ask yourself these questions:
How far will we have to commute to work/school?
How far away are shopping and entertainment?
How safe is the area?
Is the home on a busy street?
Of course, travel to and from work or school and shopping and entertainment is going to be a major thing to consider. The home you found that fits the bill will ultimately leave you unhappy if your commute is longer than you expect.
Safety is a major priority when considering a home, the house may be perfect but, if you are constantly concerned for the safety of your family because of high crime rates, is it worth it?
Price
Knowing and understanding your budget is imperative before shopping for a home. Homebuyers need to make sure that they are staying within their means and will be comfortable with the monthly mortgage payment.
It's easy to get carried away when you find the home that is perfect for you, but you won't get much enjoyment out of it if you are struggling to make those monthly payments.
During the current seller's market, houses are harder to come by, looking at homes that are lower than your maximum budget is a good suggestion. You want to have some negotiating room, so if you find a home at the top of your budget, there isn't much room to negotiate.
Size and Style
When shopping for a home, most buyers have the style and size of the home that they want or need. What some buyers don't consider is what size home they will need in the future. If you are a growing family, you need to attempt to forecast what you will need in the future, you don't want to outgrow your home right after you move in.
If you love the concept of an open floor plan, you should consider the people in your household. While open floor plans are wonderful concepts, if you have a toddler or plan on having a toddler, open floor plans are not conducive for toddlers that will constantly need to be supervised.
Another thing to consider that is often overlooked is bedroom placement. If you are looking at a home that is all one level, it's easier to consider the bedroom placement. However, in a multi-level home, you need to put more thought into the placement of the bedrooms. You may love the idea of having the master bedroom on the ground level while all of the other rooms are upstairs until you have to get up multiple times throughout the night to take care of your little bundle of joy, trudging up the stairs repeatedly.
Property
Looking at the lot size of a home, buyers consider whether the size of the yard is large enough for their kids to play with or even enough room for their family pet. Will you have enough room to put a swing set? There is more you should consider when looking g at the outdoor space.
What else should you look for?

Sidewalks - Does the street have decent sidewalks for your kids to have an extra layer of safety? Are the sidewalks inviting, encouraging families to take a stroll through the neighborhood?
Flat Lot - Is the home on a flat lot? Most homeowners find that their kids don't enjoy playing out in their yard or riding their bikes when they have a hilly, steep lot to encounter.
Sightlines - Are you able to easily keep an eye on your kids playing outside while cooking dinner?
Another thing to consider when looking at a property, the larger the property, the more you'll be paying in taxes.
Schools
If you are a parent, you'll want to take a good look at the schools your kids will be attending. Finding a home that you adore, in a nice neighborhood is great but, if the schools that are assigned to your kids are terrible, you should probably consider your options. Is private school an option? Would you consider homeschooling? Is there other magnet or specialty schools you can send your child to?
You need to take a good look at the school systems and your options.
You may find the perfect house that checks off all the boxes in the perfect neighborhood but, a school district that isn't up to par could make the entire deal go under.
Taxes and Cost of Living
The location you want to live in could make a huge impact on your taxes. Before deciding on a home or location, you need to take a good look at the taxes you'll be paying and how they will affect your overall costs.
Property Taxes
Local Sales Tax
Homeowners and auto insurance
Utility Bills
Depending on the location of the home, your homeowner's insurance could be higher. For example, if you live in a rural area a certain distance from a firehouse or have no fire hydrant nearby can drive your insurance costs up.
Conclusion
Homebuyers want to find the perfect home with all the bells and whistles, but some things can be temporarily sacrificed for a later home improvement. You want to focus on the things that are impossible or difficult to change when prioritizing your list of must-haves. Happy House Hunting!