10 Ways to Work with a Small Kitchen
Posted by Ashford Realty Group on Friday, May 27, 2022 at 7:14 AM
By Ashford Realty Group / May 27, 2022
Comment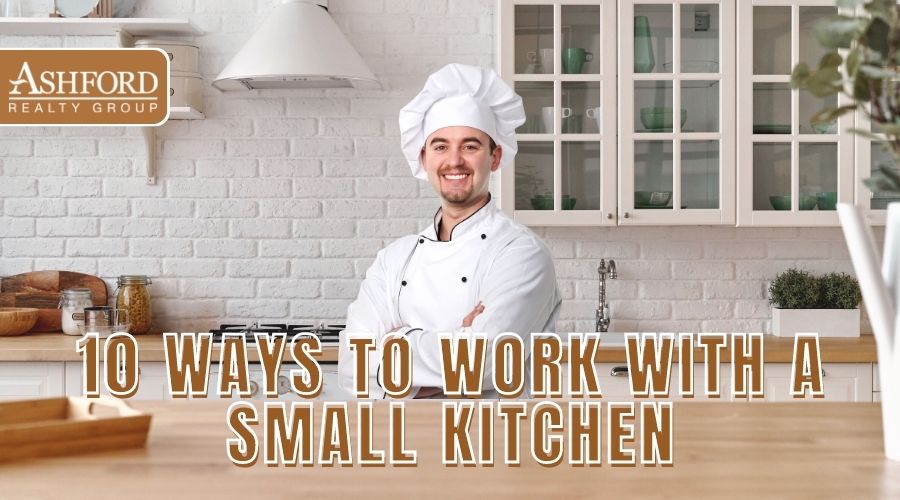 When a homeowner is faced with having a small kitchen, it's time to get creative to get the best use out of what they do have. Here are some tricks to make the best use of what little kitchen space you have. You may be surprised by how some of these tips and tricks can improve the functionality of your kitchen.
Hooks
Utilize your wall space and cabinet doors by adding hooks. Hooks on the wall can showcase your cutting boards and aprons while freeing up space in your cabinets and drawers. Hooks on the inside of the cabinet doors can hold a dish towel or two to save space.
Leave It Out
Leaving items out on the counter is not usually what people desire, they want a clutter-free countertop. When you're working with a small space, leave out your most-used ingredients, you can put them on a small lazy Susan to store more and easily access the ingredients you need. Another trend with ingredients, if wall space allows is to hang a small shelf made to keep your ingredients handy and organized.
There is also nothing wrong with keeping a large cookware item, such as a Dutch oven on top of your stove. Some people may even decide to store baking sheets, or even a few pots and pans in the oven, just remember to take them out before pre-heating your oven, that could be bad.
Hang a Pegboard
A pegboard is an excellent addition if wall space allows. You would be amazed at how much a pegboard can hold and keep from taking up unnecessary space in your kitchen cabinets and drawers. A pegboard can hold small items such as Knives and other utensils or as big as pots and pans.
Top of Cabinets
A majority of cabinets have open space at the top between the cabinet and the ceiling, this is commonly used for decorations or just left empty but, when you're working with a small kitchen, you need to consider all available space. The top of the kitchen cabinets is an excellent space to store items you don't use very often such as platters and bread baskets.
Folding Table and Chairs
If your space is extra small and there is no room for a table and chairs, consider a small folding table that is easy to store and a couple of chairs that can be hung on a wall or easily stored in a closet.
Make Use of Your Backsplash
Hang a rail or shelf on your backsplash to give you more storage space. Adding hanging cups to a rail can easily store a few cooking utensils or by adding a shelf you can put something small such as spices and cooking oil or larger items such as a few pans or a pot. Note: if you don't want to drill holes in your backsplash, command hooks work wonders.
Utilize Your Windows
If you're lucky enough to have a window, you can use your windowsill for storage, make use of your windowsill to grow herbs, or a place to store a few cookbooks. You might also consider hanging your pots and pans in front of the window, this way you don't have to take away space in your cabinets or on your shelves.
Shelf Risers
Adding shelf risers can make way for a little more space in your cabinets, if your stacked large plates don't reach the top of your shelf, a shelf riser can save room by allowing you to stack additional items such as bowls or small plates on another shelf.
Wooden Stovetop Cover
A wooden stove top cover is not only a nice touch to add to your kitchen for aesthetic purposes but, you can make use of the cover for extra counter space when prepping a meal when the stove isn't in use.
The Wrap Up
There are plenty of other useful tools and tricks to make the best of the small space available to make your kitchen more functional. These are some of the easiest and most economical tips to get you started.
More Tips for Homeowners: