What is a Bank Statement Mortgage?
Posted by Ashford Realty Group on Monday, August 2, 2021 at 1:39 PM
By Ashford Realty Group / August 2, 2021
Comment
In order for a mortgage company to approve a home loan, they must verify that the applicant has substantial income to be able to make the monthly mortgage payments. This is most often done on a traditional mortgage loan by looking at W2 tax forms. This can present a sticky situation for anyone who is self-employed including business owners, freelance workers, contractors, seasonal workers, and gig workers. Many of these jobs do not often provide the tax forms needed to verify income on a traditional mortgage.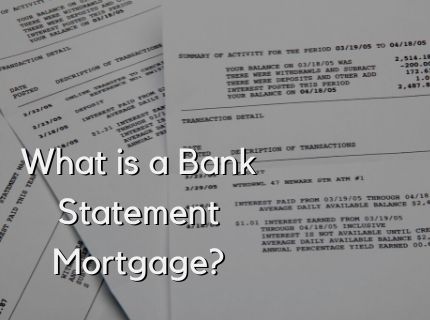 For those with a nontraditional income, a bank statement mortgage may be a great alternative option to obtaining a home loan. With a bank statement mortgage, the applicant provides proof of income by showing one or two years' worth of regular deposits into their bank account through bank statements.
The details of a bank statement mortgage program
As stated above, a bank statement mortgage program allows you to verify your income for a mortgage application using documented bank deposits instead of traditional tax forms. The higher your monthly income, the lower your debt to income ratio will be recorded. A lower debt-to-income ratio will help you to be approved for a higher loan amount.
Read More For Our Home Buyers Here
Those without traditional employment documentation of pay stubs and W-2 forms can use personal bank statements to qualify for a mortgage. This is available to applicants who do not have these documents to help verify income and also have tax documents that may show write off's that make your income look smaller than it is.
In previous years a stated income loan was a common mortgage solution for a borrower who was self-employed. With today's stricter regulations in response to the mortgage crisis of the late 2000s, stated income loans have become a thing of the past. Bank statement loans are more widely used because they create less risk to the lender. With a bank statement loan borrowers are not simply stating their income with the full trust of the lender, borrowers must document monthly deposits in order to qualify.
Some drawbacks of a bank statement mortgage loan
Bank statement loans open up the opportunity for those who make a paycheck by less traditional means to be able to own real estate however there are some things to consider before applying for a bank statement loan:
Bank statement loans are still considered higher risk than a traditional mortgage by lending companies therefore there is a trade-off between lenders and borrowers. This trade-off usually comes in the form of a higher interest rate and a higher down payment requirement as compared to a traditional mortgage loan. This extra cost is put in place by lenders to help offset the risk associated with showing a less solid form of proof of income.
Additional: 12 MortgageMistakes to Avoid When Buying a Home
Do not let this discourage you however as rates and terms vary by lender and you could still find a very good interest rate on a bank statement loan especially right now when mortgage interest rates are staying historically low.
The best way to find a bank statement mortgage that will work for your home buying needs is to shop around with different lenders to see what they offer. The easiest way to shop for a mortgage is through an experienced mortgage broker who knows the current market and can do the shopping for you.
Related: How much money do you really need to buy a home?
For more information on your mortgage options in Colorado Springs and surrounding areas including unique mortgages such as a bank statement mortgage please contact our office anytime.