SELLING YOUR HOME IN TODAY'S MARKET
OUR THRIVING REAL ESTATE MARKET +
THE RIGHT REALTOR ®

= MORE FOR YOUR HOME WITHOUT THE STRESS

IT IS THE PERFECT TIME TO SELL YOUR HOME IN THE GREATER COLORADO SPRINGS AREA! In fact, our current market, with the right REALTOR, is offering today's homeowner an opportunity to see a sizable return when selling their home.
HANDLING EVERYTHING & CREATING HIGHER RETURNS FOR CLIENTS
---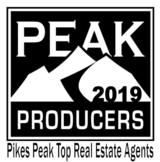 ASHFORD RANKED TOP PRODUCER
When choosing the right REALTOR® to sell your home it only makes sense to hire someone that consistently gets results.
VIEW ASHFORD REALTY GROUP'S RECENT HOME SALES
MODERN MARKETING THAT SELLS HOMES
---
SELLING YOUR HOME IN THE DIGITAL AGE
With

95%

of today's homebuyer's searching for their next home online
it is critical to stand out with the most polished and engaging marketing assets when selling your home. A home properly prepped, presented and marketed can bring a much higher sales price, better terms, and a quicker sale.
3D VIRTUAL REALITY HOME TOURS - MAKING YOUR HOME STAND OUT...& SELL FOR MORE
Our professional 3D online virtual showcase tours let buyers virtually walk through your entire home from the comfort of their couch. This creates an immediate, lasting emotional connection because they can actually experience the home as if they were physically walking through it. Far superior to videos and pictures! - Take it for a test drive!
STUDIES SHOW WITH THE 3D ONLINE SHOWCASE HOME TOURS, BUYERS ARE 95 % MORE LIKELY TO CALL & 300 % MORE ENGAGED
PROFESSIONAL PICTURES - A PICTURE IS WORTH A THOUSAND WORDS
This could not be truer when selling your home and that is why we hire the areas Top Real Estate Photographer to shoot and professional edit (HDR) numerous photos to best represent your home.

STAGING YOUR HOME - BEYOND THE "TYPICAL" STAGING
GETTING IN FRONT OF ALL THE HOMEBUYERS
DATABASE - WITH 25,000 CONTACTS INTERESTED IN HOMES
By marketing to our database of 25,000 contacts, we are probably already in front of your potential buyer.
LET US SHOW YOU! When researching all the data that would affect the pricing and marketing strategy of the home we will pull a list of those actively searching homes with similar criteria to make sure we put your home in front of them. We present this list with everything else at our listing presentation.
THE ONLY HASSLE FREE SOLUTION - SAVING CLIENTS THOUSANDS OF DOLLARS AND STRESS
OUR COMMUNICATION GUARANTEE
PROGRESS UPDATES EVERY TUESDAY UNTIL YOUR HOME IS SOLD. GUARANTEED!
COMMUNICATION & TRANSPARENCY IS WHAT ONE SHOULD EXPECT WHEN HIRING A PROFESSIONAL. NO EXCEPTIONS!
ALTHOUGH WE ARE AVAILABLE WHENEVER YOU HAVE QUESTIONS, WE FEEL IT IS CRITICAL TO SHARE THE EFFORTS THAT ARE BEING TAKEN TO SELL YOUR HOME AND WHAT TO EXPECT MOVING FORWARD. YOU WILL NEVER WONDER IF WE ARE WORKING TO SELL YOUR HOME!
FREE LISTING PRESENTATION & CONSULTATION
---
CALL: (719) 259-4001 For Your Personalized Plan To Sell Your Home!
LET'S TALK ABOUT EVERYTHING WE WOULD DO TO SELL YOUR HOME

---